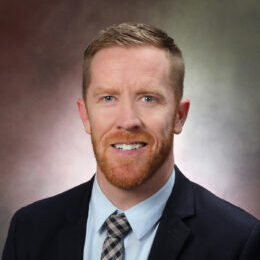 Area of expertise
Dental Education, Curriculum, Instructional Design, Faculty Development
Dr. Burke Soffe is a general dentist and dental educator. After graduating from UNLV School of Dental Medicine in 2008, Dr. Soffe practiced in a private clinic in Virginia for five years before joining Roseman CODM in 2013 as a full-time faculty member. Dr. Soffe practices dentistry one day per week while balancing his role at Roseman with faculty development and curriculum. He currently resides in Cottonwood Heights, Utah with his wife and three children. He enjoys playing soccer, skiing, hiking, and any activities in the mountains.
Education
AA – Utah Valley University, 2001
BA – Southern Virginia University, 2003
DMD – University of Nevada Las Vegas School of Dental Medicine, 2008
MEd – Western Governors University, 2020
Affiliations
Chair – American Dental Education Association Council of Faculties, 2021
Member – Academy of General Dentistry
Member – American Dental Association
Member – American Dental Education Association
Examiner – The Commission on Dental Competency Assessments (CDCA)
Publications
Soffe BW, Miranda JE, Fang J, Epperson DG, Lara RA, Williamson HL, et al. Development and implementation of a patient assistance fund: a descriptive study. BMC Health Services Research. 2021;21(1):14.
Soffe, Burke, and Clark Dana. 2021. "Impact of Pedagogical Instructional Strategies Training to Improve Clinical Teaching." The International Journal of Pedagogy and Curriculum 28 (2): 95-115. doi:10.18848/2327-7963/CGP/v28i02/95-115.
Dana C, Soffe B, Shipley J, Licari F, , et al. 2021, 'Why do faculty resist change?', MedEdPublish, 10, [1], 89, https://doi.org/10.15694/mep.2021.000089.1
Lutfiyya MN, Gross AJ, Soffe B, Lipsky MS. Dental care utilization: examining the associations between health services deficits and not having a dental visit in past 12 months. BMC Public Health. 2019 Mar 5;19(1):265. doi: 10.1186/s12889-019-6590-y. PMID: 30836954; PMCID: PMC6402128.