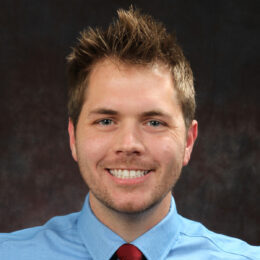 Area of expertise
Internal Medicine
Dr. Christensen-Grant is a North Carolina native growing up in rural Snow Hill, NC. He graduated from The University of North Carolina at Greensboro with his Bachelor's degree in biochemistry and obtained his Doctorate of Pharmacy degree from Wingate University. He completed a PGY1 residency with Indiana University Health in Indianapolis, Indiana and subsequently completed a PGY2 Internal Medicine residency with The University of Texas at Austin and Seton Healthcare Family in Austin, Texas.
Dr. Christensen-Grant joined the Roseman Pharmily in 2014 and moved into his role in Admissions and Student Affairs in 2016. His practice interests include student success, leadership coaching, advocacy, nephrology, infectious disease, and medication safety.
Dr. Christensen-Grant is proud to call South Jordan, Utah his home. He enjoys spending time with his family: Husband, Tad; two cats, Andy and Crookshanks; and the newest addition, a cute chihuahua named Sombra. His hobbies include tennis, playing video games, and puzzling.
Education
Bachelors of Science in Biochemistry – University of North Carolina at Greensboro
Doctor of Pharmacy – Wingate University
Affiliation
American Association of College of Pharmacy
Student Service SIG Programming Committee
PharmCAS Advisory Committee
Code of Conduct Task Force
American Society of Health-System Pharmacists
International Pharmaceutical Federation
Utah Society of Health-System Pharmacists
President-Elect

Utah Pharmacists Association
Phi Lambda Sigma
Phi Delta Chi
Awards
Phi Delta Chi Beta Omega Chapter – Distinguished Alumni Award
Utah Pharmacist Association – Distinguished Young Pharmacist
Subjects
Renal Pharmacotherapy
Drug Information
Pharmacists Patient Care Process
Career Development in Capstone Course
Research Publications
Development and Implementation of Recruitment and Pipeline Programs for Underrepresented Minorities – AACP Student Services SIG (Webinar)
Co-Curricular Delivery of Career Preparatory Activities to Increase Self-Awareness and Student Success in Securing Employment (Podium Presentation at AACP 2018 Annual Meeting)
Managing Student Professionalism and Misconduct Issues – AACP Student Service SIG (Webinar)
Enhancing the Layered Learning Model: Empowering Residents to Use Entrustable Professional Activities as Experiential Co-Preceptors (Podium Presentation at AACP 2019 Annual Meeting)
Flipping the Pre-Pharmacy Club Meeting: Building Innovative Recruitment Events (Podium Presentation at AACP 2019 Annual Meeting)
Perfection is a Farce! Navigating the Seas of Imposter Syndrome in Search of Student Success. (Podium Presentation at NASPA 2020 Annual Meeting)
Let the Science Behind Motivation, Leadership, and Coaching Be Your Guide! Strategies for Faculty and Staff to Coach Students to Success! (Podium Presentation at NASPA 2020 Annual Meeting)
CPhT to PharmD: Career Considerations and Applying to Pharmacy School (CE Presentation for USHP Midwinter Meeting Series 2021 and USHP 2021 Annual Meeting)
Roadrunner Resource Series: Maximizing the Impact of Pharmacists (Webinar for Roseman University Alumni Association)