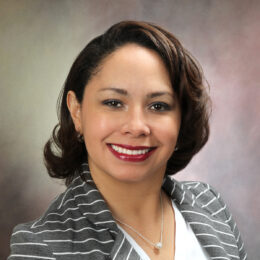 Area of expertise
Simulation Clinic
Dr. Velasco was born in Barranquilla, Colombia where she finished her dentistry studies in 1998. After 10 years of working in private practice, she moved with her children to Utah where she currently resides. In 2014 Dr. Velasco began working full time at the University of Roseman College of Dental Medicine where she currently holds the role of Instructor at the Simulation Clinic. In addition, she is the faculty advisor of the Hispanic Dental Association Roseman chapter since its founding in 2019 and since then the students have won different awards under her direction and advice.
As a member of ADEA, Dr Velasco has been an ambassador, secretary and currently Chair Elect of IPECC SIG.
Dr. Velasco cares about good patient care for the students and that is why she teaches Medical Spanish as an elective class open to all programs on campus. Dr. Velasco believe that the continuous improvement in teaching to achieve excellence is fundamental to master high education, reason why she created the Collaborative Teaching Group -CTG- where the faculty can share with each other effective teaching and mentoring methods, while training students to become mentors under the mentoring program of which she is the C-director.
Dr. Velasco has been characterized as a supportive faculty in all areas of dentistry at CODM and she is always looking for opportunities to create, innovate and improve high and inter-professional education.
Education
Doctor of Dental Surgery Degree
Metropolitan University
1993-1998
Colombia
Cosmetic Dentistry
Rafael Nunez University
2003-2004
Colombia
Certified on Placement, Reading, and evolution of Mantoux Skin Test for Tuberculosis
Salt Lake County Health Department
2014
Certified on Digital Dentistry
Planmeca E4D
2015-2018
Certified on Bioclear Advance Solutions
Educator
2019
Tacoma, WA
Certified on Infection Control
Northeast Caribbean Oral Health Resource Center
New York State Education Department Provider IC178
2020
Affiliations
Member of Hispanic Dental Association – HDA
Member of American Dental Education Association – ADEA
Member of International Association for Dental Research – IADR
At Roseman:
Campus Security Authority – CSA
Member of Admission Committee CODM
Member of Student Award and Recognition Committee
Awards
"Orgullo" Award
Chapter Competition
Third Place
HDA
2019
Honorary Mention of Honor
HDA Chapter Roseman
2020
"Orgullo" Award
Honorary Mention of Honor to the HsDA
HDA
2021
Faculty Advisor "Orgullo" Award
Hispanic Dental Association
2021
"Nuestros Ninos" Award
Colgate / HDA
2021
Teaching Subjects
-PPE and Infection Control- Teacher
– Instruction on Modern Dentistry Restorations – Bioclear method – Instructor
– Medical Spanish – "Effective communication with the Hispanic patient". (Elective class). Teacher and Course Director.
Full time educational instruction on Restorative, Prosthodontic, Endodontic, and Pediatric Dentistry courses, in the Simulation Clinic.