Why Choose Nursing?
Unparalleled Skills Meet Empathic Heart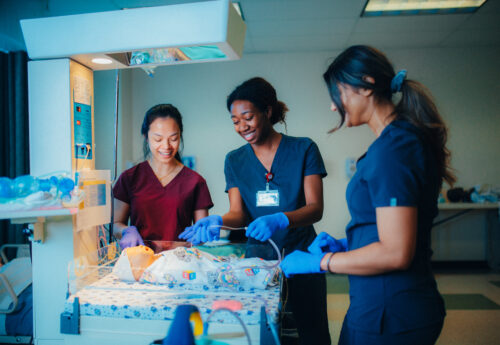 If you love working with people, and you want a rewarding career where you can impact the health and well-being of your patients and your community, nursing could be a great fit for you.
Students who pursue a Bachelor of Science in Nursing (BSN) are poised to enter a field where demand is growing every day for skilled healthcare professionals, with outstanding opportunities throughout the country, and excellent income potential. Every day can bring a different challenge in nursing, offering the opportunity to provide patient care, promote health and education in the community, coordinate care and conduct research to improve practice and patient outcomes. Nurses play an integral role in the health care system and improve patients' lives every day. It's no wonder nurses are consistently ranked as the most highly trusted professionals in the U.S.
About the Profession
Nurses are one the front lines of health care delivery teams. The goal of nursing care is to restore, maintain and advance the health of individuals, groups or entire communities. It is a science and an art. The science is obtaining research-based nursing knowledge, judgment, and skills. The art is the establishment of a caring relationship through which nurses apply nursing knowledge, skills and judgment in a compassionate manner. Both focus on the whole person, not just a particular health problem, and on individuals at all stages of the life cycle and in all states of health, from wellness to illness.
Nurses can choose to work in a variety of practice settings including hospitals, long-term care facilities, community and public health agencies, classrooms, laboratories, independent practice, ambulatory care centers, U.S. Public Health Service, military services (Army, Navy and Air Force), Veteran's Administration Medical Centers, and in any setting where people need health care services.
Nurses incorporate a variety of roles in order to provide professional nursing care. For example, nurses are patient educators, responsible for explaining procedures and treatments; nurses also empower patients, guiding them toward healthy behaviors and support them in time of need. When patients are able, nurses encourage and teach them how to care for themselves by adapting to their conditions and working towards recovery.
Nurses, especially those working in community settings, work to prevent illness through education and community programs designed to decrease transmittable illnesses, violence, obesity and tobacco use, and provide maternal-child education to prevent some of the leading health problems of our time.
As patients near the end of their lives, nurses provide dignity in death by advocating for them to have sufficient pain medication, and the opportunity to die at home which allows them to spend meaningful time with family members.
Some nurses are independent scholars whose work is at the forefront of health care research. Many nurses obtain master's and doctoral degrees in nursing, then work as scholars, educators, health care policy makers, managers, advanced practice nurses, clinical nurse specialists, and they may sit on Boards of Directors in a variety of health practice environments.
Nursing provides an essential service to humankind and as patient advocates protect the interests of patients when they cannot because of illness or inadequate health knowledge. Nursing needs capable people from every ethnic and religious background. Nursing positions are available throughout the United States as well as internationally. As a nurse, you can choose to practice almost anywhere, from metropolitan areas to rural communities, and in both developed and developing countries throughout the world.
Nurses Make A Difference
Nurses literally save lives every single day. This is true in clinical settings, and it can also be true in the community when an emergency situation arises. They play an important role in the overall health and well-being of the patients they serve.
Every day provides a different experience for a nurse. New challenges and new people are presented daily, each with their own concerns and issues.
Nurses get to interact and work with people around them every day, including patients, colleagues, and other health care service providers.
Nurses perform critical functions daily, including checking in on patients, responding to emergencies, administering medications, and performing tests. Nurses make it possible for doctors and surgeons to do their jobs.
Nurses often provide some of the relationships that make life meaningful for their patients. They are often viewed as extensions of families.
Nursing Careers Offer Flexibility and Success
Programs are evolving. Depending on your goals and bandwidth, nursing programs can be completed in two to four years.
Nurses can choose their own specialty.
Nurses can expect to work in a stable industry that is expected to continue to grow.
Nurses can advance in their roles, pursue advanced degrees, and take on leadership and administrative roles.
There are Financial Benefits to Pursuing a Nursing Career
Scholarships and other financial aid are often available to those pursuing nursing as an area of study.
The Health Resources and Services Administration (HRSA) Nurse Corps Loan Repayment Program offers up to 85% reimbursement of student loan debt for those who chose full-time employment in high-need areas if they meet the right criteria.
According to a 2021 report, a nursing salary revealed a median pay of $77,600, while nurse anesthetists, nurse practitioners, and midwives earned higher.
The National Center for Education Statistics (NCES) says health professions comprise one of the most popular post-secondary education areas of study in higher education. Nurses are well-respected, and their profession is, too. If you desire a career in nursing, you can select a program that will deliver the course instruction and clinical experience you need to accommodate your timeframe and area of concentration. Contact the College of Nursing at Roseman University today to learn more.