Roseman in our Communities
Roseman University has a long history of listening to our community and providing support and resources where they are most needed. Whether in local neighborhoods or in towns across the globe, Roseman students and faculty develop and implement needed programs, as well as community events, educational opportunities, outreach and support.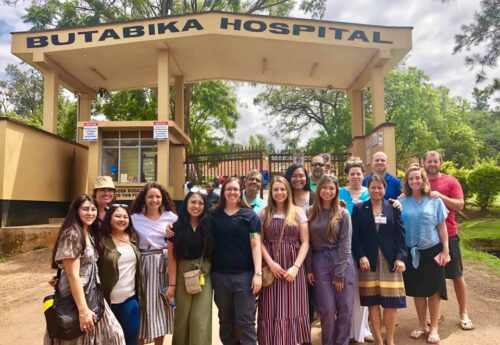 Affordable, high-quality dental and orthodontic clinics serving underinsured and uninsured families.
Annual "Give Kids A Smile®" community event providing free dental and orthodontic care to underinsured and uninsured children.
Returning Veterans program providing nursing training and career counseling through our VBSN Pathway.
Partnership between Clark County School District as well as Utah's school districts and Roseman's "Drug Abuse Awareness Team," providing critical in school drug education programs.
Medical Missions abroad to Guatemala, Peru, Ecuador, Vietnam, Ghana and Uganda to provide needed care and global experience to our students.
Active and philanthropic student body; Roseman students support multiple local non-profits and causes throughout each year with over 20 different student groups on each campus.
Partnership with Volunteers in Medicine to provide students with clinical training and provide underserved patients access to medical care.
Neighborhood Health Series – free monthly educational series on important health related topics.
Roseman Medicare Call Lab in partnership with Nevada's State Health Insurance Assistance Program (SHIP) provides free information and help to Medicare beneficiaries.
Annual Scholarship Golf Tournament raising funds for student scholarships.
Administered over 6,500 COVID-19 vaccines to community with the help of thousands of volunteer hours by community members and Roseman students, faculty and staff.
Annual $10,000 "Hero Scholarship", awarded to incoming students for demonstrated Heroism in academics, volunteerism, leadership and financial need.
ASPIRE Program helping to ignite interest and passion in the health sciences among underserved area high schoolers.
EMPOWERED Program – providing support, resources, and care to pregnant and post-partum mothers who use or have used opioids or stimulants.
GENESIS, through Roseman's College of Medicine, aligning students, educators and the community in designing and delivering an inclusive and collaborative environment for innovative learning, healthcare and research through household-centered care.