Our Mission and History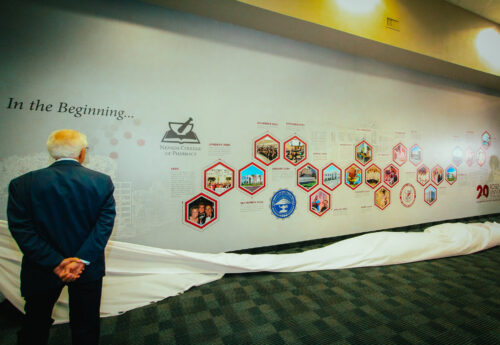 Mission
Roseman University of Health Sciences advances the health and wellness of the communities we serve by educating current and future generations of health professionals, conducting research and providing patient care. We actively pursue partnerships and affiliations that are aligned with our mission, work to create an environment that fosters both internal and external collaboration to achieve optimal outcomes, and are committed to responsible fiscal management in all endeavors.
Vision
Roseman University of Health Sciences aspires to be the first choice among "best in class" institutions of higher learning, universally recognized as an innovative, transforming force in health care education, and as a vibrant, stimulating place to work and learn. 
Core Values
We ascribe to the foundational, cultural, and behavioral norms of all "best in class" institutions of higher learning. That is; professionalism, integrity, diversity, accountability, collegiality, social responsibility, and ethical behavior are all integral to the enduring relationships Roseman University of Health Sciences maintains with the constituencies it serves. In addition to these basic norms, Roseman University of Health Sciences espouses the following core values which are inherent in its unique Mission and Vision: 
Risk-taking

We value responsible risk-taking that leads to the sustainable growth of the institution.

 

Innovation

We value innovations in education, organizational structures, and physical surroundings that create a vibrant, stimulating environment in which to work, to learn, and to grow.

Individual and Collective Achievement of Excellence

We value a culture that fosters and celebrates excellence and achievement for one and all.

Passion and Commitment

We value passion and true commitment as the requisite components of transformational leadership in education and the health professions.

Empowerment

We value the empowerment of individuals through the provision of a collaborative, supportive environment in which to learn and to work.

 
History
It started with a need. In 1999, a shortage of Pharmacists in Nevada was occurring at the very same time that a groundswell of demand for pharmacy education was growing. So, our three founders, each coming from healthcare, contributed $5,000 to start what is now Roseman University of Health Sciences. With this need came a desire to educate and train differently. To consider the varying learning styles young adults have. To develop content mastery and excellence. And so, the Roseman Six-Point Mastery Learning Model® was born. And graduates went on to exceed standards. To get excellent jobs. To see a return on their investment. To become compassionate and skilled caregivers.
1999
Dr. Harry Rosenberg, Dr. Renee Coffman and Dr. Charles Lacy began establishing the Nevada College of Pharmacy to offer the Doctor of Pharmacy degree in Henderson, NV. With $15,000 and an idea that pharmacy education should and could be better, more effective and capable of producing highly competent graduates, they rented 900-square feet of office in the Painters Union Building on Whitney Mesa.
January 2001
The first 36 students enroll to earn their Doctor of Pharmacy (PharmD) degrees at the Nevada College of Pharmacy, the first and to this day, only school of its kind in the State of Nevada.
September 2002
The Nevada College of Pharmacy relocated to larger building on Eastern Avenue and Russell Road in Las Vegas to accommodate the growing faculty and student body.
November 2003
The inaugural class of 36 students graduated in November 2003 with their PharmD degrees.
November 2003
The University moved into its current location, a 100,000 square foot building at 11 Sunset Way in Henderson.
January 2004
The Board of Trustees changed the name of the institution to the University of Southern Nevada (USN) to reflect the intent to expand degree offerings, and approved the development of the Master of Business Administration (MBA) program.
January 2006
The College of Nursing was established at Henderson campus, offering a Bachelor of Science in Nursing.
August 2006
The College of Pharmacy extended its PharmD program to South Jordan, Utah, establishing a campus in that state.
August 2007
The establishment of the College of Dental Medicine (CODM) was approved by the University's Board of Trustees. The College would offer an Advanced Education in Orthodontics and Dentofacial Orthopedics/MBA (AEODO/MBA) residency program at the Henderson campus.
September 2008
The University became regionally accredited by the Northwest Commission on College and Universities.
February 2009
The College of Dental Medicine matriculated nine residents into the inaugural AEODO/MBA Class of 2011.
March 2009
The College of Dental Medicine opened its Orthodontic Clinic in Henderson.
October 2009
The University announced plans to expand the College of Dental Medicine to the South Jordan, Utah campus to offer a Doctor of Dental Medicine (DMD) degree.
October 2010
The College of Nursing admitted the first class in the Accelerated BSN (ABSN) program in Nevada.
July 2011
The University is official renamed "Roseman University of Health Sciences" to reflect non-geographic branding and the university's mission as "a leader in transforming health care education."
August 2011
The College of Dental Medicine admitted the first class of DMD students at the South Jordan, Utah campus.
December 2012
A new five-story, 125,000 square foot facility for the College of Dental Medicine DMD program, located adjacent to the main campus building at River Park in South Jordan, opened.
November 2013
The University completed a merger with the Nevada Cancer Institute Foundation, securing the 184,000 square foot Engelstad Cancer Research Building to bolster its medical research programs. The following year, the adjacent 143,000 square foot Flagship Building of the former Nevada Cancer Institute was acquired. Combined, the two buildings make up what is now Roseman University's Summerlin campus.
December 2013
The Board of Trustees approved the College of Medicine for development.
June 2018
Roseman University and Cure 4 The Kids Foundation formally agreed to a partnership to create a one-of-a-kind collaboration in the state of Nevada with Cure 4 The Kids becoming an independent division of Roseman University of Health Sciences and moving its administrative and clinical operations to the Summerlin campus.
April 2019
The College of Nursing begins accepting applications for its Master of Science in Nursing/Family Nurse Practitioner program.