Alumni Resources
A Marathon of Roadrunners
Did you know a group of roadrunners is called a marathon? That's perfect alignment, because your connection with Roseman is not a solitary sprint that ends with graduation – it's a powerful ongoing journey of learning and accomplishment, in collaboration with lifelong colleagues.
Go, Roadrunners!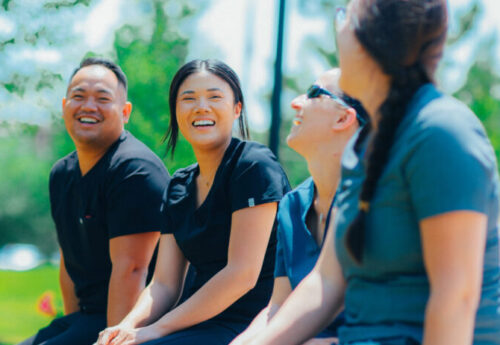 As a Roseman graduate, you are one of more than 7,000 healthcare and business professionals making a difference for your patients and in your field. The Alumni Office works to keep you connected with your fellow alumni and current students, with the University, and with your college.
Please browse the University calendar to get up-to-date on the latest Roseman happenings, and if you haven't received the latest edition of Roseman University's spectRUm magazine, update your address by sending an email to: Alumni@Roseman.edu.
Be sure to add your Roseman degree to your LinkedIn page, like and follow the University on social media, and claim your profile on the Roseman Alumni Network too!
2023 Alumni Awards
Five distinguished Roseman University Alumni were presented Alumni Awards at the 2023 Founders' Day celebrations on the Henderson and South Jordan campuses.
Alumni Resources
Please note that processing time for all documents is 3 to 5 business days, except during peak periods where processing will be longer. Peak periods are usually before and after summer break, before and after winter break, and after graduations. If you wish to verify if the office is at a peak period, please email registrar@roseman.edu. For students/alumni that were enrolled/withdrawn/graduated from the 'Nevada College of Pharmacy' and/or the 'University of Southern Nevada' please note that all documentation issued will be under our current name of 'Roseman University of Health Sciences'.
Our institution has authorized the National Student Clearinghouse (NSC) to act as our agent for all verifications of student enrollment. The university reports enrollment to the NSC on the 5th of every month and it can take two weeks to 30 days for the information to post.
Lenders can contact the NSC directly and pay a fee for each request (students cannot) to obtain current enrollment information. Roseman University participates in DegreeVerify. Third-party agencies can contact NSC directly and pay a fee for each request (students cannot) to obtain graduation information.
Henderson Campus Reference ID: 040653-00
South Jordan Campus Reference ID: 040653-01
Update Contact Information
Update your name, address or emergency contact. For name changes, please be sure to provide the appropriate legal documentation.
Click Here to Download and Save Form
MyHub
This is a centralized and secure online destination to request Enrollment Certificates and Official Transcripts only.
To request for unofficial transcripts only Click Here to Download and Save Form
**Should an enrollment certificate not suffice you can request for an enrollment/graduation verification letter Click Here to Download and Save Form
FERPA Written Consent Waiver
The Family Educational Rights and Privacy Act of 1974, establishes that a post-secondary student has the right to inspect and review his/her academic records and generally prohibits outside parties from obtaining the information contained in these records without the student's written consent. However, a student may waive the right to review certain confidential information, for example, letters of recommendation placed in the student's file.
Click Here to Download and Save Form
Duplicate Diploma/Certificate
Graduates can request for a reissue of a diploma and/or certificate (e.g., name change). The re-issued diploma/certificate will be printed exactly as the original except the current officers' signatures will appear.
Click Here to Download and Save Form
State Licensing Boards and Licensure Disclosures