What makes Roseman different?
Our founders approached learning in a different way. They recognized that every student has a different learning style and that adult learners may need to be engaged differently. They also believed that every student can succeed and compete at a very high level if given the right tools and training to do so. Breaking down barriers and increasing communication and partnership between student and teacher are at the core of success, proficiency and content mastery. Student-to-student collaboration develops healthcare professionals that work in teams so that the patient has the very best chance of a good outcome.
The core principles behind this difference are:
An educational system in which all students can realistically attain high levels of achievement. We do not place emphasis on grades, rather on achievement of curricular outcomes.

An educational experience that goes beyond memorization of facts. We believe in the concept of deep learning and mastery of content that leads to understanding and the ability to apply knowledge and make wise decisions.

An educational system that makes better use of time. We utilize the "block system" of curricular design, which provides students with the opportunity to study one content area intensely and master it without distractions from other subjects.

A curriculum that utilizes and is supported by technology. We believe that technology holds a remarkable potential to stimulate thinking and learning, as well as being an effective tool for acquiring, evaluating and utilizing new knowledge.

An educational experience that values and responds to the needs of students and encourages teamwork and communication. Our curriculum places a premium on active learning in a noncompetitive, collaborative environment.

A curricular design that stresses the importance of early exposure to the profession. We believe in building basic skills early by exposing students to early practice experiences.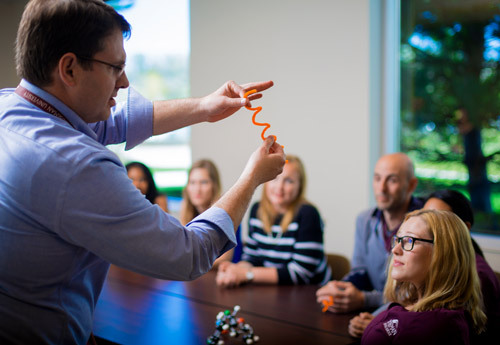 Six-Point Mastery Learning Model®
Roseman University strives to produce competent graduates in an educational environment that ensures high levels of achievement from all students and fosters cooperation and collaboration in the learning process. This is the concept of mastery learning.

Classroom As Teacher

Block Curriculum

Active & Collaborative Learning

Competency-Based Education

Assessment Learning

Early Experiential Learning