College of Dental Medicine
Whether you're seeking to begin your educational journey in dentistry or would like to continue your dental educational in one of our residency programs, Roseman University of Health Sciences is committed to providing the highest quality education and clinical experiences.
The dental programs offered by the College of Dental Medicine at Roseman University of Health Sciences offer an unparalleled learning environment. The inseparable nature of our lifelong col­league culture and Six-Point Mastery Learning Model® is what makes us unique. Our programs strive to improve the oral health of the public with special attention to underserved individuals and families by ed­ucating dentists, conducting education and clinical research, and pro­viding community-based health services and healthcare leadership.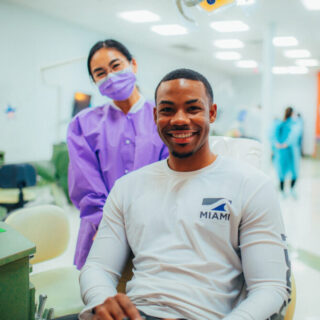 Roseman University College of Dental Medicine Practice Sites
Roseman Dental (South Jordan, UT & Summerlin, NV) and Roseman Dental & Orthodontics (Henderson, NV) offer affordable, high-quality patient care.
December 1, 2023
Thank you for taking the time to read this winter edition of Roseman University's SpectRUm magazine. The past couple of months were memorable here at Roseman. Not only did we…
December 1, 2023
Published in the Winter 2023 print edition of Roseman University's spectRUm Magazine In the ever-evolving landscape of healthcare and medical education, data has become a linchpin, guiding decisions, shaping strategies,…
December 1, 2023
Published in the Winter 2023 print edition of Roseman University's spectRUm Magazine Roseman University of Health Sciences is opening new career opportunities for future pharmacy students with the introduction of a…