Office of Communications
Coordinating the university's public and media relations efforts; and producing the university's main web pages, social media channels and publications.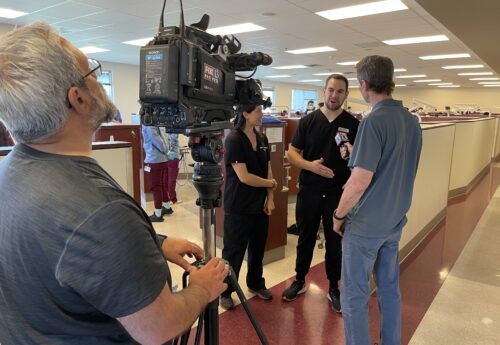 The Communications Office shares Roseman University's dynamic and remarkable story on campuses, between campuses, and with alumni, donors, partners and the public. Whether it's in print, pixel or post, the Communications Team captures, curates and shares how Roseman and its talented and ambitious students, faculty and staff fulfill the University's mission. We are publicists, writers, editors, producers, photographers, graphic designers and project managers, working to share the positive impact Roseman has on Nevada, Utah and beyond.
Design Project Request Submission
Communications Office Services & Resources
The Communications Team is the primary contact for the media. The team collects and shares Roseman University news with the media and gathers information for the University's news outlets (RU Life, SpectRUm and Website). Communication managers also provide strategic communications guidance to assigned schools and departments.
The Media is encouraged to contact the Communications Team to arrange interviews with Roseman experts in a variety of healthcare fields.
For general and urgent media inquiries during and outside of regular business hours (Mon-Fri, 8:00 am – 5 pm PT), please call 702-968-1633 or contact us via email at pr@roseman.edu.
The Communications Team is responsible for Roseman's Institutional presence on the World Wide Web. We provide consultation regarding online graphic standards and best practices, and collaborate with administrative and academic units on a wide range of strategic online communications initiatives.
In order to assist the Communications Office with your design request, please fill out the design project brief below. The information provided will give Communications an understanding of your needs and will give the Art Director a starting point for the design. Please submit your request when you have collected or developed all information required to complete the project.
*Please note that what you provide Communications below is just a guide. The Communications Office reserves the right to edit to stay inline with the new brand guidelines.
If you have questions, please email pr@roseman.edu.
Communications & Projects Specialist
Vice President of Communications & Partnerships
Administration
Communications
Roseman University in the News
Highlights of Roseman University and faculty experts in the news.
September 20, 2023
Series kicks off with Alzheimer's Disease on Sept. 25 followed by breast cancer awareness on Oct. 10 The Las Vegas-Clark County Library District has partnered with Roseman University College of…
August 16, 2023
Yesterday, the Department of Health and Human Services announced that Nevada is one of six states to receive a federal competitive grant for a pilot program to treat pregnant and…
August 14, 2023
Roseman University today announced the fall 2023 schedule of its Neighborhood Health Series, events that bring community members together to learn, share and collaborate with physicians, researchers and other healthcare…