Office of Communications
Coordinating the university's public and media relations efforts; and producing the university's main web pages, social media channels and publications.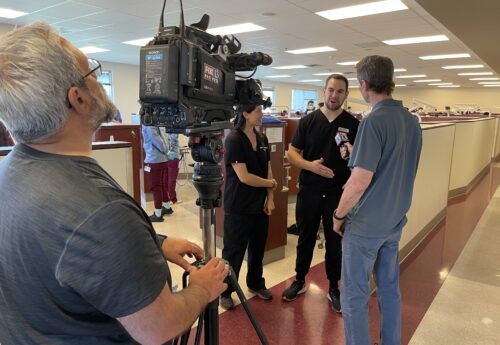 The Communications Office shares Roseman University's dynamic and remarkable story on campuses, between campuses, and with alumni, donors, partners and the public. Whether it's in print, pixel or post, the Communications Team captures, curates and shares how Roseman and its talented and ambitious students, faculty and staff fulfill the University's mission. We are publicists, writers, editors, producers, photographers, graphic designers and project managers, working to share the positive impact Roseman has on Nevada, Utah and beyond.
Design Project Request Submission
Communications Office Services & Resources
The Communications Team is the primary contact for the media. The team collects and shares Roseman University news with the media and gathers information for the University's news outlets (RU Life, SpectRUm and Website). Communication managers also provide strategic communications guidance to assigned schools and departments.
The Media is encouraged to contact the Communications Team to arrange interviews with Roseman experts in a variety of healthcare fields.
For general and urgent media inquiries during and outside of regular business hours (Mon-Fri, 8:00 am – 5 pm PT), please call 702-968-1633 or contact us via email at pr@roseman.edu.
The Communications Team is responsible for Roseman's Institutional presence on the World Wide Web. We provide consultation regarding online graphic standards and best practices, and collaborate with administrative and academic units on a wide range of strategic online communications initiatives.
In order to assist the Communications Office with your design request, please fill out the design project brief below. The information provided will give Communications an understanding of your needs and will give the Art Director a starting point for the design. Please submit your request when you have collected or developed all information required to complete the project.
*Please note that what you provide Communications below is just a guide. The Communications Office reserves the right to edit to stay inline with the new brand guidelines.
If you have questions, please email pr@roseman.edu.
Art Director/Graphic Designer
Vice President of Communications & Partnerships
Administration
Communications
Communications & Projects Specialist
Roseman University in the News
Highlights of Roseman University and faculty experts in the news.
August 16, 2022
Roseman University College of Nursing announced today a partnership with StraighterLine, the leading provider of affordable, online college courses, to make it easier for students to overcome financial and scheduling constraints to meet their academic needs for admission to nursing school.
June 6, 2022
By their nature, case reports are very compelling to the enquiring mind—almost like the gossip columns of the medical literature. Like gossip columns, case reports draw fascinating new connections using…
June 1, 2022
Established in 2001 by the U.S. Department of State's Bureau of Educational and Cultural Affairs, the Fulbright Specialist Program brings together distinguished academics and leaders with host institutions around the…