New Dentists Bring Expertise & Experience to Roseman's Dental Clinics
From the Winter 2022 print issue of SpectRUm.
In 2019, Roseman's new Dental clinic, adjacent to the Orthodontic clinic in Henderson, opened its doors as home of the Advanced Education in General Dentistry (AEGD) residency program and provider of high-quality preventative, routine and advanced dental services at reduced costs.
The mission of the Roseman University Dental Clinics is to improve the oral health of the public with special attention to underserved populations in Utah, Nevada, and the Intermountain West. This mission is achieved by educating healthcare professionals, conducting educational and clinical research, providing both on-site and community-based health services, treating patients with high-quality, compassionate, affordable, evidence-based care and setting the standard for healthcare leadership.
The state-of-the-art AEGD clinic is now enjoying new leadership and fresh energy with two new faces, Dr. Matthew Thacker, and Dr. Alice Chen. Both Dr. Thacker and Dr. Chen bring a wealth of experience in caring for children and adults locally, and regionally; Dr. Thacker, working in the armed forces, and Dr. Chen, in the clinic wooing her youngest patients into being great stewards of their dental care.
Meet Alice Chen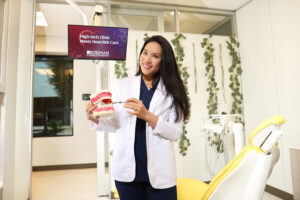 Dr. Chen recently joined Roseman's College of Dental Medicine as a board-certified pediatric dentist at Roseman's clinics in Henderson and Summerlin, NV. With a warm smile, kind face and gentle way about her, it is immediately obvious that she has a gift for connecting with children. Dr. Chen knew from a young age that she wanted to be a healthcare provider and that she wanted to use her hands in her profession. Shadowing an optometrist and dentist in high school, she connected quickly with the practice of dentistry but she had no particular plans or interest in treating children.
Though Dr. Chen is the eldest of two girls in her family, she did not have a great deal of experience with or an affinity towards children, yet she found that her passion for pediatric dentistry grew while in her second year of dental school in Boston. She received her dental degree from Boston University and her specialty training in Pediatric Dentistry at Temple University. Originally from California, Dr. Chen received her bachelor's degree in Psychology from UCLA with an emphasis in Developmental Psychology. In dental school, Dr. Chen worked alongside caring, compassionate faculty who took a great interest in mentoring her. Through this, she realized how important it was to her not only to provide preventative care, but to also ease pain and discomfort. Dr. Chen was born to parents who guided her not to a specific profession or interest, but toward an ethos, "be helpful and to take care of others." She has most certainly followed this guidance in her professional life.
After a decade in private practice, in 2021, Dr. Chen made a personal decision to focus more time on the practice of pediatric dentistry and to let go of some of the administrative and business tasks associated with running a practice. When the opportunity arose at Roseman Dental & Orthodontics, it seemed like a perfect fit.
"The opportunity at Roseman gave me the chance to place greater focus on doing what I love most—treating children. I couldn't be happier about the opportunity to work in both of Roseman's clinics."
The entrée into academia also offered her the chance to return some of the goodwill and guidance offered to her by faculty when she was a student. In her new role, Dr. Chen has the chance to shape and inspire future providers. Roseman Dental & Orthodontics, in addition to providing care to adults and children, is the home of the Advanced Education in General Dentistry (AEGD) residency, which hosts 2 residents per year through a partnership with NYU Lutheran Dental Medicine. These dentists receive advanced training through Roseman Dental & Orthodontics and are exposed to more complex cases. In her position, Dr. Chen is able to work alongside these residents, shaping their experiences and developing patient-centered practitioners while treating children. Roseman Dental & Orthodontics' dental clinic also refers patients to Roseman Dental & Orthodontics' ortho clinic, which is at the same address and next door.
Dr. Chen also practices at Roseman's newest dental family member, Roseman Dental – Summerlin, Roseman's pediatric dental clinic focused exclusively on treating medically compromised children in need of specialized dental care. Dr. Chen works alongside Dr. Michael Cottam, clinic director, to treat patients of Roseman's partner organization, Cure 4 The Kids (C4K). C4K treats children with cancers, blood diseases and other life threatening diseases. These children often put their dental needs aside, yet they need a dental home with dentists that work alongside their physicians to deliver what is often specialized care.
Dr. Chen is a beloved healthcare provider in the Nevada community. She brings to Roseman extensive experience, a deep commitment to improving the welfare and health of children, and a warm sense of optimism about her work. Dr. Chen and her husband Dr. Matthew Raddue, an anesthesiologist, enjoy being parents to their two children. Welcome Dr. Chen!
Meet Dr. Matthew Thacker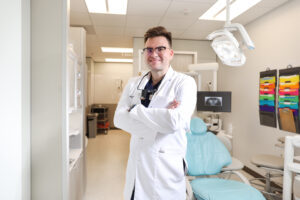 Roseman University welcomes Dr. Matthew Thacker as the new program director for the Advanced Education in General Dentistry (AEGD) residency in Henderson, Nevada and AEGD Clinic Director. After earning his bachelor's degree in Biology with a concentration in Integrative Physiology from UNLV, he attended UNLV's School of Dental Medicine and received his Doctorate in Dental Medicine (DMD) degree in 2018. After graduating dental school, Dr. Thacker served in the U.S. Navy as a Fleet Marine Force dental officer for four years aboard the Marine Corps Air Ground Combat Center in 29 Palms, California. He continues to serve the Las Vegas Valley community as a volunteer dentist for the Special Olympics, Give Kids a Smile®, and UNLV's Sgt. Ferrin Memorial Veteran's Clinic. He is passionate about providing a broad scope of evidence-based dental care to the community and is dedicated to training the next generation of dentists to be skilled, compassionate, and service-based healthcare providers. Dr. Thacker is a member of the American Dental Education Association, Nevada Dental Association, Southern Nevada Dental Society, and is a Fellow of the Academy of General Dentistry.
Dr. Thacker brings to his work a team-based approach to problem solving, an inordinate amount of energy, and a genuine desire to serve our Nevada community with empathy and respect. While serving in the military was something he may not have expected as a child, he enjoyed his time serving and caring for the young service men and women coming up through the ranks. It also seems that the four attributes of the US Navy – initiative, accountability, integrity and toughness – are traits he embodies even now moving out of active service. Dr. Thacker has attacked his new role with focused initiative, and a data-driven approach. With his combined role of teaching, practicing and running the day-to-day operations of the clinic, his job is not for the faint of heart. He bears multiple responsibilities and must also work with staff across Roseman Dental & Orthodontists' dental clinic, with his colleagues in the ortho clinic of Roseman Dental & Orthodontics, with Roseman Dental – Summerlin, and across campus and statelines alongside our South Jordan, UT clinic and faculty.
Despite this workload and an intense focus, what most people also immediately see in Dr. Thacker is an easygoing kindness and affability. Dr. Alice Chen, Roseman's new pediatric dentist at Roseman Dental & Orthodontics, says, "Dr. Thacker works with his team with the utmost respect and kindness, he empowers us and brings a level of positivity to everything he does." While Dr. Thacker has youth on his side, he imparts a wisdom and calm that seems befitting of someone much older.
Excited to be back serving his local community, and the community in which he was born and raised, Dr. Thacker reflects on his younger years as a kid bowling at the Henderson bowling alley and getting pizza with his friends at the local pizza place.
"It is so nice to be back in Nevada, where I grew up, serving our community and to continue the incredible work of Roseman University."
Dr. Thacker had always known of Roseman's dental programs and was intrigued by Roseman's Six-Point Mastery Learning Model®. He'd even attended some of Roseman's online Neighborhood Health Series events during COVID while stationed in California. With a confluence of factors occurring at just the right time to bring him to Roseman, Dr. Thacker is breathing new life and energy into our beautiful state-of-the art clinic. Dr. Thacker reports that the clinic is very busy, and is seeing many patients for routine and more significant dental work. In late August, a new hygienist will join his team and allow for more patients to be seen.
In his free time, Dr. Thacker and his wife, Dr. Angelica Jane Bustos-Thacker, also a dentist, play with their two dogs, Puka and Boba. Dr. Thacker also enjoys ice hockey, graphic design, computer coding, traveling and is an avid woodworker. Welcome Dr. Thacker!
Dr. Thacker and Dr. Chen are already making great strides in putting into practice exciting new ideas in the Dental Clinic. For more information or to make an appointment in Nevada for Dental or Orthodontic care, please call 702-968-5222 or visit rosemandental.com.