Smile 4 The Kids – Patient Assistance Fund
Dental care for children undergoing treatment for life-threatening conditions, including childhood cancer, blood disorders, and rheumatological diseases, and their families.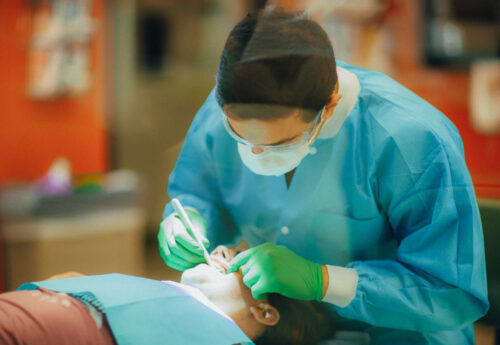 The Smile 4 The Kids fund was born out of a foreseen need to help underserved patients experiencing life-threatening conditions bridge the financial gap of urgently needed and highly specialized oral health care. This fund will allow vulnerable patients access to the dental care they need but cannot afford.
With your gift, the Smile 4 The Kids fund will grow, allowing the clinic to serve a more significant number of patients in need while also providing highly technical training to our students and resident doctors. Please consider the gift of specialized oral health care for this vulnerable population of patients. All funds raised will directly provide needed dental care to qualified patients.
Click HERE to Give Now to the Smile 4 The Kids Fund
Purpose
Most people are aware of common side effects of cancer treatment like nausea and hair loss, but few know that most cancer patients develop problems in the mouth, which may interfere with treatment and lessen the quality of life. Roseman Dental, Summerlin, aims to provide onsite quality dental care to children undergoing treatment for life-threat­ening conditions, including childhood cancer, blood disorders, and rheumatological diseases. This onsite health clinic will be the first non-profit, community-based service in Nevada to provide integrated medical and oral health care for children with complex medical conditions. This clinic will be the dental home for Cure 4 The Kids (C4K) patients, their siblings, and other immediate family members. Providing services to the patient's immediate family will ensure that the family's dental healthcare needs are met, enabling them to focus on the treatment and care of their child with cancer.
Roseman University & Cure 4 The Kids Foundation
Roseman Dental is part of Roseman University of Health Sciences College of Dental Medicine (CODM). In 2009, the CODM opened its first clinic at the Henderson, Nevada campus as part of its Ad­vanced Education in Orthodontics and Dentofacial Orthopedics residency program. The 20-chair clinic offers affordable, high-qual­ity orthodontic treatment for children, teens and adults. The clinic is also part of the Southern Nevada Cleft Palate and Craniofacial Team providing nasoalveolar molding (NAM) to treat infants born with cleft palate. Also at the Henderson campus, the CODM operates a dental clinic comprised of one surgical room and six operatory rooms, providing patients with routine and advanced dental treatment. The CODM success­fully operates a 106-chair dental clinic on the South Jordan, Utah campus. Our CODM graduate students have the interest, motiva­tion, and now the opportunity to be taught and practice such spe­cialized treatment.
Cure 4 The Kids Foundation (C4K) is an independent division of Roseman University of Health Sciences, located on the Roseman University Summerlin, Nevada campus. C4K is currently providing comprehensive outpatient care to children with cancer and other catastrophic diseases. With the creation of Roseman Dental in Sum­merlin, patients will have the opportunity to receive both medical and oral healthcare in one location.
Committed to Community
This collaboration of Roseman and C4K will ensure a seamless and successful continuum of care for at-risk oral health patients and their immediate families.