Master of Science in Pharmaceutical Sciences (MSPS)
Developed in collaboration with pharmaceutical and dietary supplement industry stake holders to provide students with training and expertise tailored to today's professional needs.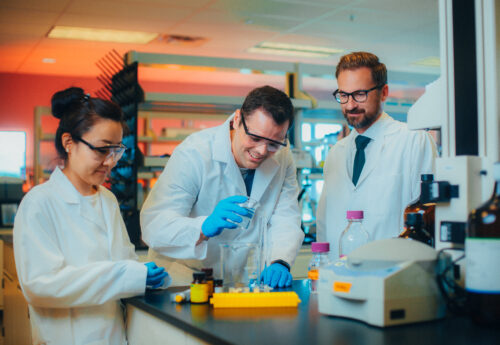 Fast Facts
Only MSPS program in the Intermountain West.
Hyflex delivery (in person, online or both) – 2 years to complete.
Pathway to numerous in-demand professions in pharmaceutical, biotech, and nutraceutical industries through Roseman network.
Strengthens application to health sciences programs.
Increase your earning potential – median salary $132,000.1
Application deadline: Application for 2023-2024 Closed
Start: July
From the Program Director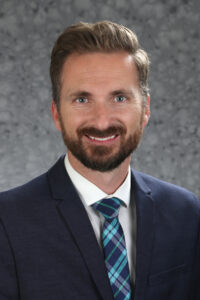 The MSPS program is a 2-year master's degree that is awarded after completion of 36 credit hours and a thesis defense. It was developed in collaboration with pharmaceutical and dietary supplement industry stake holders to provide students with training and expertise tailored to today's professional needs. Faculty in the College of Pharmacy as well as adjunct faculty at external sites in industry or academia will guide prospective students through the program designed to train highly skilled and experienced graduates that will contribute to the benefit of a healthy society.
Students begin this process from day one in a uniquely Roseman fashion. Didactic coursework is delivered in a block format, allowing students to focus on one area of learning at a time. Active and collaborative learning are foundational teaching strategies with learning and retention being measured by regular and frequent assessments. Finally, discussion and team-based learning are augmented in the hexagonal classrooms where all have ready and close access to faculty facilitators.
The College of Pharmacy features faculty with a wide breadth of experience in the pharmaceutical sciences and pharmacy practice. This includes expertise in pharmaceutical sciences such as: pharmacology, biochemistry, medicinal chemistry, drug discovery, drug formulation and delivery; as well as pharmacy practice sciences including medication therapy management, infectious disease, and oncology. Additionally, experts in clinical pharmacology, pharmacokinetics, product development, and other areas are available as external adjunct faculty advisors.
The MSPS program at Roseman University of Health Sciences is committed to producing graduates with skills and experience that will add tremendous value to any organization. We trust that a students graduate training experience at Roseman will be a beneficial experience that will shape their ability to make a positive impact in their own lives and in the health of the world.
Please find additional information on MSPS program as you explore our website.
Sincerely,
Casey Sayre, PharmD, PhD
Program Director
Master of Science in Pharmaceutical Sciences program
1AAPS salary survey. Exhibit 4.07, pg 52. AAPS Salary Survey - American Association of Pharmaceutical Scientists, 2107 Wilson Boulevard, Arlington, Virginia, 22201. 2022. Accessed August 15, 2023. https://www.aaps.org/career-development/aaps-salary-survey-calculator.
Start your journey here
Application for 2023-2024 Closed
The two-year MS in Pharmaceutical Sciences (MSPS) degree requires the successful completion of 36 credit hours of didactic and thesis coursework. During this program, students will complete and defend a written thesis. The primary objective of the MSPS program is to prepare graduates for a career in pharmaceutical research. Students are provided with a strong foundation in pharmaceutical science knowledge, highlighted by the development of scientific research skills.
The didactic curriculum for MSPS students will be centered around a core of graduate level coursework. These courses will provide a rigorous foundation of education built on fundamentals of research, communication and leadership, and concepts in the biomedical sciences.
In addition to Roseman's Master of Science in Pharmaceutical Sciences, students can opt to include a focus in Data Science & Health Informatics as part of their course of study.
Upon satisfactory completion of the MSPS Program, graduates should be able to:
Knowledge
Apply a broad knowledge of pharmaceutical sciences and human disease in scholarly activity in the field.
Use advanced pharmaceutical science knowledge to understand and investigate questions that improve human health.
Utilize knowledge of the principles and processes of the basic sciences and the scientific method in their completion of basic science courses, and apply this to the research process.
Skills
Demonstrate the ability to critically evaluate scientific literature.
Apply fundamental concepts in the core areas of pharmaceutical sciences to a research problem in their chosen area of research.
Demonstrate the ability to formulate adequate scientific questions to solve specific research problems.
Apply laboratory skills such as planning of experiments, data acquisitions, data management, analysis and interpretation to a specific research problem.
Demonstrate the ability to accurately record and manage research data.
Demonstrate the ability to effectively communicate both verbally and in a written format with peers, researchers, and other scientists.
Demonstrate biostatistical, research design, and program evaluation skills.
Attitudes
Demonstrate a commitment to the highest level of ethical standards and scientific practices in the conduct of pharmaceutical research.
Demonstrate an appreciation for the role of the research discipline in improving health outcomes.
Engage in collaborative and interdisciplinary approaches and teamwork through team-based coursework and research learning.
Admissions Materials
An applicant must submit the following materials:
completed application
$75 non-refundable application fee
an official transcript from each college or university attended, listing all courses taken, grades and degrees earned, and dates of graduation
three letters of recommendation from persons acquainted with the applicant's academic program, scholastic ability, or professional performance
a brief autobiographical statement describing the applicant's educational and professional goals and objectives
a curriculum vitae
Additional material or standards may be required by the academic unit's Graduate Studies Committee for the purpose of evaluating prospective students and making admission decisions. These requirements may include:
minimum requirements for the GRE or other standardized tests, as may be relevant to the field of study
specific pre-requisite courses
other training/preparatory activities, as applicable
Admissions Criteria
Bachelor's degree from an accredited institution in the Life Sciences (biology, biochemistry, biotech, chemistry, pharmacy, pharmaceutical sciences or related field) with a preferred GPA of 3.0.
Three letters of recommendation emphasizing academic performance.
A personal statement, stating future goals and research interests and interest in the MSPS program
| | | | |
| --- | --- | --- | --- |
| Year One | | | |
| Course Title | Prefix | Number | Credit Hours |
| Fundamentals of Biomedical Research | MSPS | 600 | 4 |
| Organizational Behavior and Leadership | MSPS | 610 | 2 |
| Introduction to Regulatory Affairs | MSPS | 620 | 3 |
| Concepts in Biomedical Sciences | MSPS | 630 | 5 |
| Journal Club | MSPS | 700 | 1 |
| Seminar | MSPS | 710 | 1 |
| Thesis Research | MSPS | 730 | 2 |
| | | | |
| Year Two | | | |
| Course Title | Prefix | Number | Credit Hours |
| Advanced Pharmaceutics | MSPS | 631 | 3 |
| Journal Club | MSPS | 701 | 1 |
| Seminar | MSPS | 711 | 1 |
| Thesis Research | MSPS | 731 | 10 |
| Elective | | | 3 |
| | | | |
| | | TOTAL | 36 |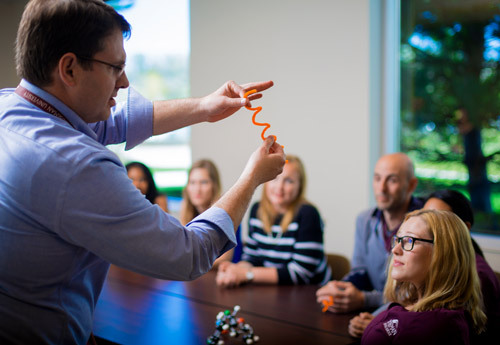 Six-Point Mastery Learning Model®
Roseman University strives to produce competent graduates in an educational environment that ensures high levels of achievement from all students and fosters cooperation and collaboration in the learning process. This is the concept of mastery learning.

Classroom As Teacher

Block Curriculum

Active & Collaborative Learning

Competency-Based Education

Assessment Learning

Early Experiential Learning
September 20, 2023
Series kicks off with Alzheimer's Disease on Sept. 25 followed by breast cancer awareness on Oct. 10 The Las Vegas-Clark County Library District has partnered with Roseman University College of…
September 14, 2023
Roseman University of Health Sciences today awarded its 2023 Hero Scholars at events held on its Henderson, Nevada and South Jordan, Utah campuses. Ten students accepted into the university's Colleges…
September 14, 2023
Last month, the EMPOWERED program at Roseman University College of Medicine was awarded two grants to support its ongoing programs to help pregnant and post-partum individuals in their recovery from…