Orthodontics (AEODO) Internship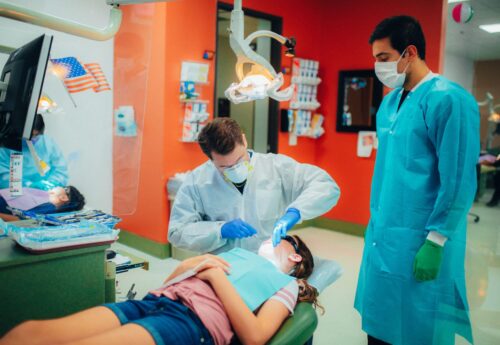 Overview
The Internship in Orthodontics at Roseman University is an 11 month (July-June), non-accredited, certificate program. This program is intended for select dental school graduates who have a desire to enhance their knowledge and understanding of orthodontic treatment and the everyday practice of orthodontics as a dental specialty, as well as those who would like to enhance their preparation for a future orthodontic residency program.
Description
The Internship in Orthodontic at Roseman University is designed to allow the intern the opportunity to learn in a collaborative environment. The interns will be participating in didactic learning, problem-based seminars, clinical activity, and research endeavors. Didactic learning will include, but is not limited to, fundamentals of orthodontic treatment planning, cephalometrics, biomechanics, growth and development, radiographic imaging and interpretation, as well other topics in contemporary orthodontic education.
Interns will have the opportunity to participate hands on in the clinic with orthodontic residents and faculty. Additionally, they will be able to observe and participate in infant craniofacial orthodontic techniques and treatment. As the intern progresses, certain procedures may be assigned to them for independent clinical treatment.
Interns will also participate in research activities based on their individual level of comfort. Research activity may include working with faculty on projects already in progress at many different milestones, including data collection, data analysis, or manuscript preparation.
Objectives & Outcomes
Formulate and present evidence-based orthodontic diagnoses and treatment plans based on a patients individual needs utilizing the latest in 3D imaging techniques.
Demonstrate familiarity with contemporary orthodontic techniques, protocols, and appliances and when to use them.
Understand orthodontic biomechanical principles and application to patient management.
Develop competent and clinically relevant treatment skills.
Demonstrate effective time management when working with patients in the clinic.
Develop effective communication skills with patients, parents, and other healthcare professionals.
Apply principles of growth and development to orthodontic diagnosis, treatment planning, and patient treatment.
Understand and apply cephalometric analyses to orthodontic diagnostics.
Requirements
Interns must have graduated from a CODA Accredited Dental Program. Previous application to the Roseman University of Health Sciences Orthodontic Residency Program is not a requirement of the applicant. Applicants must be eligible for limited licensure in the State of Nevada as outlined in the Nevada State Board of Dental Examiners (https://dental.nv.gov/).
Application
Prospective interns may email orthoadmissions@roseman.edu for application submission information.
Tuition
Tuition is $30,100, with a $1,000 seating deposit due within 14 days of acceptance.
1st payment of $15,050 due by July 17, 2023 ($1000 less if deposit already paid)
2nd payment of $15,050 due by January 2, 2024
Completion
Upon completion of the program, the intern will receive a certificate of attendance. This program does not result in any specialty certificate or diploma and does not provide the ability to practice in the U.S. or represent themselves as an orthodontist, nor is it a guarantee of residency acceptance at Roseman University or any other orthodontic residency. Credit for classes taken as an intern may not be applied to residency should an intern be accepted at Roseman University of Health Sciences Orthodontic Residency Program.