ASPIRE
Align students, educators, and the community in designing and delivering an inclusive and collaborative environment for innovative learning, healthcare and research.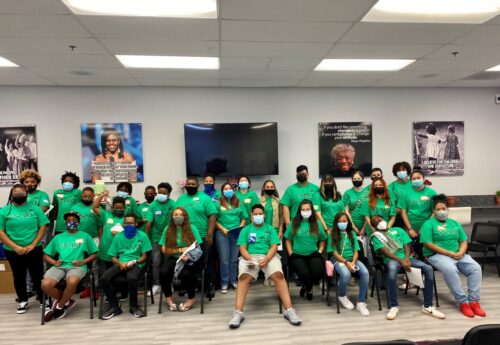 Roseman University College of Medicine is building critical pathway programs to enable, inspire and educate the next generation of medical students. ASPIRE will track students from as early as elementary school to medical school – with one major goal – to increase the diversity of the physician workforce by exposing and providing learning opportunities for students traditionally underrepresented in medicine and to educate diverse students to provide comprehensive care to the Southern Nevada community. ASPIRE will engage the families of potential students to ensure the success of the student throughout the journey via quarterly reviews of student material and guidance on how parents and guardians can provide support to their student. Students in ASPIRE may also enroll in GENESIS should they so choose.
The program looks to address the needs of the lifelong learner at various levels in their educational attainment longitudinally with multiple points of entry:
A Rose Grows in the Desert – multi-level STEAM Showcase event
Health Education and Enrichment Program (HEEP) – designed for middle school students
Health Scholars Academy (HSA) – designed for high school students
Roseman University College of Medicine Science Training and Research (RUCOM STAR) – for Post-secondary students interested in a career in healthcare – i.e., Medicine, Nursing, Physician Assistant, Dental Medicine, Pharmacy, Public Health, etc.
ASPIRE's HSA launched virtually with students from a community partner located in East Las Vegas in 2020 during the COVID pandemic. It was designed for a small number of students (10-15) per cohort because of its intensity and the time commitment by program staff to ensure success of the participants. It will address some of the educational disparities often associated with under-resourced communities. As the College of Medicine grows its collaborative relationships in the community with organizations located in North and West Las Vegas, the other tiers of ASPIRE will be implemented.
ASPIRE's Rose Grows in the Desert is a series of quarterly two-hour events designed to give students a "taste" of science by offering mini-interactive workshops and experiences. In partnership with community-based organizations, these events will take place throughout the Las Vegas area. ASPIRE's HEEP and RUCOM-STAR programs are in the development phase.