Accelerated Bachelor of Science in Nursing (BSN) Program
Roseman University of Health Sciences offers an accelerated Bachelor of Science in Nursing (BSN) with two learning modalities, hybrid-online and on-campus. The BSN program prepares candidates for entry into practice as nurse generalists. At the completion of the program, the graduate must apply for, take, and pass the National Council Licensure Examination for Registered Nurses (NCLEX-RN) required for all registered nurse candidates.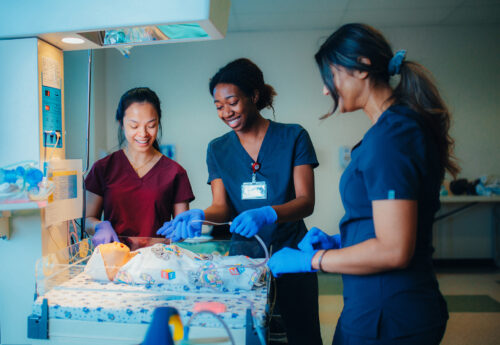 Application Open Dates

Feb 2024 BSN Cohort – opens 8/1/23, closes Nov 1st, 2023
June 2024 BSN Cohort – opens 11/1/23, closes May 1st, 2024
August 2024 On campus BSN Cohort – opens 8/10/23, closes May 1st, 2024
October 2024 BSN Cohort – opens 5/1/24, closes August 1st, 2024
February 2025 BSN Cohort- opens 8/1/24, closes Nov 1st, 2024
On-Campus Learning Modality
The on-campus learning modality offers the didactic component on-campus, in-person. Clinical rotations, group assignments, and laboratory assignments are also held in-person at one of the Roseman campuses and/or healthcare facilities in Southern Nevada or Utah.
Hybrid-Online Learning Modality
The hybrid-online learning modality offers the didactic component online through faculty presentations. Clinical rotations, group assignments, and laboratory assignments are in-person at one of the Roseman campuses and/or healthcare facilities in Southern Nevada or Utah.
Fact Facts
Program duration: Less than eighteen (18) months
Fall, Winter, Spring and Summer starts
Choose your journey: hybrid online or on-campus
Application, fees, transcripts, and interviewed required
Minimum 2.75 GPA and 49 semester credits required
Minimum 58.7% TEAS score
Why choose Roseman University's accelerated Bachelor of Science in Nursing (BSN) program?
96.55%
First time pass-rate on the Next Gen NCLEX board exam
for tests taken by Roseman BSN graduates between April 1 and September 30, 2023
94.67%
of Roseman BSN graduates are hired within 6 months
based on Roseman College of Nursing Graduate Employment Survey between Oct. 1, 2020 and Sept. 30, 2021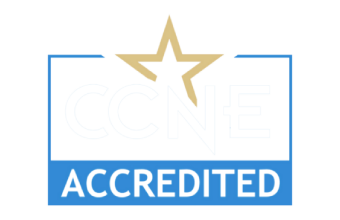 The baccalaureate degree program in nursing at Roseman University of Health Sciences is accredited by the Commission on Collegiate Nursing Education
Start your Journey
Join us as we bring innovative care and caring to our communities. You'll have access to cutting-edge technology, learn how to provide empathic care to your patients and receive hands-on clinic experiences that will prepare you for diverse nursing career options.
Have questions? Contact an Admissions Advisor.
Prerequisite Courses

(Area of Concentration)

Credits

Descriptions
Physical/Biological Science
16
Sciences dealing with living organisms, life processes, and their interrelationships. Total credit hours must include 12 anatomy, physiology, and microbiology with labs credits.
Social Science
6
The study of human society and social relationships.
Math
3
Statistics
English
6
Must be college composition courses taken from an English or Writing Department.
Humanities
6
Include courses that study human culture, including but not limited to; art, history, anthropology, communications, literature, philosophy, religion, music, and theater.
Electives
9
The electives cannot be remedial, occupational, or recreational.
US and/or Nevada Constitution
3
Nevada State Requirement
Total Number of Prerequisite credits
49
Applicants must complete the following coursework with a minimum grade of "C" (2.0) or higher. The Cumulative GPA must meet the 2.75 minimum GPA requirement.
A StaighterLine to Roseman University
Roseman University College of Nursing is making it easier for you to overcome financial and scheduling constraints to finish your courses and meet your academic goals. If you're in need of prerequisite courses to attend Roseman, it's time to maximize Roseman's partnership with StraighterLine. StraighterLine offers online, self-paced, low-cost, ACE-approved general education courses. Roseman's partnership with StraighterLine offers an affordable, convenient pathway to a degree in nursing.
The Test of Essential Academic Skills (TEAS) is a pre-entry test used to determine an applicant's academic preparedness in Reading, Mathematics, Science, and English. The TEAS is a required pre-entry exam for all prospective students wishing to apply to the College of Nursing program at Roseman. The TEAS is also required to determine a student's eligibility to be granted an interview.
Roseman University now offers the TEAS Exam via virtual proctoring. To register for the exam please visit http://gonursing.roseman.edu/virtualteas/inquiryform.
The TEAS score must be dated within the past 12 months prior to the date of application.
TEAS requirements
TEAS Overall: 58.7%*
TEAS may not be taken more than 3 times in a calendar year
No less than 4-week intervals between TEAS tests
Require the ATI TEAS
*Minimum TEAS scores may change each academic year. Please contact an adviser at the applicable campus and program for clarification. Please note: MEETING MINIMUM TEAS REQUIREMENTS IS NOT A GUARANTEE FOR AN INTERVIEW OR ADMISSION TO THE PROGRAM. The Bachelor of Science in Nursing application process is a competitive process based on the applicant pool. Preparation for the TEAS Assessment Technologies Institute, LLC (ATI) assists applicants to prepare for the TEAS. Preparation materials and practice tests can be found by going ATI's online store.
TEAS Testing Sites and Registration Form
Students must have submitted an application at the time of registration to be eligible to take the exam at our Henderson or South Jordan campuses. Please email the appropriate Admissions and Enrollment Office for more information regarding the times, location, and registration of the test. Students will need to pay the testing fees online when taking the test.
TEAS Test for Out-of-State Applicants Out-of-state students should contact ATI at 1-800-667-7531 to schedule a proctored TEAS. Applicants should inform ATI that they are taking the TEAS for the Roseman University of Health Sciences College of Nursing. After completing the test, please indicate that TEAS results are sent to Roseman University of Health Sciences College of Nursing. Only results received directly from ATI will be considered official.
Students may also contact testing centers located within colleges or universities in their area to determine if they are eligible to take the TEAS test at that location.
TEAS Results TEAS results must be official and sent directly to Roseman University of Health Sciences from ATI. Applicants who have previously taken the TEAS within the past 12 months should go to ATI's website to order the official test scores to be sent to Roseman University of Health Sciences.
If you have additional questions surrounding the TEAS Exam, please call our College of Nursing Admissions at 702-968-6642.
Initial review of an applicant's eligibility is based off grades received in their prerequisite coursework as well as their scores on the TEAS exam. These scores are then competitively reviewed by the Director of Admissions & Enrollment to determine interview eligibility. All applicants are required to complete an interview. During this process, applicants will be asked to complete a writing sample.
Upon completion of the interview process, Applicants of the Accelerated BSN program at Roseman University will be competitively reviewed based on a scoring rubric in the following areas:
Academic Achievement Score
Interview Score
Teas Score
Writing Sample Score
The College of Nursing Admissions committee will review and provide their recommendation for acceptance within approximately two weeks from and applicants' interview. Offer letters will be sent via email from the Director of Admissions & Enrollment. Due to the overall competitiveness of our program, applicants are reminded they are applying to the program and not the campus. Campus decisions are final and provided at the time of their offer.
Offer & Accepting Admissions
Extended offers of admission will be sent via email using the email address on their Nursing CAS account. The email offer letter will contain an admissions packet providing next steps on securing their seat in the program. Applicants offered admissions will need to secure their acceptance by submitting a seating deposit of $250.00 within 14 days of their offer. Applicants failing to submit their seating deposit within the 14 days will be denied admissions and will have to reapply and go through the full admissions process. Please note applicant seating deposits are non-refundable.
Deferment Options
The College of nursing Provides two options for deferring their admissions or application.
Deposit-Deferred-In the event an applicant is granted admission into the College of Nursing Accelerated BSN program and due to extenuating circumstances, unable to start the program during the term of admissions, the applicant will have the opportunity to defer their admission to the next eligible term. However, the applicant will need to submit their seating deposit and will be guaranteed a seat for the next eligible term at the campus in which they were offered originally.
Application Rollover- In the event an applicant is unable to move forward in the admissions process, an applicant can request to have their application rolled over to the next eligible term. Applicants requesting this option will be placed into a new applicant pool and will be competitively reviewed. Requesting an application rollover does not guarantee an interview or acceptance into the program.
**Please note the application fees and seating deposits are non-refundable for applicants who fail to enroll in next eligible term after completing a deposit deferred form or application rollover.
Requirement for Criminal Background Check
The nursing curriculum contains a didactic and clinical component. All students must complete a criminal background check as required by the clinical agencies. Student Criminal background checks are conducted via Complio. Personnel from the Human Resources at the clinical agency review the results of each student's background check and either accept or deny the student opportunity to enter their agency for the clinical rotation. A student who is not accepted in an agency for the clinical rotation cannot meet the curriculum requirements for graduation. The student must withdraw from the nursing program. Additional information may be obtained by visiting the curriculum page or contacting the appropriate Director of Clinical Resources.
Financial Aid
Roseman offers financial aid to qualifying students in the form of grants, scholarships, and loans. Please note that the maximum federal aid (Pell Grant and Stafford Loans) will not cover the entire cost of tuition and fees of the program. Students may need to acquire a private loan to be able to finance the remainder of the cost of the program. The Financial Aid office recommends that loan applications be completed at least 4 weeks prior to the start of the program.
For more information, please visit the Financial Aid section of this website.
Due to the unique nature of the concept-based curriculum in the prelicensure degree program, the College of Nursing does not accept the transfer of nursing coursework from other nursing programs.
Roseman University of Health Sciences – College of Nursing accepts qualified international students and follows the Immigration and Naturalization (INS) rules and regulations on the issuance of Form I-20.
F1 Status (I-20) College of Nursing Program Eligibility Notice
Per Federal regulations, students requiring an I-20 are only eligible to enroll in the classroom based BSN program. Therefore, students requiring an I-20 are not eligible to enroll in any other program in the College of Nursing (i.e., Hybrid-BSN, RN-BSN, and MSN-FNP). Students requiring an I-20 must contact Roseman's Student Services Office at studentsvs@roseman.edu as soon as possible to discuss the I-20 process.
Tuition and Fees for Students on F1 Visas
Roseman University of Health Sciences requires all students on an F1 visa to pay tuition and fees for the first year of their program in advance and prior to issuance of an I-20. You must demonstrate that you are financially able to support yourself for the entire period of stay in the United States while pursuing a full course of study. You are required to show documentary evidence of means of support. This policy applies to both initial and transfer students.
The Registrar/Student Services Office will provide the student with a confirmation letter that will accompany the I-20 and may be used to confirm monies paid to the government agency. A list of these costs is located in each respective unit's sections of the Student Catalog.
Background Check Information
The College of Nursing curriculum requires a background check of all students in our BSN program. Because of this, all students must have a social security number. For more information, please visit the Social Security website.
Foreign (Non-US) Coursework
Applicants who wish to have their non-U.S. coursework included in their application review (for purposes of documenting a degree earned or prerequisite coursework) must provide an official evaluation of an independently conducted verification of academic credentials by an education evaluation service. This assessment must include a course-by-course evaluation showing courses completed, credit hours, and letter grade equivalency as well as validation of US equivalency of all degrees earned and accreditation. Independent evaluations will be accepted from World Education Services (WES), or Josef Silny and Associates (JSA). Evaluations must be official and received by the College of Nursing in its original sealed envelope.
Prerequisite courses listed on the evaluation must include whether or not the course included a lab component, if applicable. Please note that not all coursework may be transferable. A course description and syllabus may be requested to provide additional information. Transfer of core nursing prerequisites is at the discretion of the College of Nursing. Prerequisite courses completed at a non-U.S. institution requires a course-by-course evaluation from an accepted foreign-coursework evaluation organization.
TOEFL results are required if the applicant has not completed a year-long series of English Composition courses (6-semester credits) or at least 4 semesters at a regionally accredited college or university in the United States. BSN applicants who have taken the English composition requirements in a non-U.S. institution and did not earn a "B" grade or higher, must take the TOEFL.
Only test results sent directly from TOEFL will be accepted
Applicants must achieve a score of at least 550 on the paper-based TOEFL; 213 on the computer-based TOEFL; or 79 on the internet-based TOEFL.
Roseman's TOEFL code is 446.3
The College of Nursing reserves the right to limit the number of students admitted based upon faculty and clinical resources. The College does not discriminate on the basis of age, race, color, national origin, religion, handicap, marital status, or sexual orientation. The college seeks a diverse student body with demonstrated academic competency.
Undergraduates entering Roseman University's College of Nursing in the June 2023 cohort and beyond will be under new admissions requirements and an updated concept-based curriculum. Current students and incoming undergraduates enrolled in the October 2022 and February 2023 cohort will be unaffected by this change.
The new concept-based curriculum builds on the teaching and learning strategies Roseman has used for years in the Six-Point Mastery Learning Model®. Students will have even more opportunities for active hands-on work that connects classroom experiences with real life situations, emphasizes clinical judgment, and strengthens critical thinking skills.
Course Block Curriculum System
The University uses a "Block System". Students study one content area and master it without distractions from other subjects. Progression in the nursing program is dependent on the mastery of each Block.
Level of Achievement
The University has set the standard of achievement for each Block at 90%. To receive a "pass", or "P", a student must achieve a score of 90% or higher on each assessment.
The College of Nursing provides additional learning opportunities for students to achieve the required 90% in each block. There are additional opportunities through remediation to achieve a standard of 90% to accommodate different styles and rates of learning. During remediation, students work with faculty to identify areas that need further mastery, develop learning strategies, and re-test or rewrite the educational assignment.
Classroom/ Lab Hours
The Accelerated BSN on-campus learning modality option is a full-time program. Classes are Monday-Friday from 8:00 am – 3:00 pm for all didactic components in each block. Skills lab assignments may need participation after normal class hours.
The hybrid-online modality's didactic components of the block are synchronous and asynchronous online sessions. Assessments, group assignments, skills lab assignments, and clinical rotations are in person. Blocks vary in length depending on the number of credits and whether a clinical component is required.
Clinical Rotations
Clinical rotations are held at various hospitals and healthcare facilities throughout Southern Nevada, the Salt Lake Valley, and surrounding areas. Clinical rotation hours vary in length and hours. Hours and location of a clinical rotation are assigned. Additional information regarding the Accelerated BSN program admissions requirements, curriculum, and policies may be obtained by downloading the College of Nursing Student Handbook. If you are interested in talking to an advisor about the program, please complete an online request form, or call 702-968-1679.
Accelerated Timeline
A significant benefit of accelerated nursing programs is right there in the name: the accelerated timeline. If you're able to commit to this program from day one as though it was a full-time job, you could receive your nursing degree in as little as 18 months. You may find that while others are still hunting for the right nursing program, you could already be out in the workforce, demonstrating your full nursing potential.
Please review a full listing of tuition and fees by clicking the button below.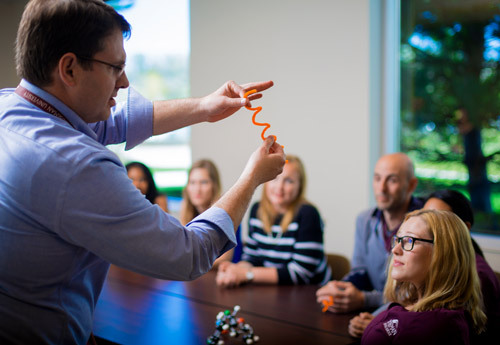 Six-Point Mastery Learning Model®
Roseman University strives to produce competent graduates in an educational environment that ensures high levels of achievement from all students and fosters cooperation and collaboration in the learning process. This is the concept of mastery learning.

Classroom As Teacher

Block Curriculum

Active & Collaborative Learning

Competency-Based Education

Assessment Learning

Early Experiential Learning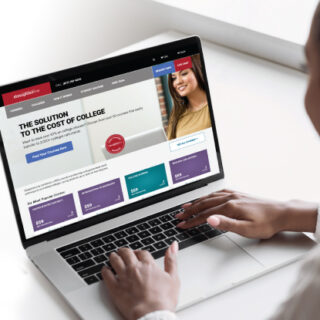 Need to complete prerequisite courses?
StraighterLine to Roseman University: Affordable, convenient pathway to a degree in nursing