Facilities Management
"The Facilities Management Unit of Roseman University is dedicated to the development, construction, engineering, and maintenance of Roseman University's Campus by providing an attractive, safe, accessible, and clean educational environment to facilitate campus activities, functions, and to support the University's Visions and Goals."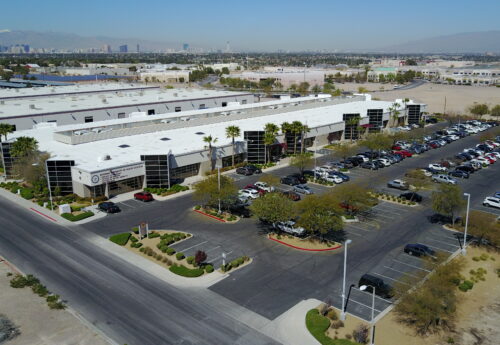 Access Badges
Access badges must be worn and visible at all times
Lost or stolen badges must be reported to Facilities Management Unit immediately. Lost or stolen badges can be replaced by paying the Bursar $15.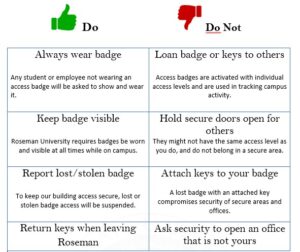 Incident Tracker
Roseman University has a web-based incident tracking system for submitting and reviewing incidents. The system is Incident Tracker. Incident Tracker is used in healthcare, security, higher education, libraries, business, and government & non-profit to track incidents. To find out more about Incident-Tracker please visit https://incident-tracker.com/. The Roseman site is: https://secure2.incident-tracker.com/roseman. This system creates a central location for repository for incidents and supporting documentation for the Units and Colleges. This allows for searching of incidents in case someone requests information.
If you need access to Incident Tracker to report an incident please contact Rhonda Woodruff at rwoodruff@roseman.edu.
Furniture
Facilities Management tracks and maintains the furniture inventory in all buildings including offices, conference rooms, classrooms, and other common areas.
The university provides each office with standard office furniture.
Purchase requests for additional furniture items must be approved by your supervisor and coordinated through Facilities Management.
Assembly and maintenance of any non-standard furniture items is not managed by Facilities Management and is the responsibility of the individual.
Keys
Keys and access is determined by supervisors as listed on the Employee Access Form at time of hire. Additional access must be requested and approved by your supervisor.
Facilities Management manages and issues all building keys.
Lost or stolen keys should be reported to Facilities Management immediately.
Work Order Requests
The Facilities Unit assists employees with work orders requests such as moving furniture, maintenance issues, etc.
All requests for assistance from Facilities Management should be requested through our online work order system, SchoolDude.
Campus Parking Lot Rules
Please observe the 12 MPH speed limit while driving on campus property
Cell phone use while driving is prohibited on campus property
Do not leave children or animals unattended in vehicles
Roseman University is not responsible for lost or stolen items, or damage to personal vehicles. Please lock your car and remove any valuable items.
Other Facilities Services
Micro Market – Self-checkout micro market vending service located in the Student Commons (Henderson and South Jordan)
Roadrunner Cafe – Cafe located at the Summerlin Campus
Lost and Found
Conference Rooms – Available for meetings please schedule through Outlook
Bulletin Boards – All bulletins, advertisements, and posters must be placed on the bulletin boards.
Campus Hours
Faculty and Staff have access 24/7 to campus buildings. Research labs, clinics, and the library may have special hours.
Student hours are:
Monday – Friday 6:00 am – 11:00 pm
Saturday – Sunday 10:00 am – 6:00 pm
Facilities Use Fee Schedule
For use of Roseman University campus facilities, please see the Facilities Use Fee Schedule.