AEGD Program – Nevada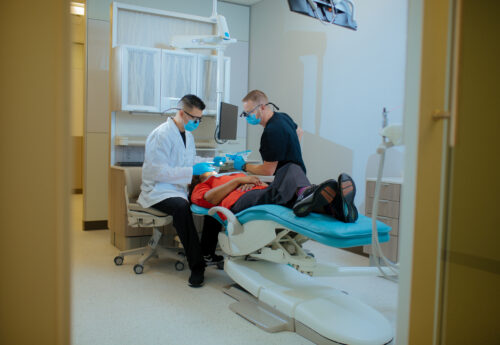 Mission
To develop and grow national oral health programs that set global standards for technologically advanced, culturally competent, patient-centered dental education; to deliver exceptional oral healthcare to the world's neediest citizens and its most underserved communities; and to accomplish these goals while grounded in service and collaboration
About the AEGD Residency Program
The goal of the affiliation with the NYU Lutheran Dental Medicine AEGD residency program is to develop patient-centered clinicians with the ability to provide comprehensive oral health care for a wide patient population.
You can expect to learn how to perform a wide variety of dental procedures that extends beyond what is typically covered in dental school. Aside from the "bread and butter" procedures of general dentistry (operative, fixed and removable prosthodontics, etc.), you will be exposed to procedures such as molar endodontics, surgical extraction of third molars, implant placement and restoration, evaluation and treatment of dental emergencies, pain and anxiety control of adult, pediatric, and special needs patients, and much more. Beyond the core program requirements, clinical instruction is catered to what you want to learn more about. 
Accepting patient populations including:
Medically compromised

 

Complex dental needs

 

Geriatrics

 

Physical & intellectual disability

 

The Advanced Oral Health Center provides the following services:

 

Dental examinations

 

Tooth sealants

 

Periodontal procedures

 

Root canals

 

Dental fillings

 

Teeth cleaning

 

Dentures

 

Wisdom Teeth Extractions

 

Crowns

 

Implants

 
CBCT imaging in the diagnosis and treatment planning of pathology, implant dentistry, endodontics, etc.

 

Digital Dentistry through intraoral scanners used for treatment of various fixed and removable prosthodontics, surgical guides, and smile design.

 

Intraoral Cameras and State-of-the art dental operatories and equipment, including a dedicated surgical suite.

 

Endodontic surgical microscope.

 
Several multi-media platforms around the clinic for instruction and patient education.

 

Nitrous oxide and oxygen in every operatory with flush-mounted, digital control panels.
Located in the Whitney Ranch area of Henderson, NV
Population: 11,637
Average Age: 32.9
Families with kids under 18: 51% 
Henderson is a safe and quiet suburb within the Las Vegas Valley. The valley is host to endless options for entertainment, food variety, shows, and night life. Las Vegas is also home to several sports teams such as Vegas Golden Knights (NHL), The Silver Knights (AHL), The Raiders (NFL), The Aviators (AAA), Las Vegas Aces (WNBA), and Las Vegas Lights FC (USL).
Learn more about the Henderson, NV campus
Yes. We have an attending Pediatric Dentist on staff. 
AEGD Resident - Henderson
College of Dental Medicine