AEGD Program – South Jordan, Utah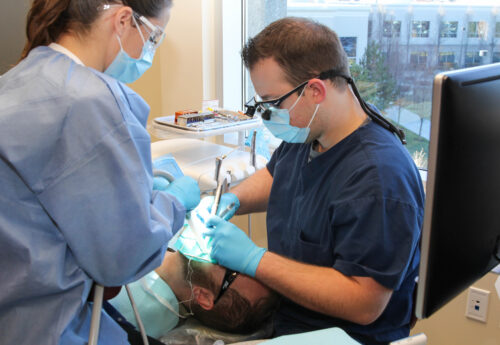 Health Center Contact:
Dr. Paul Hoeft
Dental Director
phoeft@roseman.edu
paul.hoeft@nyulangone.org
(801) 878-1251
Name of Training Site
Roseman University of Health Sciences, South Jordan
Overview
The Roseman University College of Dental Medicine facility has 105 top-of-the-line operatories with access to electronic records and digital radiology. Residents have access to cutting edge technology including: cone beam computed tomography, E4D CAD/CAM, digital impression making, electric handpieces, implantology, and monitored sedation. The comprehensive goal of the affiliation with the NYU Langone Dental Medicine AEGD post-doctoral residency program is to develop patient-centered clinicians with the ability to provide comprehensive oral health care for a wide patient population, including: medically compromised, complex dental needs, geriatrics, physical & intellectual disability, and the underserved. Currently the patient population is comprised of approximately 7000 comprehensive care patients. On average, the school sees 314 new patients per month, and treats an average of 150 urgent care patients monthly. The average annual number of patient visits is 16,500.
Mission
To develop and grow national oral health programs that set global standards for technologically advanced, culturally competent, patient-centered dental education; to deliver exceptional oral healthcare to the world's neediest citizens and its most underserved communities; and to accomplish these goals while grounded in service and collaboration.
Accepting patient populations including:
Medically compromised
Complex dental needs
Geriatrics
Physical & intellectual disability
The Advanced Oral Health Center provides the following services:
Dental examinations
Tooth sealants
Periodontal procedures
Root canals
Dental fillings
Teeth cleaning
Dentures
Wisdom Teeth Extractions
Crowns
Implants