Bachelor of Science in Nursing (BSN) Application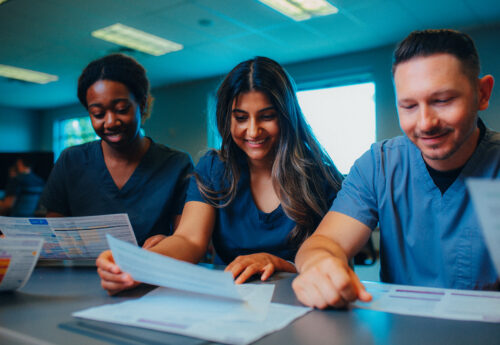 The College of Nursing offers an Accelerated Bachelor of Science in Nursing with two learning modalities, on-campus and hybrid-online, at the Henderson, Nevada and South Jordan, Utah campuses.
Have questions about the admissions process?
Contact an admissions advisor at any time for help with your application. Contact an Admissions Advisor today!
Application Open Dates

Feb 2024 BSN Cohort-opens 8/1/23, closes Nov 1st, 2023
June 2024 BSN Cohort-opens 11/1/23 closes May 1st, 2024
August 2024 On campus BSN Cohort-opens 8/10/23, closes May 1st, 2024
October 2024 BSN Cohort- opens 5/1/24 closes August 1st, 2024
February 2025 BSN Cohort- opens 8/1/24, closes Nov 1st, 2024
*The College of Nursing employs a rolling admissions process. Classes may be filled prior to the deadline indicated. Please contact the Admissions and Enrollment Office to determine if classes have been filled.
Application Submission
To apply to the BSN program, your application and supplemental application can be submitted via Nursing CAS. The link to the supplemental application can be found under the program materials section of the Nursing CAS application.
A separate application fee is required for NursingCAS. The $40 application fee is payable directly to Roseman University and is in addition to the fees assessed by NursingCAS.
Nursing CAS fees are separate from Roseman University fees and are non-refundable.
Application Fee
An application fee of $40 is required to process an application. Payment of application fees may be made through our online payment portal. An application will not be processed until an application fee is submitted.
Documents to Accompany Application
1. Unofficial Transcripts and/or Proof of Enrollment
It is recommended that unofficial transcripts are submitted with the application; however, official transcripts from all institutions attended must be received before an interview can be scheduled.
The College of Nursing will accept applications with coursework in progress, however, documentation must be received to verify that the courses are currently in progress. Acceptable documentation of in-progress courses includes an official transcript, unofficial transcript, or a copy of the registration and payment for those courses. Failure to provide documentation of coursework in progress will cause a delay in the application review process.
2. Additional documentation, if applicable, must be received by the College of Nursing to further process your application. Applications will not be reviewed until applicable documentation is received. If an applicant:
Has had a name change – submit name change documents (court order, marriage certificate, naturalization certificate)
Is an International Student – submit a copy of your International Student Visa
Is a Permanent Resident – submit a copy of the front and back of your Permanent Resident Card
Is in the U.S. on a conditional entrance other than a student Visa – submit a copy of your other Visa, unexpired Passport or Department of Homeland Security form which reflects a conditional entrance into the United States or change in US Citizenship status.
Official Transcripts and Test Results
Please have the following official documents mailed/sent directly to the College of Nursing by the appropriate and applicable institutions and organizations.
Official Transcripts from ALL universities and colleges attended:
Please contact all institutions attended to request official transcripts.
Applicants submitting a paper application are required to submit official transcripts within one (1) month after submitting an application
Applicants applying through NursingCAS will be required to submit official transcripts to the College of Nursing, if admitted.
It is the student's responsibility to provide the College of Nursing with updated transcripts as necessary to document the successful completion of additional prerequisite coursework.
Official transcripts must be:

Sent directly from the institution to the College of Nursing, and
Dated within the last 12-months, and
Received in its original sealed envelope.
*Transcripts received from students (mailed or hand-carried) will be considered unofficial.
Official Evaluations and Test Results
Evaluation of Foreign Coursework, if attended a non-U.S. College or University.
Test of Essential Academic Skills (TEAS) – Roseman University now offers the TEAS Exam via virtual proctoring. To register for the exam please visit http://gonursing.roseman.edu/virtualteas/inquiryform.
Test of English as a Foreign Language, if applicable.
Official credit-by-examination credit results, if applicable.

Applicants must meet the minimum score requirements to receive credit.
Credit-by-examination coursework for science courses are not accepted.
If minimum scores are met, a grade of "C" and 3 credits are awarded.
Credit-by-examination programs other than College Level Examination Program (CLEP) or Advanced Placement (AP) Program may be accepted. The College of Nursing will review other credit-by-examination programs on a case-by-case basis.
Please contact the appropriate College of Nursing Admissions and Enrollment Office for additional information on acceptable credit-by-examination coursework.
Please submit the application and have all official documentation submitted to the appropriate campus:
Henderson Campus
Roseman University College of Nursing
Admissions & Enrollment Office
11 Sunset Way
Henderson, NV 89014
Or fax to: 702-968-5279
South Jordan Campus
Roseman University College of Nursing
Admissions & Enrollment Office
10920 S. River Front Parkway
South Jordan, UT 84095
The College of Nursing applies a rolling admissions process. Please note that the class may be filled prior to the published application deadlines. Application to the College of Nursing is based on a competitive review. Meeting minimum admission requirements does not guarantee admission into the program