StraighterLine
StraighterLine to Roseman University: Affordable, convenient pathway to a degree in nursing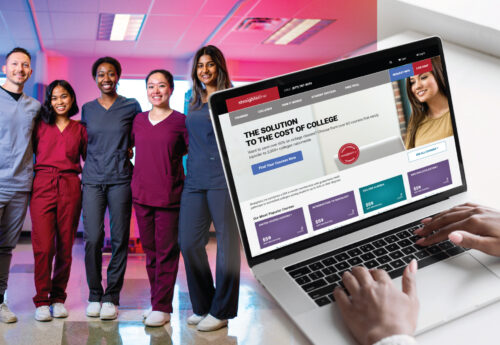 Roseman University College of Nursing is making it easier for you to overcome financial and scheduling constraints to finish your courses and meet your academic goals. If you're in need of prerequisite courses to attend Roseman, it's time to maximize Roseman's partnership with StraighterLine. StraighterLine offers online, self-paced, low-cost, ACE-approved general education courses. Roseman's partnership with StraighterLine offers an affordable, convenient pathway to a degree in nursing.
StraighterLine is Ideal if You
Face affordability issues
Face class space and/or scheduling limitations
Are missing general education requirements
Are incoming or are soon-to-be graduating and need to fill general education gaps
Want to accelerate degree program by starting coursework immediately
Benefits to You
Low-risk free trial available
Credit transfer guarantee
Enrollment Advisors
Student Support Specialists
Online on-demand tutoring center available 24/7
Subject matter experts available
Our flexible, self-paced, online general education courses don't just prepare students to get into—or back into—school. They provide wraparound tools such as on demand tutoring and advisor support to ensure successful course completion. Self-paced and online does NOT mean students are out there on their own!
Upon successful course completion, you are immediately prompted to send a transcript to the proper office at your school. There's no cost for transcript delivery.
The American Council on Education's College Credit Recommendation Service (ACE CREDIT) helps students gain academic credit for formal courses and examinations taken outside of traditional degree programs. With over 35,000 courses reviewed, ACE is the national leader in the evaluation process for education and training obtained outside the traditional classroom. Thousands of colleges recognize ACE CREDIT recommendations, and ACE CREDIT has recommended all of StraighterLine's courses. Your school has already determined which StraighterLine courses will transfer, and how those credits meet degree requirements. The course equivalencies are listed here.
No, StraighterLine doesn't offer financial aid. However, StraighterLine is often used when you reach your financial caps or when you need to fill a general education gap quickly and affordably.
Yes, please do! Our advisors are happy to speak with you. Please contact our Student Advisors at (877) 787-8375.
Live Chat and Support Requests are also available at straighterline.com. Our advisor support hours for you and your students are:
Monday – Friday
8:00am – 8:00pm ET
Saturday – Sunday
9:30am – 5:00pm ET