Doctor of Pharmacy Partnerships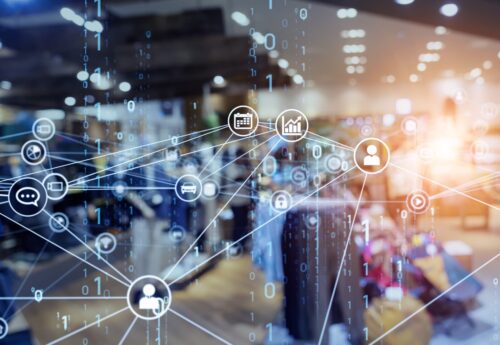 Cleveland Clinic Longitudinal APPE
Spend the entire P3 academic year in Ohio completing all

APPEs at Cleveland Clinic facilities

Create longitudinal relationships with preceptors
Participate in longitudinal research projects
Receive $5,000 housing stipend for the year
Participation in the Cleveland Clinic experiential opportunity is entirely voluntary.
Students who are selected to participate, are committed to spending their entire P3 year in Cleveland Clinic facilities, in Cleveland, OH (academic year 2023-2024).
Once a student begins APPE rotations, they may not resign from this opportunity, unless approved by the College.
If a student needs to decline their acceptance from the experience, they must let the APPE Director know as soon as possible. The APPE Director will have full authority on reassigning rotations and will place students at pre-existing openings either in Utah or Nevada only. New site requests will not be accepted.
The University reserves the right to require a student to withdraw from the current Cleveland Clinic experience, and any future experiences, at any time for any reason.
Roseman University will provide students with a scholarship to assist with housing expenses totaling $5,000 for the year. Half of the funds will be disbursed in late July and half will be disbursed in late November. All other housing and travel expenses will be at the students own expense. It is the students responsibility to secure housing.
The student is required to complete requirements for Ohio intern licensure (including fingerprinting), obtain, and maintain an active an Ohio intern license in good standing for the duration of the assigned academic year.
The student agrees to travel to the Cleveland Clinic in the spring of 2023 (as COVID-19 travel policies allow).
Students must be in good academic standing with the College of Pharmacy and may not be on academic probation. Students are eligible to apply if they have 1 or 2 summers, but no more.
Students may not beon professional probation with the University or the College of Pharmacy, and they agree to be a positive representative of RUCOP during this experience, abiding by all policies in the Student Handbook and Experiential Policy Manual, as well as policies established by the Cleveland Clinic.
If a student is put on academic or professional probation after APPEs are scheduled, APPEs at the Cleveland Clinic will be cancelled, and the student will be required to complete rotations in Utah or Nevada as described above.
A student's background check may not have any charges, arrests or convictions on record. (Non-DUI traffic violations are acceptable).
Students may be required to sign additional documentation upon selection to participate in this experience. Students may refuse to sign these but will forfeit the right to participate.
If a student receives a "No Pass" for a rotation, any remaining rotations at The Cleveland Clinic Hospitals and Clinics will be cancelled and the student will be required to return to their local campus (Henderson or South Jordan) for the remainder of my APPEs. The student will also forfeit any stipend awarded.
Application Process
AND
Submit a copy of your CV to:
Dr. Hon (mhon1@roseman.edu) and Dr. Johanson (ejohanson@roseman.edu)
Due Date: September 12, 2022
Student Candidate Interviews
• Students will be notified if they are invited to interview no later than, Friday, September 23, 2022
• Interviews will be scheduled in October 2022
Notification of Status
• Students will be notified of their selection via email prior to the Thanksgiving Break.
• Students will be informed if they have been accepted, denied, or placed on the waitlist and will be contacted should their status change.
• If chosen to go to the Cleveland Clinic for APPE year 2023-2024, students must confirm participation by deadline provided in offer letter.
MountainView Hospital Longitudinal APPE
About Mountainview Hospital
Vision Statement: To be the premier provider of exceptional care
Mission Statement: Above all else, we are committed to the care and improvement of human life
Acute, Tertiary, Teaching Hospital
ASHP Accredited PGY-1 Program
PGY-2 Infectious Disease Program
Accredited Chest Pain Center
Certified Stroke Center
Only Bone Marrow Transplant program in Nevada
425 Total Beds, including 47 Adult ICU Beds and 42 ER Beds
About the Experience
Students complete five consecutive, six-week rotations, at MountainView Hospital (Institutional, Adult Acute Care, Advanced Community, Selective 1A, Selective 2A)
Selective Rotation Options
Neonatal ICU
Intermediate Care
Infectious Disease
Benefits of the Program
Exposure to Residency Residents and Preceptors
Longitudinal Research/Quality Improvement Opportunities
Opportunity to build deeper relationships with the facility and preceptors over a longer period of time
Reduced time spent in orientation to rotation site allowing for greater time spent on clinical experiences
Ongoing opportunities to improve presentation skills
Continual and constructive feedback between rotations to facilitate clinical and professional growth
Opportunities to implement evidence-based drug therapy plans customized to the needs of the individual patient under the supervision of residency preceptors and PGY1 pharmacy residents.
Candidates must be US Citizens/permanent residents
Currently enrolled in an accredited pharmacy program
Application Requirements
Letter of intent
Curriculum Vitae
One letter of recommendation
Copy of unofficial Transcript
Application Form
Application Timeline
Apply September to October of P2 Year
Qualified candidates will be invited for interviews to be held in November of P2 year
MountainView Hospital APPE Program Contact:
Dr. David Kim, PharmD, BCPS
David.Kim2@hcahealthcare.com
Roseman University Faculty Liaison Contact:
Dr. Mickayla Clark, PharmD, BCPS
mclark@roseman.edu
Smith's PGY1 Community Pharmacy Residency
About the Residency Program
The Smith's Community Residency Program offers residents the opportunity to 1) deliver innovative patient care services and patient-centered dispensing in a community pharmacy and in the community it serves, 2) participate in pharmacy management, professional advocacy, teaching/precepting and business development activities at multiple levels within the pharmacy organization and 3) teach, including completion of a teaching certificate program, and conduct practice-based research with support from Roseman University of Health Sciences College of Pharmacy.
Residency graduates will be prepared as clinicians, leaders and advocates for the future of pharmacy. Smith's, and The Kroger Company, offer multiple career paths for residency graduates. It is our desire that residents continue as Smith's employees and help to lead our organization into the future.
About Smiths
Smith's Food and Drug is a division of The Kroger Company, one of the largest traditional grocery-pharmacy chains in the country. Smith's operates over 135 pharmacies in seven states in the Intermountain West.
 Smith's Pharmacy, West Jordan, Utah
Learning Experiences: Patient Care, Patient-Centered Dispensing, Leadership/Management, Teaching/Precepting
Time spent: 2-3 days per week
The resident's primary practice site will be a Smith's Pharmacy. Additional learning activities will also be available in other Smith's Pharmacy locations. The resident will provide basic pharmacy services in addition to dispensing, such as counseling, immunizations, health screenings and medication therapy management (MTM) interventions. In addition, the resident will provide extended patient care services including comprehensive medication management and health coaching for various disease states (i.e. diabetes, cardiovascular disease, tobacco dependence and obesity). The resident will work closely with the Pharmacy Manager to gain management skills necessary to run a profitable, patient-centered pharmacy. The resident will also serve as a preceptor for student pharmacists in both introductory and advanced pharmacy practice experiences.
Smith's Division Office, Salt Lake City, Utah
Learning Experiences: Leadership/Management, Practice Advancement, Teaching/Precepting, Patient Care
Time Spent: 1-2 days per week
At the Smith's Division Office, the resident will work with division- and district-level personnel with roles to support Smith's Pharmacy operations and clinical services. The resident will work with their district pharmacy coordinator and the division clinical coordinator on practice advancement initiatives, including
Roseman University of Health Sciences College of Pharmacy, South Jordan, Utah
Learning Experiences: Teaching/Precepting, Research
Time Spent: 1 day per week
The resident will spend time at the College of Pharmacy interacting with faculty, students and other pharmacy residents. The resident will have the opportunity to participate in teaching in a mastery learning based academic program. A faculty liaison will provide support for the resident's practice-based research project.
Current Resident
Residency Preceptors
Jayme Garcia
Jaimie Montuoro
Diane Ogborn
Warren Young
Past Residents
Taylor Byrd
Van Luu
Andrea Do
Michelle Hon
Victoria Tolentino
Cameron Gordon
Jayme Garcia
Program length
12 months, typically from July 1st to June 30th
Stipend
$47,000
Benefits as a Smith's employee
10 vacation/personal days
Health insurance (medical, dental, vision)
Life insurance
401K
Discounts at Smith's/Smith's Marketplace stores
Professional Meetings
Registration fees and travel allowance provided for ASHP Midyear Clinical Meeting, APhA Annual Meeting, and regional residency conference.
Resident Qualifications
Graduate of an ACPE-accredited school/college of pharmacy (Doctor of Pharmacy degree preferred)
Licensed or eligible for licensure in Utah
How to Apply
Submit the following items via PhORCAS:
Personal Statement/Letter of Intent
Curriculum vitae
Official transcript
Three (3) letters of recommendation
Qualified candidates will be invited for on-site interviews to be held in late January through early March.
Jayme Garcia, PharmD
Smith's Residency Program Director
jayme.garcia@sfdc.com