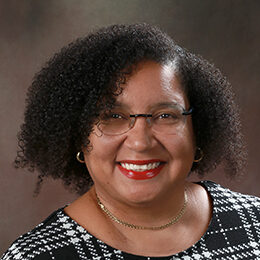 EDUCATION:
MD – Victor Babeş University of Medicine and Pharmacy Timisoara
BIOGRAPHY:
Dr. Akunyili joined Roseman as the Assistant Dean of Foundational Educator Development and an Associate Professor of Basic Sciences in September 2023. She is passionate about student success and harnessing education technology to engage learners. Before this, she was the Assistant Dean of Academic Affairs at the Noorda College of Osteopathic Medicine where she led the creation of an innovative curriculum that incorporated active learning into self-paced video content.
She began her career in Medical Education at Kaplan Medical and as the Associate Director of Clinical Academics, focused on improving clinical problem solving skills and assisting thousands of Medical students navigate their medical licensing exams. As a medical educator she has provided lectures, board prep and faculty development at over 35 medical institutions across the United States and internationally, including Antigua, UAE, Canada, Hungary, India, Ecuador, Guatemala, Nicaragua, Columbia and Venezuela. She joined Florida International University in 2017 as an Assistant professor of Cell Biology and Pharmacology to start up a hybrid track of blended instruction that harnessed technology to expand access to Medical Education to non-traditional students.
Dr. Akunyili is also a founding member of the Black Physicians of Utah, an organization focused on building a community of Black physicians, residents, interns, medical students, and aspiring physicians dedicated to achieving health equity for Black and under-served members of the community. She is excited to continue this work with the team at Roseman and build a physician network to inspire and mentor the next generation.
Her research in medical education concentrates on the use of technology in teaching and assessment, reproductive health, and evaluation of medical school curriculum. Her recent focus has been on the inclusion of diversity in the Medical School curriculum, in particular issues related to preparing medical students to appropriately approach issues related to sexual orientation and gender identity. In addition, she investigates how to improve and promote critical thinking in medical education.
TEACHING AREAS:
Physiology
Pathophysiology
Behavioral Science
Epidemiology and Biostatistics
Embryology
Clinical Anatomy
RESEARCH INTERESTS:
Medical Education
Education Technology
Machine Learning
Reproductive Health
SERVICE TO PROFESSION:
Reviewer, International Association of Medical Science Educators
Reviewer, American Association of Colleges of Osteopathic Medicine
SERVICE TO COMMUNITY:
Black Physicians of Utah
Board of Trustee Member for Dual Immersion Academy
Board Member Crossroads Area Health Education Center
SELECT PEER-REVIEWED PUBLICATIONS:
Berrocal Y, Darr A, Ibrahim H, Akunyili A. Microprocessing the Microlecture: Creating Effective Videos Anywhere on Any Budget. Acad Med. 2023;98(1):152. doi:10.1097/ACM.0000000000004737
Akunyili A. Surgical Management of Gastroschizis. Universitatea de Medicina si Farmacia Timisoara. 07/03; Seria B.
Akunyili A, Gonzalez-Mayo A, Tyler-Lloyd M (eds.). USMLE Step 1 Lecture Notes: Behavioral Science and Social Science. Kaplan Medical. 2016-2022 editions.
Akunyili, A., Kriak, J., Epidemiology and Biostatistics. In Akunyili et al eds. USMLE Step 1 Lecture Notes: Behavioral Science and Social Science. Kaplan Medical. 2016-2022 editions.
Last updated: 09/28/2023