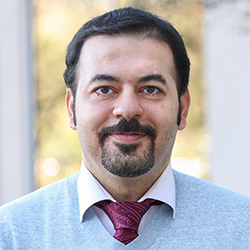 Area of expertise
Statistics, Data analytics, Machine Learning, Mathematical Modeling
Bio
Amir Mohajeri is a research associate in the College of Dental Medicine at Roseman University of Health Sciences. He works on oral health research projects and applies data analysis techniques to dental record data with the goal of improving oral health outcomes. Prior to joining the Roseman family, he was a postdoctoral researcher at the University of Idaho's College of Engineering, where he worked on developing machine learning algorithms to analyze biomass data. Before moving to the U.S., he worked as an assistant professor at the Department of Industrial Engineering at Islamic Azad University, Iran.
Education
He holds a doctorate in Industrial Engineering with a minor in production planning and management from Islamic Azad University, Tehran, Iran. His master's and bachelor's degrees are also in Industrial Engineering from Mazandaran University of Science and Technology and the University of Tabriz, Iran, respectively.
Research Interests
His main research interests are in Statistics and Data Science and their application to a variety of research questions.
Research Publications
2023
1. Hung M, Hon ES, Mohajeri A, Moparthi H, Vu T, Jeon J, Lipsky MS. A national study exploring the association of fluoride levels and dental fluorosis. JAMA Network Open. 2023;6(6):e2318406. Doi: 10.1001/jamanetworkopen.2023.18406.
2. Finch J, Gurumurthy T, Shrestha R, Ledingham L, Vu T, Mohajeri A, Freitas CMT, Patil S, Awan KH. COVID-19: Ramifications and Effects on University Healthcare Students. The Journal of Contemporary Dental Practice. 2023; 23(9):866-871.
3. Hung M, Ocampo M, Raymond B, Mohajeri A, Lipsky MS. COVID-19: Telemedicine among Adults Living in America during the COVID-19 Pandemic. International Journal of Environmental Research and Public Health. 2023; 20(9):5680.
4. Yee A, Chu W, Sinha P, Mohajeri A, Hung M, Kritz-Silverstein D. Effects of perceived vs actual frequency of rewards on orthodontic patient attitudes and compliance. Angle Orthod. 2023.https://doi.org/10.2319/060122-403.1
2022
5. Hung M, Licari F, Lipsky M, Moffat R, Cheever J, Mohajeri A, Stewart M, Orton D, Stewart D. Early Preventive Dental Visits: Do They Reduce Future Operative Treatments? Dent. J. 2022; 10(4): 53; https://doi.org/10.3390/dj10040053
6. Hung M, Lipsky M, Mohajeri A, Goh C, Park J, Hardy C, Su S, Licari F. Relationships between ENDS-Related Familial Factors and Oral Health among Adolescents in the United States. Healthcare. 2022; 10(2): 402. https://doi.org/10.3390/healthcare10020402
7. Hung M, Mennell B, Christensen A, Mohajeri A, Azabache H, Moffat R. Trends in COVID-19 Inpatient Cases and Hospital Capacities during the Emergence of the Omicron Variant in the United States. COVID. 2022; 2(9):1207-1213; https://doi.org/10.3390/covid2090087
8. Wisniewski JF, Norooz S, Callahan D, Mohajeri A. Survey of Vital Pulp Therapy Treatment in Permanent Dentition Being Taught at U.S. Dental Schools. Journal of Endodontics. 2022; 48(9):1107-1112; https://doi.org/10.1016/j.joen.2022.06.009