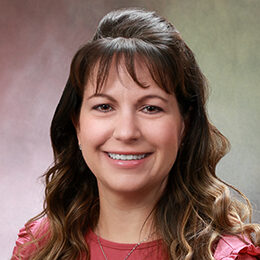 Area of expertise
Emergency Medicine
I am an Assistant Professor and Skill/Simulations Lab Coordinator on the South Jordan campus for the College of Nursing. I have been a nurse since 2005 with an ADN, BSN, and MSN-L degree. I hold certifications in Emergency Nursing (CEN), Trauma Nurse Certification (TNCC), Emergency Nurse Pediatric (ENPC) (course director), BLS provider, BLS instructor, ACLS provider.
I have held many positions in the hospital setting, starting my career right out of high school as a CNA. I was a new graduate in the Emergency Department which is where the majority of my nursing career has been spent. I have been a Charge Nurse, Clinical Manager, Clinical Nurse Educator, and Director of Education for 27 emergency departments across 6 states.
I found my passion for teaching during my time on the unit precepting nursing students and new hires. I like to use a variety of teaching styles depending on the topic. One of my greatest passions is to find what is right for the student which is why at the front of my mind when I teach is always the thought "what is best for these students".
I have been employed with Roseman University College of Nursing since October 2017. I am currently the block 5 and 10 block leader for the lab but will be assisting in all lab courses. I am also enrolled in the MSN-FNP program expecting to graduate in December 2022.
Education
I completed my Associates Degree in Nursing in 2005 in Mesa, AZ. I went on to complete my BSN in 2009 and MSN-L in 2012 through Grand Canyon University. I am currently enrolled in the Roseman FNP program, planned graduation 12/22.
Affiliations
Emergency Nurses Association
Teaching Subjects
Adult Health 1 and 2