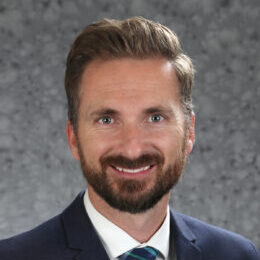 Area of expertise
Pharmacokinetics, Analytical Method Development, Pharmaceutical Compounding
Casey L. Sayre, PharmD, PhD, Associate Professor of Pharmaceutical Sciences, Program Director, MS
in Pharmaceutical Sciences Program. earned his BS degree in Biology from Brigham Young University
and his PharmD at Idaho State University. He then completed a PhD in Pharmaceutical Sciences at the
University of Manitoba, Canada. Dr. Sayre has expertise and experience in the development of
quantitative analytical methods, pharmacokinetic characterization, and pharmaceutical compounding. His
current research interests are optimizing and individualizing pharmacotherapy. He has also practiced
pharmacy in hospital, community, and long-term care settings.
Education
BS, Biology; Brigham Young University
PharmD; Idaho State University
PhD, Pharmaceutical Sciences; University of Manitoba
Fellowship, Clinical Pharmacology; University of Utah
Research Interests
Pharmacokinetics, Analytical Method Development, Pharmaceutical Compounding, Natural Product Drug Delivery and Clinical Trials
Affiliations
American Association of Pharmaceutical Scientists (AAPS)
American Association of Colleges of Pharmacy (AACP)
American Society of Health-System Pharmacists (ASHP)
Teaching Subjects
Pharmaceutics, Pharmaceutical Compounding, Pharmacokinetics
Publications
Yellepeddi V, Sayre C, Burrows A, et al. Stability of extemporaneously compounded amiloride nasal spray. PLoS One. 2020;15(7):e0232435. Published 2020 Jul 10.
Burrows AC, Yellepeddi VK, Snyder S, Wakefield M, Jackson D, Huynh J, Nguyen
K, Sayre CL. Development and Validation of a Stability-indicating High-performance Liquid Chromatographic Method for Quantification of Progesterone in Compounded Glycerinated Gelatin Troches. Int J Pharm Compd. 2019 Jul-Aug;23(4):340-350.
Sayre CL, Cox C, Velazquez G, Le MT, Nguyen AH, Ramos M, Burrows A, Yellepeddi VK. Chemical Stability of Progesterone in Compounded Oral Rapid-dissolving Tablets. Int J Pharm Compd. 2019 Jan-Feb;23(1):62-64.
Alrushaid S, Sayre CL, Yáñez JA, Forrest ML, Senadheera SN, Burczynski FJ, Löbenberg R, Davies NM. Pharmacokinetic and Toxicodynamic Characterization of a Novel Doxorubicin Derivative. Pharmaceutics. 2017 Sep 13;9(3).
Alrushaid S, Davies NM, Martinez SE, Sayre CL. Stereospecific pharmacokinetic characterization of liquiritigenin in the rat. Res Pharm Sci. 2017 Jun;12(3):176-186.
Alrushaid S, Zhao Y, Sayre CL, Maayah ZH, Laird Forrest M, Senadheera SN, Chaboyer K, Anderson HD, El-Kadi AOS, Davies NM. Mechanistically elucidating the in vitro safety and efficacy of a novel doxorubicin derivative. Drug Deliv Transl Res. 2017 Aug;7(4):582-597.
Alrushaid S, Davies NM, Martinez SE, Sayre CL. Pharmacological characterization of liquiritigenin, a chiral flavonoid in licorice. Res Pharm Sci. 2016 Oct;11(5):355-365.
Lilico R, Sayre CL, Sitar D, Davies NM, Baron C, Lakowski TM. Quantification of Cefazolin in Serum and Adipose Tissue by Ultra High Performance Liquid Chromatography-Tandem Mass Spectrometry (UHPLC-MS/MS): Application to a Pilot Study of Obese Women Undergoing Cesarean Delivery. Journal of Chromatography B. 2016; 1031:94-98.