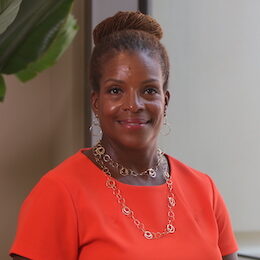 Education:
EdD – Health Behavior and Education, Teachers College, Columbia University
MA – Counseling, Clark Atlanta University
BA – Psychology, University of Maryland College Park
Biography:
Dr. Cheryl Brewster is part of the leadership team brought to Roseman University Health Sciences charged with establishing the College of Medicine (RUCOM) in 2020. Her primary responsibility is to provide guidance to the dean and work collaboratively with the RUCOM leadership team to ensure the culture of the college is diverse, inclusive and equitable for administrators, faculty, staff and students. Additionally, Dr. Brewster's work includes providing pathways and programs to specifically increase the number of BIPOC students in medical school. Over the years she has partnered with multiple historically black universities and colleges to recruit students into her programs. She brings over 15 years' of experience in teaching, program curriculum design, implementation and evaluation.
Dr. Brewster has an extensive background working on a myriad of chronic disease prevention projects for over 20 years. Her work has focused on medically under-served populations and researching the social determinants of health and the health disparities associated with these populations. Her training is in community-based public health and she has over 15 years of teaching graduate level health education/public health courses.
Teaching Area(s):
Social Determinants of Health
Health Equity
Community Based Participatory Research
Research Interest(S):
Health Disparities
Program Evaluation
LGBTQ+ Health
Diversity in Academic Medicine
Service to PROFESSION:
Board of Directors, Building the Next Generation of Academic Physicians, 2012 – Present
Member, AAMC SJT review committee, 2020 – Present
Service to COMMUNITY:
Member, Leadership Las Vegas, 2021 – 2022
Immediate Past Chair, Center for Family Enrichment FQHC, 2011 – Present
Reviewer, Academic Medicine, 2012 – Present
SELECTED PEER-REVIEWED PUBLICATIONS:
Ahmed N, Brewster C, Martinez C. Avoidance of breast and cervical cancer screening among women of Caribbean descent: Is it dignity or shame, stigma or ignorance. Open J of Soc Sci. 2022:10, 496-508.
Diaz Z, Lupi, C, Madueno FM, Roller BA, Brewster C, Wells A, et.al. The MD CaREs initiative: tailoring oncology education to ethnically and culturally diverse students. J of Clin Oncol. 2018;36:15_suppl, 11019-11019. doi:10.1200/jco.2018.36.15_suppl.11019
Callahan E, Sanchez N, Poll-Hunter N, Brewster C, Sanchez J. The future LGBT health professional: perspectives on career and personal mentorship. LGBT Health. 2018;5(3), 212-220.
Sánchez JP, Poll-Hunter N, Stern N, Garcia A, Brewster C. Balancing two cultures: American Indian/Alaska Native medical students' perceptions of academic medicine careers. J Community Health. 2016;41(4), 871-80.
Brown D, Brewster CD, Karides, Lukas. The Phenomenon of Collaboration: A Phenomenologic Study of Collaboration between Family Medicine and Obstetrics and Gynecology Departments at an Academic Medical Center. Qual Rep. 2011:16(3), 657-681.
Ryan JR, Brewster CD, DeMaria P, Fedders M, Jennings T. Metabolic syndrome and prevalence in an urban, medically underserved, community-based population. Diabetes and Metabolic Syndrome: Clinical Research and Reviews. 2010:4(3), 137-142.
Kobetz E, Menard J, Diem J, Barton B, Blanco, J, Pierre, L, Auguste, P, Etienne, M, Brewster CD. Community-Based Participatory Research in Little Haiti: Challenges and Lessons Learned. Prog Community Health Partnersh. 2009:3,133-37.
Hearn KD, O'Sullivan LF & Dudley CD. Assessing Reliability of Urban Early Adolescent Girls' Reports of Romantic and Sexual Behavior. Arch Sex Behav. 2003:32,513-521.
Dudley CD, O'Sullivan LF & Moreau D. Does familiarity breed complacency?: HIV knowledge, personal contact and sexual risk behavior of psychiatrically-referred Latino adolescent girls. Hispanic J of Behav Sci. 2002:24, 353-368.
Last updated: 11/07/2023