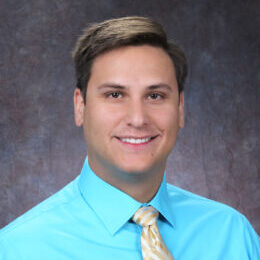 Area of expertise
Ambulatory Care; Family Medicine; Assessment; Accreditation; SOTL; Learner Wellbeing
Dr. Williams received a Doctor of Pharmacy degree from the University of Arizona and completed residency training at the Phoenix VA Healthcare System. He is board certified in both pharmacotherapy and ambulatory care, and obtained an MBA from Husson University, where he was previously a pharmacy practice faculty member. He provides clinical pharmacy services at Valley Hospital Medical Center with a focus in transitions of care. He teaches various clinical topics and lab skills, and also serves as Director of Accreditation for the College of Pharmacy.
Education
Master of Business Administration (Healthcare Management) – Husson University
Doctor of Pharmacy – University of Arizona
Associate of Science – Glendale College
Research Interests
Curricular and Programmatic Assessment
Scholarship of Teaching and Learning
Learner Wellbeing
Literature Evaluation/Drug Information
Cardiovascular Disease Prevention
Ambulatory Care
Family Medicine
Affiliations
American College of Clinical Pharmacy
American Association of Colleges of Pharmacy
Kappa Psi Pharmaceutical Fraternity
Phi Lambda Sigma Leadership Society
Commissioned Officers Association of the USPHS
Awards
Nevada Volunteer Recognition Certificate – COVID Vaccination Efforts May 2021
Office of the Governor of Nevada
ASHP Foundation Pharmacy Practice Research Award Nominee June 2019
For: Rates of depressive symptoms among pharmacy residents.
AJHP. 2018.75(5):292-297.
P4 Teacher of the Year Award May 2014
2013 – 2014 Academic Year
P3 Teacher of the Year Award May 2013
2012 – 2013 Academic Year
Teaching Subjects
Literature Evaluation
Drug Information
Dyslipidemia
Clinical Nutrition
Leadership Development
Lab Skills
Clinical Problem Solving
Publications
Butler LM, Park SK, Vyas D, Cole JD, Haney JS ,Mars JC, Williams E. Evidence and strategies for inclusion of emotional intelligence in pharmacy education. Am J Pharm Educ. 2021;8674.
Luu QI, Williams E. Overcoming Challenges of Managing Hyperglycemia in Hospitalized Non-Critically Ill Patients. ACCP Endo PRN Newsletter. 2019.
Williams E. Depression in Pharmacy Residents – Response to a Letter to the Editor. Am J Health Syst Pharm. 2018;75(5):292.
Williams E, Martin SL, Fabrikant A. Factors associated with depressive symptoms in pharmacy residents from a national study. Am J Health Syst Pharm. 2018; 75(21): e878-886.
Gupta V, Williams E. Getting started in an ambulatory care practice site as a clinical faculty member. Pharmacy (Basel). 2018; 6(4).
Williams E, Martin SL, Wang A, Pojasek M, Fabrikant A. Rates of depressive symptoms in pharmacy residents. Am J Health Syst Pharm. 2018;75(5):292.
Gladwell T, Williams E. Ten pitfalls to avoid when evaluating the primary literature. iForumRx.org. January 2017.
Martin SL, Williams E, Huerth B, Robinson JD. A pharmacy student facilitated interprofessional diabetes clinic with the Penobscot Nation. Prev Chronic Dis. 2015;12:150295.
Baggs JH, Patanwala AE, Williams E, Erstad BL. Adequacy of international normalized ratio (INR) reversal after receiving 3-factor prothrombin complex concentrate. Ann Pharmacotherapy. 2012;46:51-56.
Textbooks
Gupta V, Nguyen S, Clark MD, Williams E, Cone C, Desselle SP . Pharmacy Practice Skills: A Guide for Students and Instructors. McGraw Hill, New York, NY, 2022.
Williams E, Oswald CL. Introduction to Journal Article Evaluation. In Gupta V. (ed.) Pharmacy Practice Skills: A Guide for Students and Instructors. McGraw Hill, New York, NY, 2021.
Williams E. Antihistamines. In Lipsky MS, King MS. (eds.) Blueprints in Family Medicine, 4th edition, Wolters-Kluwer Heath, Philadelphia, PA, 2018: pages 428-430.
Selected Platform Presentations
Hyperlipidemia: Treat to Target or Target to Treat November 2021
2021 Kappa Psi Pacific West Fall Assembly
Discovering Hidden Diversity February 2021
Williams E, Fuentes D.
AACP Student Affairs SIG
Planning Your Professional Path November 2020
Keynote Lecture
2020 NVSHP Student Symposium
The System Needs to Take More Heat: Why residents and students can't September 2020
grit their way through training
2020 CSHP Annual Meeting, Anaheim, CA
Showdown at the LDL Corral: A Debate of LDL Targets or Fixed-Dose September 2020
Statin Approaches for CV Event Reduction
Williams E, Gupta V.
2020 CSHP Annual Meeting, Anaheim, CA
Supporting the Wellbeing of our Residents and Students October 2019
2019 NVSHP Annual Meeting, Las Vegas, NV
Correlation of internal and external characteristics with depressive symptoms October 2018
in pharmacy residents.
Williams E, Ross M, Soleimanian S, Gupta V.
2018 ACCP Global Conference, Seattle, WA
Biostatistics and Literature Evaluation – What do you really need to know? October 2017
Williams E, Gupta V.
2017 CHSP/NVSHP Annual Meeting, Las Vegas, NV
Validation of Rubrics for Use in the Experiential Setting August 2017
Williams E, Allen TR.
2017 ASHP National Pharmacy Preceptors Conference, Washington, D.C.