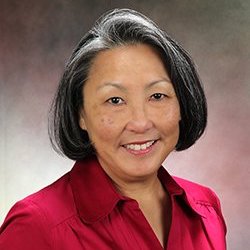 I have a B.S. degree in Health Education with a background in clinical teaching at Kapiolani Community College in Hawaii at a certified dental assisting program and 28 years of clinical experience as a registered dental hygienist in Hawaii and Utah.
My family has lived in Hawaii for four generations. I was born in Honolulu, Hawaii when it was still a U.S. Territory of Hawaii. I moved to Utah in 1997 with my husband and 3 children and we have never regretted it. I come from a family of dentists, which began with my father and uncle, then came cousins, nephews and brother in law. My introduction into dentistry began in my early teenage years, assisting my father in all aspects of his dental practice. What drew me towards dentistry was the appreciation patients had when they were shown kindness and helpful solutions to their dental needs. It is those feelings of caring, lifting up others and being their advocate that keeps me passionate about treating patients. I have the same passion with sharing my knowledge and dental experience with dental students at Roseman University, College of Dental Medicine. I am grateful for the opportunity to be a part of the vision at Roseman University, to be a "transforming force in health care education.
Education
Bachelors of Science, Health Education 1980
Brigham Young University – Provo, Utah
Certificate in Dental Hygiene 1994
University of Hawaii- Honolulu, Hawaii
East Carolina University, College of Education- Education in Healthcare Professions Institute Certificate
Presently enrolled
Research-Interest
USANA Oral Probiotic Clinical Study – 2021-Currently in progress.
Contributor as a protocol developer, data forms and data collector.
Affiliation
Utah Dental Hygiene Licensure 1997 – Current
Hawaii Dental Hygiene Licensure 1994 – Current
Salt Lake Community College Dental Hygiene Program Advisory Committee 2019 – Current
Awards
University of Hawaii Faculty Student Award – 1994
Roseman University, College of Dental Medicine Faculty Award 2019
Subjects
Clinical Instructor – Oral Health Care Clinic
Preclinical Fundamentals
Infection Control
Periodontal Instrumentation
Patient care – Oral hygiene instructions
Diagnosis and Treatment of Periodontal Diseases
Research Publications
Presentations:
March 2021 – American Student Dental Association – Webinar: Oral Cancer Awareness Presentation
June 2021 – American Dental Education Association – Virtual Pre-dental Sim Course Presentation: Introduction to Oral Cancer
October 2021 – 2021 Academy College of Prosthodontists Annual Session – Preventive care: Curriculum Model for Prosthesis