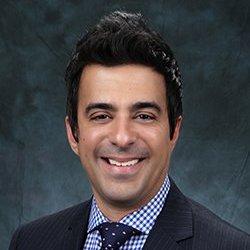 Area of expertise
Adult Internal Medicine, Expert Witness
Dr. Mark Decerbo received his Doctor of Pharmacy (Pharm.D.) degree from Northeastern University in Boston, Massachusetts and completed his PGY-1 pharmacy practice residency at Duke University Medical Center in Durham, North Carolina. A two-time Teacher of the Year at Roseman University, his clinical practice site is based at University Medical Center of Southern Nevada, where he rounds with the internal medicine service as a Clinical Associate Professor of Medicine with the University of Nevada School of Medicine. Also appointed as an Adjunct Assistant Professor of Pharmacology at Touro University Nevada in the College of Osteopathic Medicine and the School of Physician Assistant Studies, he is double Board-Certified, credentialed by the Board of Pharmaceutical Specialties (BPS) as both a Board Certified Pharmacotherapy Specialist (BCPS) and Board Certified Nutrition Support Pharmacist (BCNSP).
Locally, Decerbo is currently in his second-term as Chair of the 8-member Nevada Medicaid Pharmacy & Therapeutics Committee (Silver State Scripts Board), and previously served on the Nevada State Board of Pharmacy Hospital Regulation Workgroup. Co-advisor to Student Alliance (APhA-ASP/SSHP/Nevada Pharmacy Alliance), the largest student-pharmacist professional organization at Roseman, he has been the recipient of over $40,000 in grant funding for the group's provision of free blood glucose & blood cholesterol screenings, medication counseling, and immunizations in underserved populations throughout Southern Nevada. He also serves as an expert witness in criminal proceedings for the Clark County District Attorney's Office, as well as for private counsel in civil/medical malpractice cases. For his contributions to pharmacy in the State, he was honored as the 2017 recipient of the American Pharmacists Association Bowl of Hygeia Award in Nevada, was Nevada Business Magazine's 2016 Healthcare Hero (Educator) awardee, and was featured in the Distinguished Men In Nevada (Education) publication.
Nationally, he currently serves as the APhA-APRS Clinical Sciences Chair, and is a judge for ASHP's National Clinical Skills Competition. As Roseman University's Delegate to the United States Pharmacopeial (USP) Convention, Decerbo is both a current member and past Vice-Chair of the USP Healthcare Safety & Quality Expert Committee. He also extensively served for 15 years with the National Association of Boards of Pharmacy (NABP), the governing body which creates and oversees the national standardized exam (NAPLEX) for licensure of pharmacists throughout the United States. As a past member of the NABP NAPLEX Review Committee (NRC) and NABP's Advisory Committee on Examinations (ACE), overseeing all examinations in NABP's portfolio. For his National pharmacy work, Decerbo was selected as a Pharmacy Times 2015 NextGeneration Pharmacist™ finalist.
Internationally, in conjunction with the Indian Association of Colleges of Pharmacy, Dr. Decerbo is a frequent guest lecturer and invited platform presenter at Colleges of Pharmacy and professional organizations throughout India, having given numerous presentations as the country has introduced the Pharm.D. degree.
Education
ASHP Accredited PGY-1 Pharmacy Practice Residency
Duke University Medical Center
Durham, NC
Doctor of Pharmacy (Pharm.D.)
Bouvé College of Pharmacy and Health Sciences
Northeastern University
Boston, MA
Affiliation
American Pharmacists Association (APhA)
American Society of Health-System Pharmacists (ASHP)
United States Pharmacopeia (USP)
Indian Association of Colleges of Pharmacy (IACP)
Awards
2018, 2020 Teacher of the Year
College of Pharmacy
Roseman University
Outstanding Contribution to USP Standards (2015-2020)
Healthcare Quality and Safety Expert Committee
United States Pharmacopeia
Rockville, MD
Bowl of Hygeia
2017 Recipient from State of Nevada
APhA Foundation
2016 Nevada Healthcare Hero- Educator
Nevada Business Magazine
Henderson, NV
2015 NextGeneration Pharmacist Finalist
Civic Leader of the Year
Pharmacy Times/Parata
Orlando, FL
Distinguished Men in Nevada- Education
DMWNV Publishing
Las Vegas, NV
Teaching Subjects
PHAR515 (GI Disorders)
PHAR516 (Infectious Disease)
PHAR518 (Endocrinology)
PHAR520 (Neurology)
Research Publications
Ryan M, Baker D, Albertson T, Appiah B, Bhide N, Butler L, Decerbo M, Hoffman L, Love R, Lubega J, Pugh L, Then M, West D, Yin S, Ashworth L, Ayers P, Hansen K, Sullivan C, Anderson C, Braga G, Guharoy R, Parekh S, Beselman S, Cohen M, Pepper G,
"COVID-19 Vaccine Handling Toolkit: Operational Considerations for Healthcare Practitioners."
United States Pharmacopeia
Decerbo M. Malnutrition in the Hospital- the Pharmacist's Role in Prevention and Treatment; Pharmacy Practice News
Nguyen S., Chromi S., Decerbo M, McCoy J, Dey S.
""Impact of Inhaled Epoprostenol on Outcomes in Patients with SARS CoV -2 Acute Respiratory Distress Syndrome on Mechanical Ventilation""
Decerbo M
Chapter 32. Nutrition support pharmacy services in:
Section 7 Pharmacokinetics/Pharmacogenomics/Nutrition
Clinical Pharmacy Education & Practice
Elsevier
Chan, E, Decerbo MC, Chromi S.
"Hydrocortisone Loading Dose Versus No Loading Dose Followed by Standard Therapy in Patients with Septic Shock"
"Expanding the Role of the Pharm.D. in India"
Invited Symposium
3rd Convention of the Indian Association of Colleges of Pharmacy
Indian Congress of Pharmacy Practice
Fogle, C, Decerbo MC, Chromi S.
"Factors Associated with Naloxone Usage in a Community Teaching Hospital"
Decerbo MC, Akoh, F, LaBouff K, Yang V, Swenson, D
"Impact of implementation of a multidisciplinary approach to nutrition support on appropriate parenteral nutrition utilization at a community hospital"