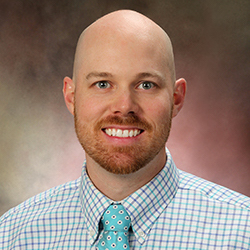 Area of expertise
Internal Medicine, Infectious Diseases
Bio
Dr. Shipley is a Utah native happy to be back in his home state teaching pharmacy school. He received his PharmD from University of Colorado Skaggs School of pharmacy and went on to complete a Pharmacy Residency at Creighton University Medical Center in Omaha, Nebraska. His current practice site is Utah Valley Hosptial in Provo, Utah where he rounds on a daily basis with Family Practice physicians and serves as a preceptor for adult acute care.
Education
Bachelor of Medical Science – University of Colorado
Doctor of Pharmacy – University of Colorado
Research Interests
All things internal medicine. I have done projects on insulin prescribing by pharmacist, medication safety, evaluation of surgical protocols, etc.
Affiliation
AACP, SIDP, ASHP, USHP
Subjects
Phar 514 – Infectious diseases
– Intro to antiviral and antifungals
– Skin and soft tissue infections, surgical site infections, and osteomyelitis
– Intra-abdominal infections
– Sexually transmitted infections
– CNS infections
– Infective endocarditis
– Influenza
Phar 516 – Pulmonology
– COPD
– Smoking cessation
– Asthma
– Cystic Fibrosis