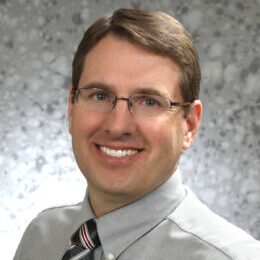 Area of expertise
Healthcare Education, Medicinal Chemistry
Education
Ph.D., Medicinal Chemistry, University of Utah
B.S., Chemistry, Southern Utah University
Research Interests
Active learning methods
Therapeutic potential of dietary supplements
Affiliations
American Chemical Society (ACS)
American Association of Colleges of Pharmacy (AACP)
American Dental Education Association (ADEA)
Awards
College of Pharmacy, South Jordan Campus P1 Teacher-of-the-Year, 2019 – 2020
College of Pharmacy, South Jordan Campus P1 Teacher-of-the-Year, 2017 – 2018
Utah Business Magazine "Healthcare Heroes" Healthcare Educator, 2016
College of Pharmacy, South Jordan Campus Teacher-of-the-Year , 2015 – 2016
Teaching Subjects
Pharmacy:
Fundamentals of Drug Action and Metabolism
Metabolism of Carbohydrates, Lipids, and Proteins
Neuropharmacology and Medicinal Chemistry
Pharmaceutical Calculations
Dental Medicine:
Cellular Metabolism and Adaptation
Graduate Studies:
Concepts in the Biomedical Sciences
Publications
Johanson K, Stirnaman S, Rose TM. Top consumer uses of bestselling, single-ingredient vitamin and mineral supplements. Complement Ther Med. 2020;53:102540. doi:10.1016/j.ctim.2020.102540
Rose TM. Getting rigor right. Am J Pharm Educ. 2020;84(5):7906. doi:10.5688/ajpe7906
Tesfahunegn R, Gerth B, Rose TM. Identification, preparation, and biological assay of plant extracts to treat type 1 galactosemia. Poster presented at: ASHP Midyear Meeting; Dec 10, 2019; Las Vegas, NV.
Rose TM. Lessons learned using a demonstration in a large classroom of pharmacy students. Am J Pharm Educ. 2018;82(9):6413. doi:10.5688/ajpe6413
Rose TM. An illustrated guide to poster design. Am J Pharm Educ. 2017;81(7):6423. doi:10.5688/ajpe8176423
Rose TM. Gaming in pharmacy education. Webinar presented at: AACP TiPEL SIG (Technology in Pharmacy Education and Learning Special Interest Group); 26 April 2016.
Rose TM, Reilly CA, Deering-Rice CE, Brewster C, Brewster C. Inhibition of FAAH, TRPV1, and COX2 by NSAID-serotonin conjugates. Bioorg Med Chem Lett. 2014;24(24):5695-5698. doi:10.1016/j.bmcl.2014.10.064
Rose TM. A board game to assist pharmacy students in learning metabolic pathways. Am J Pharm Educ. 2011;75(9):183. doi:10.5688/ajpe759183