Research Symposium
Please join us at the upcoming 9th Annual Research Symposium on February 22, 2023 at Roseman University's Henderson, Nevada and South Jordan, Utah campuses. Featuring research poster and podium presentations by Roseman students, residents, faculty, preceptors and guests from other institutions in the region.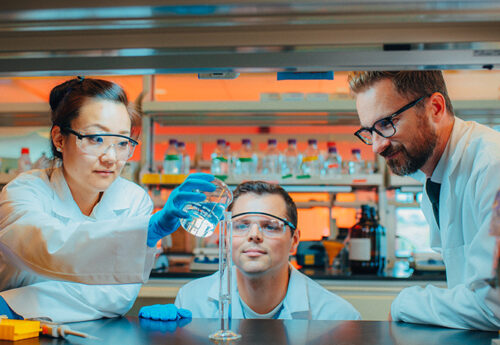 9th Annual Research Symposium
Abstract Submission Opens on December 1, 2022 and closes January 9, 2023
Submit Abstract Here (Opens 12/1/22)
The 9th Annual Roseman University Research Symposium will take place on Wednesday, February 22, 2023, at both the Henderson, NV Campus and the South Jordan, UT Campus. The Symposium Committees invite abstract submissions from members of the extended Roseman community including scholars and students external to Roseman University as outlined below. In addition, we extend a welcome to faculty, residents, students, and the community at large to attend and participate in this celebration of scholarship and research.
The online abstract submission form allows for the selection of poster and/or podium presentations. Please see the information below for abstract submission guidelines.
Important Dates
Abstract Submission Opens: December 1, 2022
Abstract Deadline: January 9, 2023
Abstract Acceptance Notification: January 27, 2023
Deadline for Submission of all Posters: February 20, 2023
9th Annual Research Symposium: February 22, 2023
Abstract Guidelines
Only abstracts submitted via the online submission form will be considered.
More than one abstract per presenting author may be submitted.
Abstracts that have been published or presented at other venues may be submitted. Abstracts presented at previous Roseman Research Symposia, however, are not eligible for submission unless you are submitting an abstract of recent developments obtained after the work was presented.
Research categories for posters and/or podium presentations may include:

Basic sciences
Clinical
Scholarship of teaching and learning
Public health
Other (e.g. administrative services, best practices, quality improvement, continuing professional development, social and administrative sciences, library and information science)

Abstracts should be organized into four sections: Purpose, Methods, Results, and Conclusions. In some cases, Results and Conclusions may be blank. Abstracts should not exceed a total (i.e. all four sections) of 350 words.
Posters must be professional in appearance, provide project information (e.g. title, authors, abstract components), charts and figures as appropriate.
The size of the poster should not exceed 4' x 6' (4' x 3' non-vinyl posters preferred).
Student and resident posters will be evaluated as part of the competition, although a presenter can opt out of participation. Only one poster per presenter will be judged.
At least one author must be available to present the work on the day of the symposium.
Podium presentations will be presented in a PowerPoint format. Presenters will be allotted 15 minutes for presentation and questions (12 minute presentation with 3 minutes for Q & A).
For more information regarding poster and podium presentations, please refer to https://www.ncbi.nlm.nih.gov/pmc/articles/PMC3003437/
Questions? Contact us.
Danielle Gundrum – South Jordan Campus Symposium Chair – dgundrum@roseman.edu
Kaylee Putney– Henderson Campus Symposium Chair – kvitale1@roseman.edu
For sponsorship information, please contact:
Kendra Angell
Director of Philanthropy
kangell@roseman.edu
1st place Research-In-Progress: Dr. Michael Trieu

2nd place Research-In-Progress: Dr. Arianne Dagdag

3rd place Research-In-Progress: Desiree Chong

1st place Student-Presented Research: Alexander Koo

2nd place Student-Presented Research: Kristheana Rico

3rd place Student-Presented Research: Jeffrey Bezard

1st place Resident-Presented Research: Dr. Tyler Green

2nd place Resident-Presented Research: Dr. Ivy Yang

3rd place Resident-Presented Research: Dr. Sunny Lee
Henderson Campus Abstract Book
1st place Research-In-Progress: Nomikos Klonaris

2nd place Research-In-Progress: Edward Yeates

3rd place Research-In-Progress: Amani Sastry

1st place Student-Presented Research: Rachel Morris

2nd place Student-Presented Research: Carlos Moreno

3rd place Student-Presented Research: Parker Gundersen
South Jordan Campus Abstract Book
Henderson Campus

 
South Jordan Campus

Mickayla Clark, PharmD, BCPS – Chair
College of Pharmacy
Claudia M. Tellez Freitas, PhD – Chair
College of Dental Medicine
Christopher So, PhD
College of Pharmacy
Tressa McMorris, PharmD, BCPS
College of Pharmacy
David B. Rawlins, PhD
College of Pharmacy
Amir Mohajeri, PhD
College of Dental Medicine
Arup Chakraborty, PhD
College of Pharmacy
Shamar Lejardi, RN, MSN-L
College of Nursing
Chike Okolo, PharmD, BCPS
College of Pharmacy
Scott Park, MLIS
Library
Kristi Singer
College of Pharmacy
Samuel Dyal, MSLS
Library
Dawn Benson
College of Pharmacy
Rachael Thomas
Marketing
Kishore Chaudhry, MBBS, MD, DNB
College of Dental Medicine
Carson Wolf
Communications
Jené Hurlbut, RN, MSN, MS, PhD, CNE
College of Nursing
 
Anna Ferri, MLIS
Library
Jason Roth, MBA
Communications