10th Annual Research Symposium
Wednesday, February 21, 2024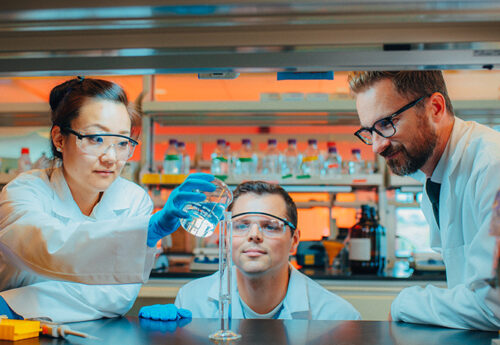 The 10th Annual Roseman University Research Symposium will take place on Wednesday, February 21, 2024, at both the Henderson, NV Campus and the South Jordan, UT Campus. The Symposium Committees invite abstract submissions from members of the extended Roseman community including scholars and students external to Roseman University as outlined below. In addition, we extend a welcome to faculty, residents, students, and the community at large to attend and participate in this celebration of scholarship and research.
Important Dates
10th Annual Research Symposium
Wednesday, February 21, 2024
Henderson, NV and South Jordan, UT Campuses
---
Abstract Submission Opens
Wednesday, December 13, 2023
---
Abstract Submission Deadline
Wednesday, January 10, 2024
---
Abstract Acceptance Notification
Friday, January 26, 2024
Abstract Submission
A link to submit Abstracts will be posted here on Wednesday, December 13, 2023.
Abstract Submission Guidelines
Only abstracts submitted via the online submission form will be considered.
More than one abstract per presenting author may be submitted.
Abstracts that have been published or presented at other venues may be submitted. Abstracts presented at previous Roseman Research Symposia, however, are not eligible for submission unless you are submitting an abstract of recent developments obtained after the work was presented.
Research categories for posters and/or podium presentations may include:

Basic sciences
Clinical
Scholarship of teaching and learning
Public health
Other (e.g. administrative services, best practices, quality improvement, continuing professional development, social and administrative sciences, library and information science)

Abstracts should be organized into four sections: Purpose, Methods, Results, and Conclusions. In some cases, Results and Conclusions may be blank. Abstracts should not exceed a total (i.e. all four sections) of 350 words.
Posters must be professional in appearance, provide project information (e.g. title, authors, abstract components), charts and figures as appropriate.
The size of the poster should not exceed 4' x 6' (4' x 3' non-vinyl posters preferred).
Student and resident posters will be evaluated as part of the competition, although a presenter can opt out of participation. Only one poster per presenter will be judged.
At least one author must be available to present the work on the day of the symposium.
Podium presentations will be presented in a PowerPoint format. Presenters will be allotted 15 minutes for presentation and questions (12 minute presentation with 3 minutes for Q & A).
For more information regarding poster and podium presentations, please refer to https://www.ncbi.nlm.nih.gov/pmc/articles/PMC3003437/
2023 Research Symposium
Interested in reading all of the abstracts for research showcased at the 2023 Research Symposium?
Podium Presenters
Albert Diep, PharmD
MountainView Hospital
Evaluating the appropriateness of initial febrile neutropenia treatment at an acute care hospital
Brian Decker, DMD
Roseman University College of Dental Medicine AEODO Residency Program
Evaluation of remineralization of white spot lesions with quercetin nanoparticles
Desiree Chong, PharmD Candidate 2024
Roseman University College of Pharmacy
Efficacy of implementing an end-of-day quiz and its impact on academic performance and student attendance in a three-year Doctorate of Pharmacy program
Research in Progress
1st Place
Danielle Valls
Roseman University College of Graduate Studies
Development of a Method for Detecting and Quantifying Epicatechin in Cinnamon Extract Supplement Capsules
2nd Place
Belinda Liu
Touro University Nevada – College of Medicine
Gastral Projections: Comorbidity of Cryptosporidiosis and Inflammatory Bowel Disease
3rd Place
Megan Farrell
Dignity Health St. Rose Dominican Hospitals
Efficacy of Pharmacy Managed Conversion of Intravenous Insulin Infusion to Subcutaneous Insulin in Cardiac Surgery Patients
Student Presented Research
1st Place
Shreya Govindaraj
Coral Academy of Science
Impact of Progesterone Surge in Oral Health and Hygiene
2nd Place
Mehri Dolati
Roseman University College of Pharmacy
Exploring the Influence of Dopamine Using Caenorhabditis Elegans as an Experimental Model
3rd Place
Axel Rivas
UNLV College of Medicine
Hemorrhagic Septic Emboli and Ring Enhancing Lesions Mimicking Neurocysticercosis
Resident Presented Research
1st Place
Chi Xin Yao
MountainView Hospital
Antipsychotic use in the intensive care unit (ICU) for treatment of delirium and agitation
2nd Place
Manar Alkahby
MountainView Hospital
Evaluation of nasal mupirocin use in intermediate medical care units at an acute care hospital
3rd Place
Gabrielle Szczeblowski
MountainView Hospital
Evaluating the appropriateness and compliance of heparin infusion protocols in an acute care hospital
Research Symposium Committee
| | |
| --- | --- |
| Name | Department |
| Kaylee Putney, Chair | Pharmacy |
| Mickayla Clark, Past Chair | Pharmacy |
| David Rawlins | Pharmacy |
| Marife Aczon-Armstrong | Nursing |
| Christopher So | Pharmacy |
| Arup Chakraborty | Pharmacy |
| Chike Okolo | Pharmacy |
| Kimberly Jones-Rudolf | AEODO |
| Emily Espanol | Library |
| Tiffany Garrett | Library |
| Dawn Benson | Pharmacy |
| Kristi Singer | Pharmacy |
| Jason Roth | Communications |
Due to a major Winter Storm, the live, on-campus event was canceled and research was presented virtually. As a result, no judging was not conducted and no awards were presented.
Podium Presenters
Edward Yeates, DMD Candidate 2024
Roseman University College of Dental Medicine
RAGE inhibition reduces TIMP and decreases cell invasion in cigarette Smoke extract (CSE) treated oral squamous carcinoma cells
Wyatt Magoffin
Noorda College of Osteopathic Medicine, College of Medicine 
Heterodyned Whole-Body Vibration Ameliorates Anxiety in Opioid-Use Disorder
Ryan Wendt
Brigham Young University College of Life Sciences
Gestational dependent responses to secondhand smoke (SHS) in mouse pregnancies
Research Symposium Committee
| | |
| --- | --- |
| Name | Department |
| Danielle Gundrum, Chair | Pharmacy |
| Scott Shipley | Pharmacy |
| Shankargouda Patil | Dental Medicine |
| Shamar Lejardi | Nursing |
| Scott Park | Library |
| Samuel Dyal | Library |
| Rachel Thomas | Marketing |
| Carson Wolf | Communications |
| Sonny Gaul (Secretary) | Pharmacy (student) |
1st place Research-In-Progress: Dr. Michael Trieu

2nd place Research-In-Progress: Dr. Arianne Dagdag

3rd place Research-In-Progress: Desiree Chong

1st place Student-Presented Research: Alexander Koo

2nd place Student-Presented Research: Kristheana Rico

3rd place Student-Presented Research: Jeffrey Bezard

1st place Resident-Presented Research: Dr. Tyler Green

2nd place Resident-Presented Research: Dr. Ivy Yang

3rd place Resident-Presented Research: Dr. Sunny Lee
Henderson Campus Abstract Book
1st place Research-In-Progress: Nomikos Klonaris

2nd place Research-In-Progress: Edward Yeates

3rd place Research-In-Progress: Amani Sastry

1st place Student-Presented Research: Rachel Morris

2nd place Student-Presented Research: Carlos Moreno

3rd place Student-Presented Research: Parker Gundersen
South Jordan Campus Abstract Book
For sponsorship information, please contact: