Webinar: "Human Trafficking and Neurobiology of Trauma for Healthcare Professionals"
11:00am - 1:00pm (Pacific)
Presented by the Roseman University RNCP Program.
CE Credit may be available to Nevada registered nurses.
This presentation will cover the scope and depth of human trafficking in all forms. The discussion will include economic drivers and social impacts that create demand and contribute to the recruitment and grooming of vulnerable individuals domestically and globally. A brief introduction to the neurobiology of trauma is included to support empowerment of patient/victims during healthcare encounters using the framework advances the empowerment strategies over rescue interventions.
This presentation provides background and competencies based information for healthcare professionals providing services and care to victims of human trafficking. Human Trafficking has several forms that include sex, labor and organ harvesting. A comprehensive view of trafficking will be presented and include epidemiology, recruitment, neurobiology of trauma, the dynamics of victimology. A brief discussion of the drivers of the business will include safety and perspectives of victim reluctance to leave the life will be covered. Empowerment theory versus rescue will be included.
This webinar will cover the following 2 objectives:
Describe the importance of clinical identification of trafficking victims related to the prevalence data for the US and State of Nevada.
Describes how neurobiology is affected by trauma and why trauma informed care strategies and approaches are critical to providing clinically and culturally competent care to victims.
Presenter: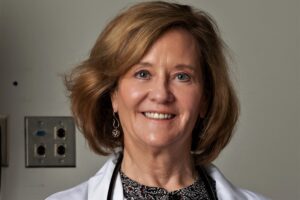 Dr. Kathleen Thimsen DNP, MSN, WOCN/CETN, FNS, DF-AFN
Dr. Kathleen Thimsen is an associate professor in residence, and a doctorate in nursing practice program director for the School of Nursing at the University of Nevada, Las Vegas.
This project is supported by the Health Resources and Services Administration (HRSA) of the U.S.Department of Health and Human Services (HHS) as part of an award totaling $2.8 million with 0 percentage financed with non-governmental sources. The contents are those of the author(s) and do not necessarily represent the official views of, nor an endorsement, by HRSA, HHS, or the U.S. Government.