Office of Marketing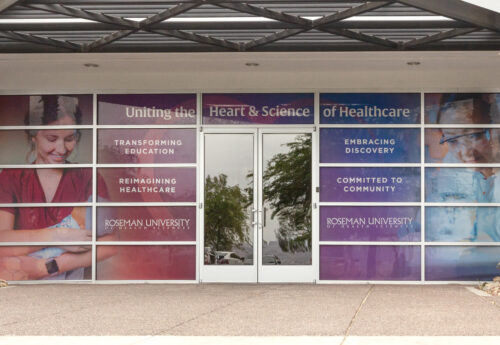 The role of the Office of Marketing is to use primary and secondary market and customer research to define and manage the Roseman Brand. The Office of Marketing develops multi-platform brand, student and patient campaigns in partnership with other University Units to create coordinated efforts that deliver impact, drive awareness, and expand perceptions of the University.  The Office of Marketing seeks to celebrate the people, stories and accomplishments of the University community while connecting patients and students to our clinics and programs.
Office of Marketing Services
The Office of Marketing is responsible for brand marketing as well as brand management.
The Office of Marketing plans, implements and markets the monthly free Neighborhood Health Series. Each month the Neighborhood Health Series introduces an expert speaker from Roseman University on a variety of health care topics including navigating Medicare, dealing with common diseases, and coping with an aging parent. Guests experience elements of Roseman University Six-Point Mastery Learning Model® and are invited to get to know other attendees, all while learning alongside members of southern Nevada's most accomplished and talented medical community.
2022
Collegiate Advertising Awards – Judge's Choice – Score of 100%
20th Annual SIAAWARDS – Gold Award for Integrated Ad Campaign "Uniting the Heart and Science of Healthcare" (GOLD awarded to 117 submissions of 1200 entries)
38th Annual Educational Advertising 

Awards – 

Gold Award for Integrated Ad Campaign "Uniting the Heart and Science of Healthcare" (Gold awarded to 456 submissions of 2000 entries)
2017
Collegiate Advertising Awards – Judges Choice – Out of 900 entries from the US Judges Choice – Score of 100% (only 3 issued – top 1%)
15th Annual SIAAWARDS – Silver Winner for Total Advertising Campaign for "Roseman: Challenging the Status Quo in Healthcare Education"
33rd Annual Educational Advertising Awards – Silver Winner for Integrated Marketing Campaign for "Challenging the Status Quo"
2016
14th Annual SIAAWARDS – Gold Winner for Magazine Series for "RE" Campaign
Vice President, Strategic Implementation and Engagement