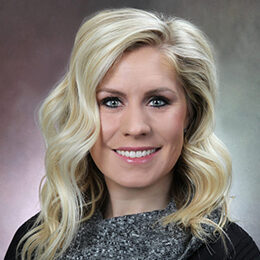 Rachael Thomas is Director of Marketing at Roseman University of Health Sciences. She received her Bachelor of Arts in Communications with an emphasis in Public Relations and a minor in Business from Brigham Young University, Provo. After graduating from BYU she returned to Las Vegas where she began her career in public relations and marketing. She started at MGM Resorts International in the Corporate Marketing Department as a Corporate Marketing Representative. While there she assisted in the implementation of the M life Rewards program. After two years she made the decision to leave the hospitality industry and start a new adventure in academia at Roseman University of Health Sciences as Marketing Communications Specialist. After four years with the University, she was promoted to Director of Marketing.
At Roseman she assists in overseeing brand and student & patient recruitment marketing, assists in coordinating institutional-level strategic plan initiatives, and assists with graphic design and website management and development. She also sits on the Roseman Diversity Advisory Committee. She received an Advanced Print Media Design Certificate from UNLV Continuing Education – Division of Educational and received her MBA from Roseman University.
In her free time, Rachael can be found with her husband and two boys either working out or exploring the outdoors – hiking, fishing, camping, going on walks to the mailbox, playing at the park & doing yard work (yes, yard work – Rachael's oldest son loves picking weeds and helping dad mow the lawn).