Community Outreach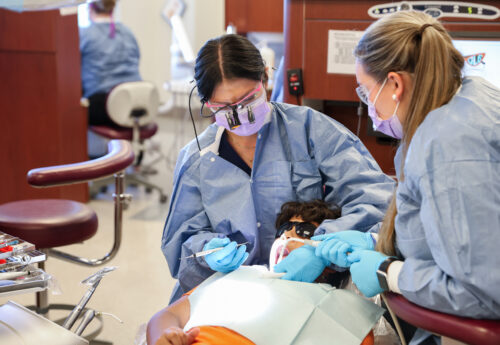 Dental students at Roseman College of Dental Medicine have the opportunity to participate in multiple community outreach projects throughout their time in the College. While the majority of these projects are created by third-year students in the Dental Public Health 4 (DMD7120) as a part of the curriculum, students of all academic years participate in both the projects and club events that provide service learning. These include screenings, oral hygiene, dental restorations, health education, and public services throughout Utah. Most of these events have been initiated and implemented by students, with the support of the faculty and administration.  Dental students have demonstrated a great desire to serve their community with their newly acquired dental knowledge and skills.
Roseman University College of Dental Medicine students are a powerful force for good in the community.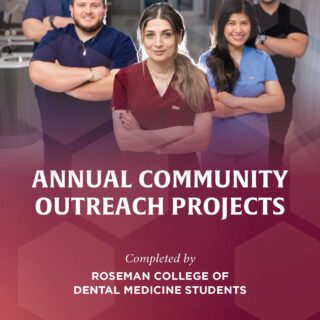 Annual Community Outreach Projects Report
Read the annual report of student-led community outreach project.
Community Outreach Events
Below are just a few of the community outreach events or initiatives led by Roseman University College of Dental Medicine students to help communities in Utah.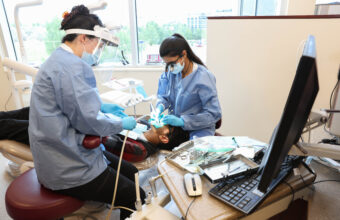 GIVE NEW UTAHNS A SMILE
This project organized by 6-8 students is an effort to address the immediate needs of the more than 60,000 refugees in Utah. On this day students and faculty provide about 150 individuals with a positive dental experience. We address any immediate dental needs they have and provide comprehensive oral examinations, dental cleanings, and dental restorations free of charge.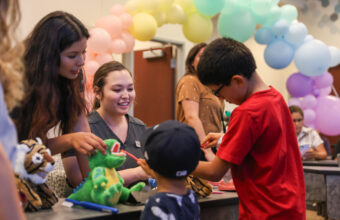 BACK TO SCHOOL BRUSH-UP™
This August event, organized by a team of 12-15 students provides the same services as Give Kids a Smile® with the same purpose and benefits. All 400 students and attending faculty participate with attendance reaching as high as 600 children. 10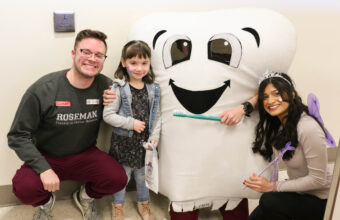 GIVE KIDS A SMILE®
This February event, organized by a team of 12- 15 students and sponsored through a grant, invites children throughout the state of Utah to come to the CODM for a free screening, cleaning, and placement of Fluoride varnish, in addition to oral hygiene instruction. Additionally, participants receive a voucher for x-rays, sealants and $100 worth of dental restorations. All 400 students and attending faculty participate in various roles.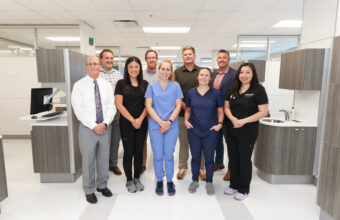 This event, organized by 4-6 students, allows for any dental student to advocate on behalf of their patient for financial assistance from the CODM in completing dental treatment. Students on this committee will hear compelling presentations and make decisions to grant assistance according to the need of the patient. The purpose of this program is to engender within students 1. the desire to advocate for their patients, and 2. a deeper understanding of the challenges that patients face regarding financial access to good oral healthcare.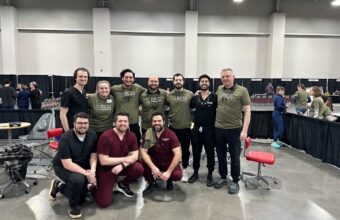 PROJECT HOMELESS CONNECT
About 30 students participate in this project designed to connect people experiencing homelessness to necessary dental services. Working with other service providers such as legal, medical, hair styling, and more, throughout this day-long event dental students and dentists in the community provide urgent care examinations, radiographs, cleanings, extractions, and minor restorative care free of charge to this vulnerable population.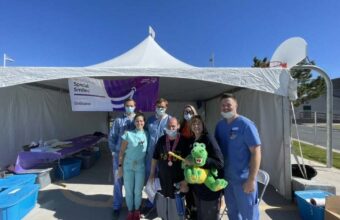 SPECIAL OLYMPICS
This event, participated in by 10-20 students, is held in collaboration with our Special Olympics partners. At these events (at least 2 events/year), athletes with special needs receive dental screenings, oral hygiene instructions, and Fluoride varnish placement. As many as 200 athletes could be screened at a single event. The purpose of this event is to provide access to oral health care for children with special needs.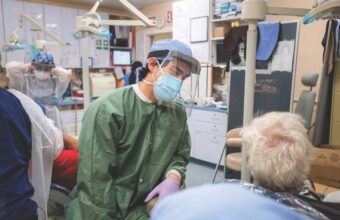 COMMUNITY-BASED CLINICAL ROTATIONS
In the fourth year, students are provided regular opportunities to work in community-based clinics on 2-4 week-long rotations in the elective course Dental Public Health: Community-based Clinical Rotations (DMD8100). Students are regularly informed of rotation opportunities as they become available and then fill out an application to qualify for attendance Student experience in communitybased clinics includes providing dental care to diverse populations of the nation's underserved poor. Patients at these clinics include populations of the homeless, poor, disabled, racial/ethnic minorities, and other under-represented minorities.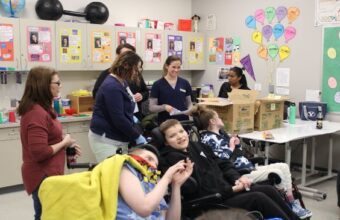 SMILE STATION
Organized by 8-10 students, this event provides dental screenings, oral hygiene instruction and Fluoride varnish placement, for individuals with Special Needs. Partnering with such public entities as Utah Parent Center (a resource center for children with autism) and Kauri Sue Hamilton School (a K-12 school for children who are mentally handicapped and/or medically compromised), children with Special Needs and their families are educated and connected with a dental home.