From Olympic dreams to becoming a healthcare hero
"I'm passionate about teaching the next generation of pharmacists."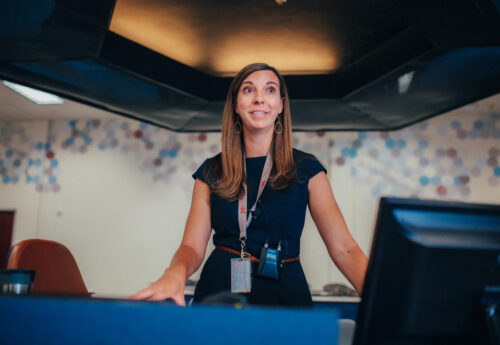 Catherine Leiana Oswald, PharmD, BCGP
Associate Professor
I am now in my 15th year of being a pharmacist and I couldn't be prouder to be in this profession – from serving on the front lines and compounding pediatric Tamiflu prescriptions during the H1N1 pandemic, to helping deliver thousands of COVID vaccinations throughout the state.
However, I grew up wanting to be a pro volleyball player and go to the Olympics. If you check my high school graduation photo, next to the "Future Endeavor" category, my response was "play volleyball for $." To me, that was the "hero" I had in mind when I was 18 years old. I was on track to fulfill this dream, spending time on the Canadian Junior National team and earning a full-ride Division I scholarship to UNLV. Then, during my time as a student athlete in college, I suffered several knee injuries as well as a shoulder injury that resulted in multiple surgeries. As my college career ended, and I was about to graduate with my Bachelor of Science in Nutritional Sciences, I began to think about going to medical school. My classmate, Ashlie Leavitt, let me know there was a new pharmacy school, the University of Southern Nevada College of Pharmacy, in town and shared that she was applying. I decided to apply as well, which was a little scary since I had never been in a pharmacy before and did not know a lot about the profession. All I knew was healthcare was a calling that sounded right.
Now, being a 40-year-old healthcare "hero" is far more rewarding than any Olympic "hero" dream that 18-year-old version of me had.
I love community pharmacy. In fact, I still pick up shifts as a pharmacist on the weekend because I enjoy the profession so much. BUT, I also love teaching and have a deeply rooted passion for preparing the next generation of pharmacists. I love working with the students and seeing those "light bulb moments" as they master a concept. It also warms my heart every time I receive a notification from a student or graduate letting me know something we did in class helped them treat a patient, impress their preceptors or pass their boards. I also have some AMAZING colleagues that push me to be a better faculty member and person. It is a great feeling working alongside coworkers that work hard and truly care about the students and patients we serve.
Duration
Earn your PharmD in three years.
Location