"Putting the patients' needs first is prioritized at Roseman University."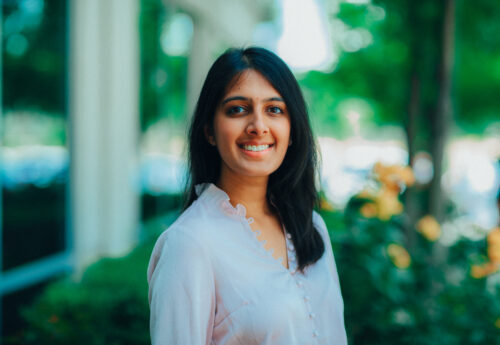 Shaili, DMD '23
Community service and volunteer work were a large part of my upbringing. Every year, I volunteered at free health clinics that were led by B.A.P.S Charities in Washington, D.C. From a young age, I learned about the importance of making health care accessible to everyone. As immigrants in the United States, my family and I did not have the privilege of receiving routine dental care growing up. This motivated me to become a health care provider so I could use my knowledge and skills to help people who needed better access to health care. In the future, I aim to volunteer at the same free health clinics I volunteered at, so I can give back to my community. I also hope to make my parents proud by proving that their struggle to provide me with the best education, as immigrants in this country, was fruitful.
My spiritual guru, Pramukh Swami Maharaj, always preached "In the Joy of Others Lies Our Own." Patients often visit the dentist when they feel vulnerable about their oral health or their financial situation. Remembering the words of my guru inspires me to always work for the betterment of my patients and society. By studying hard, I can provide patients with the reliable services and options they deserve. Putting the patients' needs first is prioritized at Roseman University , which is helping me fulfill my goals as a student and as a health care provider. At the end of the day, this brings me happiness and peace.
Roseman University has given me the opportunity to learn about the field of dentistry. It has provided me with numerous resources to not only become a competent dentist, but also a leader, a volunteer, and a mentor. Being on the ASDA and the Lucy Hobbs Initiative board has given me opportunities to gain leadership experience. These organizations have also given me opportunities to volunteer in the Salt Lake community. Working with upperclassmen and lowerclassmen in the clinics has helped me progress as a student and a mentor. I believe that all of these qualities are imperative to become a well-rounded dentist.
More Roseman Stories
Duration
Earn your DMD in just three years.
Location