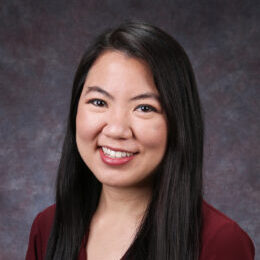 Area of expertise
Medication Therapy Management, Community Pharmacy, Experiential Education
Dr. Michelle Hon pursed a career in pharmacy after serving as a Teach for America Corps Member, teaching Biology and Chemistry at Mojave High School in North Las Vegas. She obtained her Pharmacy Doctorate from Roseman University of Health Sciences in Henderson, NV and completed a PGY-1 Community Based Residency with Smith's Food and Drug in Salt Lake City, UT. She joined the Roseman faculty in 2019 as the Director of Experiential Education (APPE) to combine her passions of teaching and pharmacy. In addition to overseeing the Advanced Pharmacy Practice Experiential Program for P3 students on the Henderson campus, she oversees an on-campus Medicare Call Center that has helped Nevadans save over one million dollars in Medicare plans savings. She currently teaches P1 and P2 students in OTC Therapeutics, Top 200, Pharmacy-Based Immunization Delivery, and Pharmacists' Patient Care Process curricular blocks. In her off-time, Michelle enjoys spending time with her husband and daughter exploring new hidden food gems locally and abroad.
Education
Bachelor of Arts in Biology (2009) – University of Southern California (Los Angeles, CA)
Master of Arts in Teaching (2011) – University of Southern California (Los Angeles, CA)
Doctor of Pharmacy (2018) – Roseman Unveristy of Health Sciences (Henderson, NV)
PGY-1 – Community Based Residency (2018-2019) – Smith's Food and Drug (Salt Lake City, UT)
Affiliations
American Association Colleges of Pharmacy (AACP)
American Society of Consultant Pharmacists (ASCP)
American Pharmacists Association (APhA)
Nevada Pharmacy Alliance
Utah Pharmacist Association
Phi Lambda Sigma Pharmacy Leadership Society
Kappa Psi Pharmaceutical Fraternity Inc.
Teaching Subjects
Pharmacy-Base Immunization Delivery
OTC Therapeutics
Top 200 Dugs
Pharmacist Patient Care Process
Research Interests
Community Pharmacy
Experiential Education
Awards
2021 New Pharmacy Practitioner of the Year – Nevada Pharmacy Alliance
Research
$20,000 2022 National Association of Chain Drug Stores Foundation, Innovation Track Scholarship – FUNDED
Project title: Supporting Offender Reentry by Improving Health Literacy and Trust in the Healthcare System
Primary Author
$22,000 Community Health Grant, Dignity Health – FUNDED
Project title: Medicare Assistance Programs Counseling
Co-Author
$289,000 CDC Funding 1815 and 1817 grant – FUNDED
Project: Increasing billing services of pharmacists in FQHC facilitie; Improving health outcomes of patients with Diabetes and Heart Disease
Co-Author
$65,000 Community Health Grant, Dignity Health – FUNDED
Project title: Expanding services in a Medicare Call Center
Co-Author