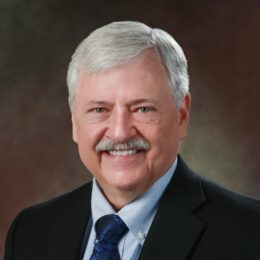 Area of expertise
Admissions, Student Affairs, Humanistic Education, Career Guidance
Dr. Harman joined the faculty of Roseman University of Health Sciences in 2010 and has more than 36 years of experience in dental school admissions and student affairs. In addition to admitting outstanding students to the DMD program, he also applies the insights from communications, psychology and education to facilitate the development of individuals, groups and organizations. June 2022 marked the start of Dr. Harman's 58th year in education and related endeavors.
Dr. Harman leads Roseman DMD's Lifelong Colleague initiative in which faculty, staff and students make and keep three commitments to each other: to be Lifelong Colleagues from Day 1 of the dental program, to abide by a shared Honor Code, and to help each other become the best we can be at what we do. These three commitments are inseparable components of Roseman's success oriented 6-Point Mastery Learning Model and CODM's Heart and Science Clinical Model. These shared commitments, and the Mastery Learning Model, allow an enduring, humanistic culture to emerge and be strengthened through our moment-to-moment interactions with each other.
Dr. Harman's initial career was in music performance and education. He began teaching music at age 13 and later attained both B.Mus.Ed. and Master of Arts degrees in Music from The Ohio State University. Dr. Harman completed additional graduate education including a Master of Arts Degree in Psychology from Goddard College that encompassed the three-year therapist training program at the Gestalt Institute of Southern Ohio, and a PhD in Education from The Ohio State University with concentrations in Supervision, Counseling and Nonverbal Communication.
In the early 1980's, Dr. Harman became a licensed counselor in the State of Ohio where he focused his practice on making life and career possibilities real for clients in education, business, law, medicine and, increasingly, dentistry. He also consulted with school systems and provided in-service education for administrators and faculty.
Dr. Harman began his fulltime career in the dental profession in 1986 as director of the ADA/AADS SELECT Program, dentistry's national career guidance initiative. In this role, he consulted with national dental and educational associations, state and local dental societies as well as dental schools and dental programs throughout the U.S. and Canada.
Dr. Harman's full-time academic and administrative appointments include:
University of the Pacific, School of Dentistry – Assistant Professor and Associate Dean for Student Services – 1990 through 1997
Baylor College of Dentistry – Texas A&M University Health Science Center – Associate Professor (tenured) and Associate Dean for Student & Alumni Services – 1998 to mid2005
University of Nevada, Las Vegas – Professor (tenured), Associate Dean and Executive Associate Dean – mid 2005 to mid 2010
Roseman University of Health Sciences, College of Dental Medicine – Professor and Founding Associate Dean for DMD Admissions and Student Affairs – mid 2010 to the present
In recognition of his service to the dental profession and education, Dr. Harman was awarded honorary membership in the American Dental Association, Omicron Kappa Upsilon and Tau Kappa Omega. He also is a Charter Member of Roseman's OKU Beta Iota Chapter. He received the Award of Merit from the American College of Dentists, the Award of Distinction from the University of the Pacific School of Dentistry Alumni Association, the 2017, 2019 and 2021 Student Advocate Awards from the American Student Dental Association. He was selected as one of Utah Business Healthcare Heroes for 2017.
Dr. Harman is a member of the American Psychological Association, American Dental Education Association, American Counseling Association, and Phi Kappa Phi.