A Different Approach: Roseman University's Six-Point Mastery Learning Model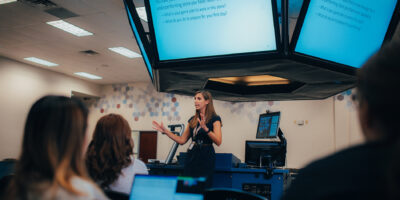 Read the Print Edition of Spectrum
Many of us have memories of college, juggling multiple classes covering multiple subjects, and studying to memorize information for midterms and final exams to gain passing grades. We sat in large, auditorium-style classrooms and analyzed our peers, wondering who will impact that annoying "bell curve." It was often a highly stressful and competitive environment.
When Roseman University was established in 1999 as the Nevada College of Pharmacy, its founders, Dr. Harry Rosenberg, Dr. Renee Coffman, and Dr. Chuck Lacy, could have created a Doctor of Pharmacy program modeled after this status quo in higher education. Instead, they sought a different approach. One that removed competition and shifted the focus on competency.
"We believed pharmacy education should be and could be better, more effective, and capable of producing highly competent graduates, who would be sought-after by employers," said Dr. Coffman, Co-founder and current Roseman University President.
Considering the varying learning styles of young adults, a curriculum was developed that emphasized a student-centered, active learning environment where students were participating in experiential education from the very beginning of the program. Rather than semesters or quarters, the curriculum was organized into blocks that allowed students to take one course at a time, with students in class from 8:00 a.m. to 3:00 p.m. Monday through Friday, allowing them ample time to concentrate and focus on achieving the desired outcomes. This also provided opportunities for students to be active participants in the learning process by facilitating the incorporation of a variety of learning activities other than the traditional lecture format. Further, the early pharmacy practice experiences were designed to enhance and support the didactic curriculum by allowing students to see, feel, and understand what was presented in the classroom in a pharmacy setting.
"By restructuring the curriculum in the block format, we realized that the curriculum could be accomplished in three years, rather than the traditional four, making the College of Pharmacy one of the most affordable private Colleges of Pharmacy in the nation," said Dr. Coffman. "Further, our graduates benefitted from early entry into clinical settings, making them more competent and confident in the practice of pharmacy earlier than those in four-year programs."
This different approach in the Doctor of Pharmacy program, now called Roseman University's Six-Point Mastery Learning Model®, brings together six key principles: Block Curriculum, Active and Collaborative Learning, Competency-based Education, Assessment Learning, Early Experiential Learning, and Classroom as Teacher. All these components reinforce each other and contribute to an unparalleled educational environment.
Nearly twenty-five years after Roseman's College of Pharmacy was established, pharmacy education across the country is starting to catch on. According to Dr. Leiana Oswald, the College of Pharmacy's Associate Dean for Academic Affairs and Assessment and Alumnus, as the profession of pharmacy adopts Entrustable Professional Activities (EPAs) to define what an entry-level pharmacist needs to be prepared to do upon graduation, the members of the American Association College of Pharmacy (AACP) have started to explore how competency-based education can be used in pharmacy education.
"There has been an increase in articles published in the American Journal of Pharmaceutical Education questioning traditional GPA grading schemes and highlighting potential benefits for competency and mastery learning in didactic (classroom) and experiential (practice site) learning," said Dr. Oswald. "We have been utilizing competency-based education at Roseman since our inception. It brings me a lot of pride to be a part of a program where I was taught as a student, precepted as a pharmacist, and now help to shape the next generation of pharmacists as an administrator knowing our innovative Six-Point Master Learning Model® prepares competent, caring and ethical pharmacists ready to enter practice."
Today, it is not just students in the College of Pharmacy benefiting from the Six-Point Mastery Learning Model®. The success of the College of Pharmacy became a catalyst for the development of additional degree programs, all incorporating the model and transforming the way their professions are taught.
Roseman University's College of Nursing utilizes the Six-Point Mastery Learning Model® to build competency in graduates of the Bachelor of Science in Nursing and Master of Science in Nursing-Family Nurse Practitioner programs.
Dr. Delos Jones, the College of Nursing's Associate Dean of Faculty Affairs and Learning Innovation says the College is well suited to putting active and collaborative learning into practice. "Roseman's nursing students learn through work in the simulation lab practicing, hands-on, the skills they will need in the nursing field," said Dr. Jones. "In addition, students complete case studies in class individually, in their groups or as a class with the instructor's guidance, and group projects are completed in several courses which encourages students to work together and assist each other in mastering the content about which they will be presenting."
Dr. Jones adds that College of Nursing faculty are encouraged to bring lab items into the classroom, so students get experience with nursing tools in all aspects of their education, not just in the practice of using them but understanding how and why they are used. This increases active learning as students discuss and handle the items even during the theory discussions.
Like the College of Pharmacy, the College of Nursing utilizes assessment for learning throughout its programs. "Students have a chance to discuss the assessment questions with the faculty immediately after taking the assessment," said Dr. Jones. "This gives them the chance to clarify concepts they may not have mastered prior to taking the assessment. It also gives the faculty the chance to provide additional information where needed to help students achieve mastery of the course content."
Dr. Jones says that as adult learners, understanding why the information is important and how they will be using it helps provide some urgency to learning the information. Additionally, they can build new information upon older knowledge by practicing, discussing, and doing much easier than they can just by listening to lectures. Students also have the chance to discuss material with the faculty individually, as groups, and as a class. Most importantly, students teach each other both in the classroom through collaborative activities and during the assessment process when taking the Team assessment.
"Overall, the Six-Point Mastery Learning Model® makes the Roseman's College of Nursing programs more effective at teaching students to think critically, using rather than just learning the information, and to work as a team. The mastery concept also builds their confidence in their ability to provide safe care because they know they have learned everything at the level of 90% or better," said Dr. Jones.
Roseman University's College of Dental Medicine embraces all aspects of the Six-Point Mastery Learning Model, says Dr. Clark Dana, the College's Assistant Dean for Integrated Education and Assessment.
"We utilize the block curriculum and the assessment learning process in the Doctor of Dental Medicine program to ensure high-level mastery of content that builds in context and application from block to block," said Dr. Dana. "Every block integrates numerous methods of active learning."
According to Dr. Dana, monitored by the College's curriculum team for appropriate use, these active learning methods include but are not limited to Think-Pair-Share, Problem Solving/Case Study, Student Presentations, Formative Objective Structured Clinical Examinations/Tabletop Exams, Drawing/Diagramming, Formative Quizzes/Polling, Patient Simulations, Critical Appraisal of Scientific Evidence, Personal Practice Planning, Reflection, and Community Involvement.
Most notably, says Dr. Dana, the College of Dental Medicine has restructured the traditional dental curriculum to ensure students are integrated early into clinics. Through this early experiential learning students gain valuable context to the critical foundational knowledge gained in their didactic coursework.
"For example, they may learn about diabetes in the classroom after having treated a patient with this medical condition in the clinic," said Dr. Dana. "This clinic integration has shown to prepare students for their board exams, but more importantly prepares them to treat the whole patient."
In addition, true to competency-based education, student progress is monitored to ensure they are progressing at the appropriate rate. "Because we are able to monitor this progress via carefully designed assessment feedback systems, we are able to provide appropriate clinic experiences for where students are in their clinic journey," said Dr. Dana.
Following approval by the Commission on Dental Accreditation in late 2021, this fall the College of Dental Medicine will enroll its first cohort of students into a three-year Doctor of Dental Medicine program, thanks in part to the Six-Point Mastery Learning Model®.
"We have worked diligently over the past several years to develop and foster a team-based clinical education model, combined with Roseman University's Six-Point Mastery Learning Model®, to create curricular efficiencies that allow students to obtain more classroom and clinical contact hours in less time," said Dr. Frank Licari, Dean of the College of Dental Medicine. "Capitalizing on these efficiencies, our goal with this transition to a shorter program is to reduce the cost of dental education and thereby reduce student debt upon graduation." In the College of Dental Medicine's Advanced Education in Orthodontic and Dentofacial Orthopedics (AEODO) residency program, the block curriculum in both instructional (didactic blocks) and longitudinal (clinic/research) help residents see the "big picture," says Program Director Dr. Glen Roberson. "Residents become fully immersed in a topic during didactic blocks, and then we revisit the topic again during clinical seminars," adds Dr. Roberson.
Incorporating active and collaborative learning during clinical seminars with all residents (three residency classes) present is where everything comes together. "We review cases with residents and faculty where faculty moderate the case, the third-year residents help the second-year residents who, in turn, help the first-year residents," said Dr. Roberson. "This is where all the different blocks are touched upon to create a unified concept of patient-focused treatment."
Since the program's first cohort began in 2008, the orthodontic residency program has boasted a 100% first-time pass rate on the American Board of Orthodontics exams.
Roseman University's College of Graduate Studies, the University's newest college, established in 2021, offers Master of Science in Pharmaceutical Sciences and Master of Science in Biomedical Sciences programs that incorporate the Six-Point Mastery Learning Model® along with a "hyflex" modality that allows students to continue working while they complete coursework. The modality, both hybrid and flexible, offers synchronous and online instruction with face-to-face learning at either Roseman's Henderson, Nevada, or South Jordan, Utah campuses.
"The College of Graduate Studies programs apply the Six-Point Mastery Learning Model® to the curriculum by focusing on active and collaborative learning," said Dr. Jeffery Talbot, Dean of the College. "Students benefit by learning from each other through team activities, research seminars, and journal clubs to further enhance their educational experience."
Dr. Talbot says, the Six-Point Mastery Learning Model ® combined with the "hyflex" modality and hands-on training provided, makes the Roseman's Graduate Studies programs distinctive, and suited to both the continuing student and working professional. Applied focus on regulatory affairs, organizational behavior, and leadership, advanced principles in biomedical sciences, public health, data science, and machine learning provides graduates with a diverse knowledge base, intellectual maturity, skills, and the competency to thrive in the biosciences industry.
As Roseman University continues to add new colleges and programs in the coming years, the Six-Point Mastery Learning Model® will play a key role in distinguishing these programs from others, offering an unparallel learning experience for future students, and competent graduates to fill the growing demand for health professionals to meet the needs our of communities.