Faculty Spotlight: The College of Medicine's Dr. Bruce Morgenstern
Roseman University of Health Sciences and the Roseman University College of Medicine would like to shine a light on our very own Bruce Morgenstern, MD, FAAP.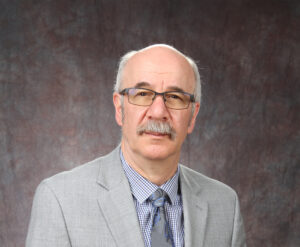 A New Approach to Imposter Syndrome
Dr. Morgenstern, Senior Executive Dean of Roseman University College of Medicine, co-authored an observation paper advocating a new approach to Imposter Syndrome in healthcare professional education. The paper was accepted to the journal Teaching and Learning in Medicine. In the paper, Morgenstern and co-author Gary Beck Dallaghan present impostorism or impostor syndrome as a common psychological construct that plagues health care professionals. The authors assert that impostorism has been linked to psychological conditions that include stress, shame, guilt, and burnout, as well as behaviors like "hiding out" which impede career advancement.
Morgenstern and Dallaghan introduce a reframed approach to impostorism, one that allows medical students, residents, and physicians to see episodic feelings of impostorism as natural and appropriate situational responses. To the authors, this approach would create an opportunity for medical and graduate students, as well as practicing physicians and scientists, to channel these episodic feelings into positive responses, thus mitigating the negative psychological and behavioral consequences of viewing oneself as a fraud or incompetent.
Examining the Implications of Going Pass-Fail
Dr. Morgenstern also presented the implications of the first step of the US Medical License Examination going to a pass/fail score. As a guest speaker during a series of national webinars sponsored by the International Association of Medical Science Educators (IAMSE), Morgenstern addressed the medical community's growing concern about the potential drawbacks of using USMLE Step 1 scores to determine who is interviewed for residency positions.
The National Board of Medical Examiners announced in February of last year that USMLE Step 1 would transition to a pass/fail scoring system in 2021. Medical educators and students had mixed responses to the news. As president and immediate past-president of the Alliance of Clinical Education, the organization of medical school clerkship director organizations from Pediatrics, Internal Medicine, Family Medicine, Ob/Gyn, Neurology, Psychiatry, Surgery and Emergency Medicine, Morgenstern discussed the impact of USMLE Step 1 doing away with numerical scores. With Step 2 remaining scored, Morgenstern questions whether or not this change to Step 1 merely kicks the can down the road for medical students.
About Bruce Morgenstern
Dr. Morgenstern has over 40 years of experience in pediatric nephrology and was appointed associate dean for clinical affairs and professor of pediatrics at the Roseman University of Health Sciences College of Medicine in April 2015. Dr. Morgenstern specializes in the diagnosis and treatment of pediatric kidney disorders including kidney stones, Nephrotic Syndrome, Glomerulonephritis, and blood or protein in the urine.
Before practicing for 15 years at the Mayo Clinic and another decade at Phoenix Children's Hospital, Dr. Morgenstern served in the United States Air Force at Keesler Medical Center. Morgenstern previously held professional positions at Temple University School of Medicine, Tulane University School of Medicine, and the F. Edward Herbert School of Medicine of the Uniformed Services University of Health Sciences.
He earned his Bachelor of Science from Pennsylvania State University and his Doctor of Medicine from Jefferson Medical College in Philadelphia. Dr. Morgenstern completed his residency in pediatrics at Long Island Jewish Hospital in New Hyde Park, New York, where he went on to serve as chief pediatric resident. He enjoys hiking, traveling, and spending time with his wife and daughter.