Master of Science in Pharmaceutical Sciences: Providing Students with Real-world Skills and Knowledge Necessary to Succeed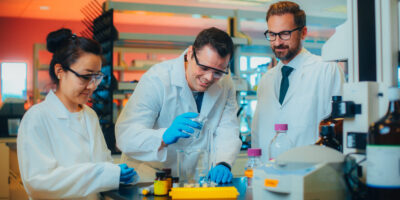 Read the Print Edition of Spectrum
Article updated on June 2, 2023 to include new Data Science & Health Informatics focus
For students looking to pursue a research career in the bioscience industry, obtaining a Master of Science degree can be a significant step towards achieving their goals. Roseman University's Master of Science in Pharmaceutical Sciences (MSPS) program is gaining recognition for its high-quality education and promising career prospects. Enhancing opportunities in the pharmaceutical, biotech and nutraceutical industries, students enrolled in the program can now opt to include a focus in Data Science & Health Informatics as part of their course of study.
According to Dr. Jeffery Talbot, Dean of Roseman University's College of Graduate Studies, one of the most significant benefits of pursuing an MSPS from Roseman University is return on investment. "A report by the American Association of Pharmaceutical Scientists (AAPS) shows that the median salary for pharmaceutical scientists with a master's degree in the U.S. is more than $130,000 per year," said Dr. Talbot. "This high earning potential is due in part to the expansive growth of the bioscience industries and the essential role that masters-trained scientists play in research and development bringing new drugs, medical devices, and nutraceutical agents to market."
Roseman University's MSPS is designed to provide students with real-world skills and knowledge necessary to succeed in this challenging field. The program's coursework covers a wide range of topics, including drug design, drug delivery systems, pharmacokinetics, pharmacodynamics, machine learning and data science, regulatory affairs, and business leadership. Students also design, conduct, and present original research projects, gaining valuable hands-on experience.
The new Data Science & Health Informatics focus equips graduates with the skills needed to excel in data-driven roles within the pharmaceutical, biotech, and nutraceutical industries. With a strong emphasis on managing healthcare information, applying analytics and machine learning, and extracting insights from large datasets, students can contribute significantly to improving healthcare outcomes.
"This exciting addition allows students to specialize in harnessing the power of data and technology," said Dr. Talbot. "Graduates will be equipped to excel as data scientists, health informaticists, and bioinformatics specialists to help advance research."
Another benefit of Roseman University's MSPS program is its location in Nevada and Utah, as no other similar program exists in the Intermountain West region.
"Nevada and Utah are home to a large and growing number of bioscience companies, providing exciting local career opportunities for graduates," said Dr. Talbot. "Both states have experienced significant growth in recent years, with state governments actively promoting the development of this sector. Favorable business climates have attracted many bioscience companies, including a significant number of pharmaceutical, nutraceutical, and medical device manufacturers."
Local biotech support organizations, such as Biohive, BioUtah, NevBio, and the Las Vegas Global Economic Alliance, have helped create a flourishing environment for bioscience companies, with more than 1,000 companies providing nearly 40,000 life sciences-related jobs in Nevada and Utah combined.
In addition to a favorable business climate, graduates of Roseman University's MSPS program benefit from the university's industry partnerships. With campuses in both Nevada and Utah, Roseman is well positioned to leverage hometown location and collaborative relationships with local companies to provide internship-like training opportunities for MSPS students while gaining real-world experience. Thus far, 100 percent of Roseman's MSPS students have received support from local bioscience companies, including scholarships, fellowships, or project sponsorship.
"The need for graduates from Roseman's master of science programs will only increase as industry research and development continues to reach further into the biomedical and pharmaceutical sciences," said Vance Farrow, Healthcare Industry Specialist with the Nevada Governor's Office on Economic Development.
Commenting on the establishment of Roseman's MSPS program, Dr. Joe Nowolawski, CEO of Salt Lake City-based JSK Therapeutics, said, "This is a great solution to helping build the biotech infrastructure in the region and an excellent tool for professionals who want a career in helping research startups blossom and create new breakthroughs. Graduates will be in great demand in the biotech sector."
In conjunction with the promising job prospects, pursuing an MSPS from Roseman University can lead to a fulfilling work life. Pharmaceutical scientists play an essential role in the development of new health products to improve the lives of patients around the world.
"The bioscience industry is constantly evolving, with new products, medications, and therapies being developed and brought to market each year," said Dr. Talbot. "This dynamic environment provides ample opportunities for graduates to advance their careers, take on new challenges, and contribute to the development of new treatments for a range of medical conditions."
To learn more about the MSPS program, visit www.roseman.edu.