Meet Dr. Gregory Schneider: A Life Dedicated to Teaching and Giving Back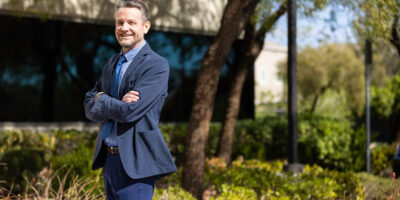 Read the Print Edition of Spectrum
In October 2022, Roseman University College of Medicine welcomed Dr. Gregory Schneider as a Professor, the Associate Dean for Clinical Education, and the Medical Director of Roseman Medical Group. Prior to joining Roseman, Dr. Schneider served as Associate Professor in the Department of Humanities, Health, and Society at Florida International University's Herbert Wertheim College of Medicine in Miami, Florida.
Dr. Schneider has committed his life to teaching and giving back to society. Raised in St. Louis, Missouri, by a single mother who was a teacher, had a profound impact on his life. "My whole adult life has really been about teaching and about some way of giving back," he said.
After earning a bachelor's degree in philosophy from the University of Dallas in Irving, Texas in 1990, Dr. Schneider's first job was teaching middle school in one of the poorest neighborhoods in Dallas. During his time there, Dr. Schneider had many eye-opening experiences. "You know, growing up I thought we were poor, but while teaching middle school, I put that in perspective and realized, 'Wow, okay, we were very lucky in many ways'," he said.
In 1991, Dr. Schneider decided to shift his focus from teaching and pursue a career in medicine. He attended the University of Missouri School of Medicine, where he gravitated towards the faculty and mentors who were family physicians and generalists. He stayed in Columbia, MO for his family medicine residency and then moved to Dallas, where he worked at The University of Texas Southwestern Medical Center for six years. During his time there, Dr. Schneider taught clinical medicine and medical ethics and directed the family medicine clerkship and primary care preceptorship.
Although Dr. Schneider is a physician, he thinks of himself primarily as a teacher. He sees primary care as a way of helping his community and working with people to improve their health. "What I'm hoping to accomplish is helping people get the necessary care they need, and I look at that as a teaching moment," he said.
Dr. Schneider chose family medicine because of the opportunity to work with everyone, from children to seniors. The diversity of the patients and the chance to interact with people from various backgrounds in a meaningful way is what he loves most about being a physician. Teaching middle school in Dallas influenced his decision to work in primary care and in underserved settings, because he saw firsthand the disparities in healthcare and how the social determinants of health impact families.
During his time in primary care, Dr. Schneider has seen many patients who struggle with poverty, food insecurity, lack of education, and transportation difficulties, among other things. He has sometimes felt as if physicians are merely placing band-aids on a sick society. A student of that society, he obtained a master's degree in the liberal arts from Southern Methodist University while in Dallas, and in 2004, he decided to take a break from medicine.
In 2005, after a year of documentary film school, his love for teaching and helping the community eventually led him to St. John's College, a small liberal arts college in Santa Fe, New Mexico, where he taught undergraduate and graduate-level classes across all disciplines for more than a decade. The classes at St. John's were discussion-based and centered on classic texts in literature, philosophy, mathematics, music, and science, areas for which Dr. Schneider has a passion. During that time, he also worked part-time as Director of Student Health & Wellness in St. John's Student Health Center and as a physician at a nearby urgent care center.
For the last six years, while returning to full-time academic medicine at Florida International University in Miami, he saw patients at underserved clinics in South Florida and helped oversee a medical student home visit program where students assessed patients' social needs and connected them with medical and social services. He enjoyed providing care for the un- and under-insured and being a part of courses that exposed students to the social, cultural, and economic factors that influence health. In many ways, his career has come full circle, as he joins the team founding a new medical school here at Roseman that will be committed to serving the local community.
Dr. Schneider's dedication to teaching and giving back to society has earned him the respect and admiration of his colleagues and patients. He is known for his compassion, expertise, and commitment to improving the health of his patients, making him a role model for many aspiring physicians and educators.