Roseman Dental Students Demonstrate Commitment to Community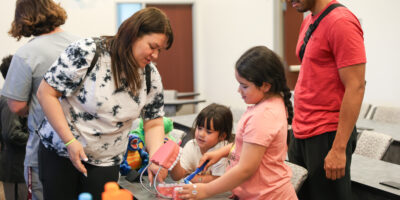 Throughout their time in the Doctor of Dental Medicine program, students in Roseman's College of Dental Medicine are engaged in a series of impactful community outreach initiatives. These efforts encompassed various activities aimed at enhancing oral health and well-being, alongside offering essential public services across the state of Utah.
In August, for the eighth consecutive year, Roseman College of Dental Medicine students successfully organized the annual "Back to School Brush Up™" community event. At this event, dental students provided free dental screenings and cleanings to a record-breaking 631 youths from the Salt Lake City area. Each child treated during this event received a voucher entitling them to a complimentary comprehensive examination, X-rays, sealants, and a $100 credit towards any additional dental care they might require.
Dr. Frank Licari, the Dean of Roseman University College of Dental Medicine, pointed out that dental pain stands as the primary cause of school absenteeism in the United States, making events like the Back to School Brush-Up™ a critical community event. "It is estimated that as many as 17 million children suffer from untreated tooth decay, making it the single most common chronic childhood disease in the U.S.," Dr. Licari emphasized. "As a result, tooth pain and other oral health problems account for about 51 million hours of missed school each year. Too many absences related to dental pain can cause children to miss a critical time in their lives when reading and writing skills start to become an educational focus. Studies have shown that these children are four times more likely to have a lower grade point average."
Dr. Licari stressed the significance of regular dental visits and fundamental education about oral health in shaping a child's growth and development.
Additionally, each year, Salt Lake City's Project Homeless Connect serves as a vital link for individuals experiencing homelessness, connecting them with essential services such as food, clothing, employment support, legal aid, housing information, dental/medical services, and more. Recently, Roseman students took advantage of this invaluable opportunity to provide much-needed care to this vulnerable population. Throughout the day-long event, dental students and dentists delivered urgent care examinations, radiographs, cleanings, extractions, and minor restorative treatments free of charge
In total, dental students performed over 130 extractions under the supervision of attending dentists. Those who did not require extractions expressed immense gratitude for the treatment they received.
Salt Lake City's Project Homeless Connect represented an exceptional event for all involved, allowing students and volunteers to gain valuable clinical experience while offering critical services to a highly vulnerable demographic.
In June, at the Asian American Dental Association's Utah Asian Festival, Roseman dental students took the initiative to raise awareness about the prevalence of oral cancer. They also educated individuals on oral cancer risk factors, signs, and potential symptoms.
During this event, dental students offered oral cancer screenings, oral hygiene instructions, and oral hygiene kits to the Asian American community in Salt Lake City. The primary objective of this outreach was to connect this underrepresented minority group with dental services, with a particular emphasis on oral cancer detection within this population.
Participants were encouraged to examine their daily habits, including alcohol and cigarette consumption, along with other factors that elevate the risk of developing oral cancer. Students underscored the importance of regular dental visits, emphasizing that any abnormalities in the oral cavity could be detected by a dentist or hygienist.
Through these events and dozens of others, Roseman's dedicated dental students of Roseman College of Dental Medicine have showcased their unwavering commitment to improving the oral health and overall well-being of their community. By offering free screenings, cleanings, and vital education, they have not only alleviated immediate dental concerns but have also empowered future generations with the knowledge and tools to prioritize their oral health. To learn more, visit https://www.roseman.edu/academic-programs/college-of-dental-medicine/doctor-of-dental-medicine-dmd/community-outreach/ .