Roseman Receives High Honors at the 2023 ADEA Annual Session & Exhibition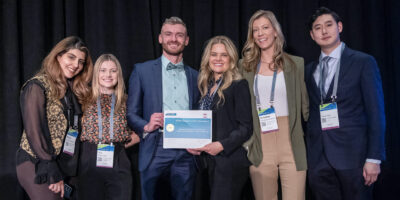 The 2023 ADEA (American Dental Education Association) Annual Session & Exhibition in Portland, Oregon, awarded Roseman University College of Dental Medicine (CODM) with several national awards, elected leadership positions, and student fellowships.
Roseman's ADEA student leaders Matthew Wright (D3), and April Watts (D2) received the highest award; ADEA Student Chapter of the Year Award and ADEA Distinguished Student Chapter Award: Gold Level Chapter, with the assistance of their Roseman CODM faculty advisors Dr. Katherine Velasco and Dr. Rob Alder, Director of Quality Assurance & Institutional.
The ADEA Academic Dental Careers Fellowship Program (ADCFP) was awarded to three Roseman dental students:
ADCFP Fellow: Sumaya Al Kalla (D2); Faculty Mentor: Dr. Rachel Novak

ADCFP Fellow: Emily Lear (D3); Faculty Mentor: Dr. David McMillan

ADCFP Fellow: Fay Kotlyarenko (D3); Faculty Mentor: Dr. David McMillan
The recognitions finish off with Roseman faculty filling the entire roster for the ADEA National Leadership Positions for the upcoming 2023-2024 cycle. Nominated Roseman faculty included.:
Dr. Frank Licari, ADEA Council of Deans Representative for the Annual Session Program Committee

Dr. Rachel Novak, Chair, ADEA Section on integrated Clinical and Applied Biomedical Sciences

Dr. Katherine Velasco, Secretary, ADEA Section on Minority Affairs, Diversity, and Inclusion

Dr. Rachel Novak, Roseman Representative, Women Liaison Officer

Dr. Ryan Jones, Roseman Representative, Council of Faculties

Dr. Kamran Awan, Member of the ADEA Diversity and Inclusion Advisory Committee

Matthew Wright (D3), Board Director, ADEA Council of Students, Residents, & Fellows
Matthew Wright (D3), Board Member, ADEA Board of Directors
"I walked away from the meeting feeling very proud of our Roseman family and all the amazing contributions of our colleagues," said Dr. Burke Soffee, Professor and Assistant Dean for Faculty Development and Curriculum.
It is a high honor to receive these awards and recognitions, and Roseman University is proud of our staff, faculty, and students for their hard work and dedication to their profession.