Roseman University College of Pharmacy's Dr. Manas Mandal receives Fulbright U.S. Scholar appointment
In August, Roseman University College of Pharmacy Professor Dr. Manas Mandal was selected as a Fulbright U.S. Scholar to Egypt for 2023-2024. Dr. Mandal received an All Disciplines Award and will be receiving a 4-month grant to teach immunology in the Colleges of Medicine and Pharmacy at Helwan University, a public university located in Greater Cairo.
Dr. Mandal's selection follows months of evaluation and consideration by the Binational Fulbright Commission in Egypt and the Fulbright Foreign Scholarship Board, a presidentially appointed 12-member board responsible for supervising the Fulbright program worldwide and approving the selection of all Fulbright recipients.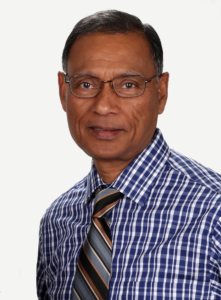 Fulbright U.S. Scholar Awards are prestigious and competitive fellowships that provide unique opportunities for scholars to teach and conduct research abroad. Fulbright scholars also play a critical role in U.S. public diplomacy, establishing long-term relationships between people and nations. Alumni include 62 Nobel Laureates, 89 Pulitzer Prize winners, 78 MacArthur Fellows, and thousands of leaders and world-renowned experts in academia and many other fields across the private, public, and non-profit sectors.
In addition to his Fulbright U.S. Scholar grant, Dr. Mandal has been a Fulbright Specialist since 2019. After a delay due to the global COVID-19 pandemic, last year Dr. Mandal traveled to his host institution, Birla Institute of Technology and Science (BITS), Pilani, Goa Campus, where he taught infection, immunity, and immune-based therapeutics with a focus on COVID-19. He also worked with BITS faculty to organize a successful two-day symposium entitled "COVID-19 Pandemic, Lessons Learned, and Way Forward."
The Fulbright Specialist Program is a prestigious part of the larger Fulbright U.S. Scholar program, which sends American scholars, artists, faculty, and professionals abroad to lecture and/or conduct research for up to a year. The Fulbright Specialist Program is similar, but instead of residing in a host institution abroad, U.S. academics and established professionals engage in two- to six-week, project-based exchanges at host institutions across the globe. Through these short-term impactful exchanges, not only do host institutions receive some immediate support for their own initiatives and objectives, but it also strengthens and starts sustained connections between academics and professionals in the U.S. and those institutions overseas.
Last year, Dr. Mandal said, "It is a lifetime achievement and honor for me, as I always wanted to become a Fulbright Scholar. As a Fulbright Scholar, I join the most prestigious and august body of individuals, many of whom have gone on to win Nobel Prize and became Heads of States. I am in the company of these Steller individuals and this simple fact encourages me to do more, rise above the threshold and achieve further individually and for Roseman."
Roseman University congratulates Dr. Mandal for his global achievements.