SpectRUm Health: Healthy Steakhouse Dining
There is a misconception that all steakhouse dining is unhealthy. Fat and calorie-laden foods lurking around every corner, just waiting to clog your arteries. While it is certainly possible to go rogue on your daily allotted calories while dining at a steakhouse (macaroni and cheese, potatoes au gratin, and creamed spinach with bacon, we're looking at you!), it is also entirely possible to eat happily and healthily and step on the scale the next day without fear.
Perhaps you're thinking, "sure, I can! But the only things that I can eat are grilled salmon and steamed broccoli." Could not be further from the truth. I bet you didn't know that steak, in moderation, can be the healthiest choice on the steakhouse menu. Fancy that, steak lovers!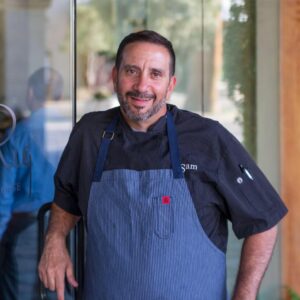 If you choose the right kind of steak, you are doing yourself a healthy favor! At Echo & Rig (locations in Summerlin and Henderson, Nevada and Sacramento, California), we have many different delicious cuts of steak to order, but our grass-fed beef is by far and away the best choice for the health-conscious. Grass-fed beef has much higher amounts of Vitamin A and E than grain-fed beef. It is super high in Vitamins B12, B3, and B6, as well as rich in Iron, and Zinc. Compared with grain-fed beef, grass-fed beef has over five times the Omega-3 good fatty acids, as well as fewer mono-unsaturated fats. It is loaded with nutrients, is dense in proteins like creatine and carnosine, and is (hallelujah!) lower in calories than grain-fed beef. And, did I mention how rich and flavorful grass-fed beef is?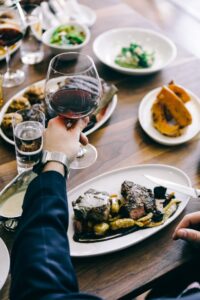 Now that we have determined that good quality, grass-fed beef is good for you, let's build a steak house plate around a reasonable 8-oz. portion. Occasionally, go crazy, order all the carbs and fats as sides! But if you want to stick to your healthy diet, you can still enjoy a gorgeous array of foods without breaking the caloric bank. Some of our most healthy, low-calorie sides at Echo & Rig are amongst our most popular dishes! For instance, a beautiful way to start your meal is with our Little Gem Salad featuring Ricotta Salata, Sun Gold Tomatoes, and Radish, with a Red Wine Vinaigrette. You could accompany your grass-fed beef with family-style dishes of Sweet Fire Cauliflower, Roasted Broccolini, Brussel Sprouts Leaves with Pistachios and Lemon, and a gorgeous salad of Tomato, Cucumber, Watermelon, and Red Onion. All fresh, seasonal, low in calorie and good for you!
Remember, a good rule of thumb when trying to eat healthy and clean at any steakhouse is to stay away from caloric preparations — think butter, cream, and super cheesy. Stick with moderate portions of clean proteins and fresh salads and veggies dressed lightly with olive oil, vinegar, and citrus. When in doubt, order the asparagus hollandaise without the hollandaise! Fresh, seasonal shellfish (oysters, mussels, clams, scallops, shrimp) and fish dishes that aren't drenched in butter are always a good bet. When it's time to order dessert, maybe say "no" to the cheesecake and "yes" to fresh fruit or sorbet!
Guilt-free steakhouse dining is perfect for any occasion, special or otherwise. It's all about ordering carefully and healthfully and a wonderful and satisfying meal is yours for the asking.
Fusing his classical French training with a bold and visionary approach, Chef Sam Marvin has reshaped the culinary landscapes of Southern California, the Bay Area, and Las Vegas for the past four decades. Beyond creating successful restaurant brands such as Bottega Louie, Modata, and Echo & Rig, Chef Sam has also been an active contributor to cultural events and organizations including Three Square Advisory Board, James Beard Foundation, Life Is Beautiful Culinary and more.