RN to BSN
Roseman University College of Nursing is offering a 9-month, online Registered Nurse to Bachelor of Science in Nursing (RN to BSN) program to help nurses complete their baccalaureate nursing education, and to expand their clinical and theoretical skills and knowledge so they are better positioned to advance in the nursing profession.
The 9-month RN to BSN Program at Roseman is structured to support working nurses in completing their baccalaureate nursing education while meeting their other day-to-day responsibilities. Like all Roseman University's academic programs, the RN to BSN program utilizes Roseman's Six-Point Mastery Learning Model®, which allows students to master content at very high levels. The block curriculum allows students to take only one class at a time, focus intently on that content area, and master the content before proceeding to the next block or course. The RN to BSN program consists of eight blocks each taught online by expert faculty with a myriad of clinical, educational, and professional backgrounds. Students are assigned to groups for specified learning activities to develop leadership, communication, and team skills. Students will also complete projects that enhance their previous clinical experiences.
Completion of Associate Degree in Nursing (ADN)

RN license from within the US and US territories

Minimum cumulative GPA of 2.75

Submission of a writing sample (refer to NCAS for more details)
Students enrolled in the RN to BSN program will be awarded 49 credits for successful completion of the NCLEX as indicated by the active RN-License. Total number of required prerequisite credits is 49, and includes the following:
Physical/Biological Science 16 CREDITS

(Total credit hours must include 8 anatomy and physiology credits.)

Social Science 6 CREDITS

Math/Statistics 3 CREDITS

English 6 CREDITS

Humanities 6 CREDITS

Electives 9 CREDITS

US Constitution 3 CREDITS
Admissions Advising Appointments
Advising appointments may be requested by completing a College of Nursing inquiry form at

the top of this page.

Advising sessions are for the preliminary review of coursework and to determine equivalent coursework to satisfy prerequisite requirements.

Applicants must email unofficial/official transcript(s) and course descriptions of coursework in question.

Coursework information can also be emailed or faxed. Due to the high volume of requests, please allow 7-10 business days to process a request for a transcript review.
You will need Acrobat Reader, a free program, installed on your computer to view the pdf files provided here.
Henderson Campus
Roseman University College of Nursing
Admissions & Enrollment Office
11 Sunset Way
Henderson, NV 89014
Fax: 702-968-5279
South Jordan Campus
Roseman University College of Nursing
Admissions & Enrollment Office
10920 S. River Front Pkwy
South Jordan, UT 84095
Fax: 801-878-1303
To apply to the RN to BSN program, you will need to complete the supplemental application and submit the necessary payments.
The following course/blocks are required for completion of the RN to BSN program. 
NURS 411 – Transition to Professional Nursing
This block facilitates the development and implementation of strategies to enhance the professional development of the practicing nurse.  The block enables the RN to BSN student to recognize and understand the critical role that nurses play in the healthcare delivery system and the importance of implementing evidence-based practice into their professional nursing practice.  Students will analyze principles of professional practice within a framework of role development. 4 credits didactic (60 contact hours)
NURS 305 – Nursing Theories, Practice and Issues
This Block focuses on nursing theories and their relevance to professional practice.  Students are introduced to practice models in various health care environments.  Future and current issues in nursing practice will be explored. 3 credits didactic (45 contact hours)
NURS 401 – Nursing Research
This block introduces the student to fundamental concepts in nursing research and focuses on understanding the purpose of research as a major contributor to nursing science, interpretation of study results, and cultivation of critical thinking through the research critique.  Concepts of evidence-based practice in nursing are emphasized. 3 credits didactic (45 contact hours)
NURS 410 – Informatics
This block will provide an introduction to health information concepts and systems to include the history of healthcare informatics, current issues, and future applications/utilization.  The RN to BSN student will learn how to apply informatics concepts to current clinical practice environments. The nurse will analyze methods that use technology to improve patient safety, work effectiveness and the use of technology to help make decisions and improve the health status of the individual, family, and community. 3 credits didactic (45 contact hours)
NURS 406 – Nursing Leadership & Management
This block focuses on the theories and principles of nursing leadership and management in healthcare environments. 3 credits didactic (45 contact hours)
NURS 413 – Introduction to Capstone
This block is the first of two courses that focus on the capstone project. This preparatory course introduces the capstone project and will assist the RN to BSN student in creating and developing a capstone project plan. This preparatory course introduces the capstone project and will assist the RN to BSN student in creating and developing a capstone project plan. The course introduces problem-based learning focusing on the discovery and implementation of evidence-based practice into the patient care setting. Completion of the project will take place in the Capstone Course II taken in the last block of the RN-to-BSN program. The ideas, proposal, and approval for the Capstone Project will come to fruition during the course. Students will learn about vision, creativity, and planning as it relates to the development and implementation of evidence-based practice in nursing. Students will propose a topic for their project and explain how the topic is relevant to nursing. The student will propose a plan and develop a strategy explaining how the project will be carried out. Nursing Faculty must approve the plan prior to the beginning of the Capstone Course II. The importance of nurse-driven research and implementation will be discussed along with the future of nursing.  1 credit didactic (15 contact hours)
NURS 414 – Community Health
This block focuses on the care of various populations including vulnerable groups using a community and public health focus.  Emphasis will be placed on health promotion, health education, community assessment, disease prevention, and disaster prevention and planning.   Global health issues will be explored and the impact of social determinates on health. This block includes a clinical component. 6 credits didactic (90 contact hours)
NURS 415 – Capstone Course II
This block is a follow-up course to the capstone introductory course allowing for the completion of the capstone project.  This course also provides students with the opportunity to apply concepts learned throughout the RN-to-BSN completion program to relevant nursing issues and the implementation of evidence-based practice to begin solving these issues.  The capstone project completion demonstrates the nursing students are able to integrate knowledge learned throughout this program and apply the knowledge to the implementation of evidence-based practice to improve the health and wellbeing of the patients and improve the nursing practice. This course will also discuss aspects of leadership, research, theory, and entry to practice as a professional nurse. 5 credits didactic/clinical (75 contact hours)
*Subject to change. Please refer to the College of Nursing Handbook for updated and/or revised curriculum.
We have the tools and resources to support you in your advanced degree path. You can visit our Office of Financial Aid, review the Financial Aid Portal, or contact us directly. You can also visit our Money Management page for assistance with personal finances and budgeting. Please don't hesitate to contact us with any questions.
Our tuition rates and fees are very competitive. There is no in-state or out-of-state tuition difference. Please review a full listing of tuition and fees by clicking the button below.
Inaugural cohort for this program will enjoy a discount on their application fees, and will pay only $40 to apply.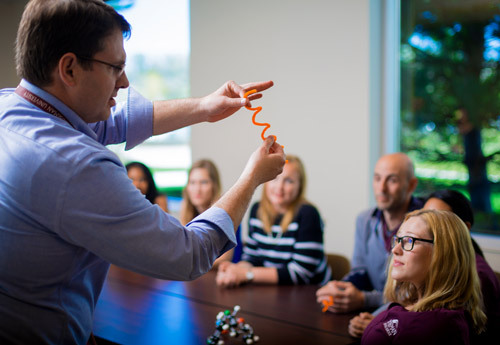 Six-Point Mastery Learning Model®
Roseman University strives to produce competent graduates in an educational environment that ensures high levels of achievement from all students and fosters cooperation and collaboration in the learning process. This is the concept of mastery learning.

Classroom As Teacher

Block Curriculum

Active & Collaborative Learning

Competency-Based Education

Assessment Learning

Early Experiential Learning